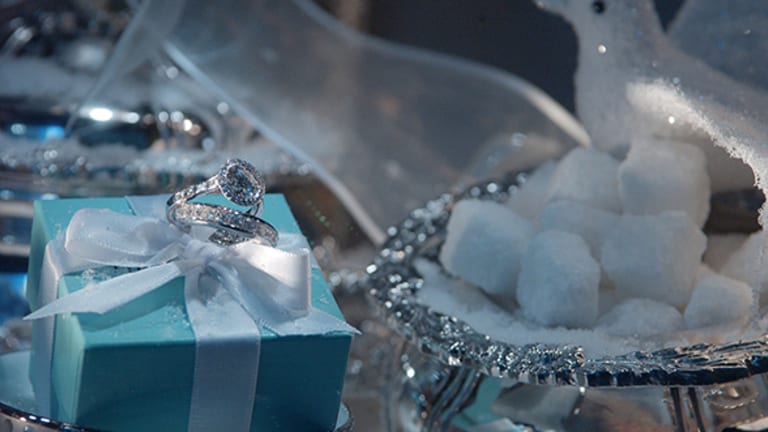 Trump NYC Protests And Barricades Making Tiffany Investors Nervous
Security around Donald Trump's residence on Fifth Avenue is playing havoc with shoppers trying to visit nearby retailers like Tiffany's. And that has Tiffany investors worried.
Getting to Tiffany & Co.'s (TIF) - Get Tiffany & Co. Report flagship store on Fifth Avenue in Manhattan has been a huge debacle for shoppers since Donald Trump became president-elect a week ago. It means navigating around a labyrinth of street closures, metal barricades and armies of police officers, some in full-SWAT gear, who have tightly blocked access to Trump Tower, which, unfortunately for Tiffany's, is located next door. When more than 5,000 protesters were added to the mix last weekend, the street closures widened, where no one was permitted access to the retail store unless personally escorted in by a Tiffany rep.
All of this has Tiffany investors and market experts worried.
"How can it not affect them?" asked Howard Davidowitz, chairman of Davidowitz & Associates Inc., a retail consulting and investment banking firm. "You can't go on the block sometimes - how are you going to go in the store?" Davidowitz has a birds-eye view of the kerfuffle as he's lived in Trump Tower for 22 years.
And since much of the luxury jewelry retailer's sales come during the holiday season, any disruption could hurt Tiffany's top and bottom lines.
"There's no question that the fourth quarter for Tiffany's is very important because of the gifting aspect of what they do," said Jim Leventhal, chief executive of Leventhal Asset Management.
Although Tiffany is a global company, it gets more than 10% of its sales revenue from its Fifth Avenue flagship store. "It's upwards of 10% of total company sales and upwards of 20% of domestic sales - it's big," said Brian Nagel, a managing director at Oppenheimer & Co.
So, any hit to the flagship store's sales could "affect their earnings big-time," added Davidowitz.
Tiffany is already facing headwinds from Asia and Europe, where sales have been sluggish. In China, a government crackdown on corruption, extravagant spending and lavish "gift-giving" has taken a toll on the luxury goods market since 2014, and the oil glut over the past few years has dampened sales in the United Arab Emirates.
In Paris, terrorist attacks triggered a sharp drop-off in tourists to Europe, which has also tempered Tiffany's sales, said Nagel.
At the same time, the strong U.S. dollar has squeezed spending from foreign tourists. "Tiffany has had a very bad two years, both in terms of sales results and share price," said Leventhal.
However, many analysts are bullish about the company's outlook for 2017.
"A rising stock market always helps luxury," said Davidowitz. The Dow jones Industrial hit a record high this week and the S&P 500 continues to climb.
Cowen & Co.'s Oliver Chen recently upgraded Tiffany to outperform from market perform and raised his price target on the stock to $90 a share on the belief that sales started rebounding in the second half of 2016 and are poised for growth in 2017. (Tiffany shares recently traded at $78.10). Oppenheimer's Nagel also rates the company at outperform, but has a more modest $80 price target.
Tiffany shares, which hit a 52-week low of $56.99 in June, rebounded more than 40% to a high of $81.89 this month. Part of the rally was triggered by market rumors in September that activist investor Bill Ackman was considering taking a stake in the company, which ignited takeover talk.
However, the company is no longer the bargain-basement stock that it was. It currently trades at about 22 times this year's earnings and 20 times next year's earnings, which is "a fair price," said Leventhal, and far different from the mid-teens multiple it traded at earlier in the year.
Still, questions still remain on how much and how long the Fifth Avenue store will be disrupted by the tightened security around Trump Tower. Even after Trump moves to 1600 Pennsylvania Avenue in Washington, D.C. in January, it's not known how often he'll return to his New York residence and how his visit will impact neighboring retailers when he does.
"Tiffany is in frequent communication with the New York Police Department and U.S. Secret Service regarding safety and security along the perimeter of our Fifth Avenue flagship," said Tiffany spokesman Nathan Strauss.
Leventhal downplays the potential impact.
"If they use this as an excuse in any quarter coming up, that would be a canard in my opinion," he said. Most of the business at the Fifth Avenue store isn't from casual shoppers buying a $300 charm bracelet - it's from the high end buyer purchasing "hundred thousand dollar baubles and engagement rings." And for those clients, Tiffany's will happily escort customers past the police barricades into the store, he said.
Also, he said the city stands to lose too much tax money if security barriers choke off retail sales.
"This is so important to the city's finances - not just Tiffany's but all of Fifth Avenue in the 50s, whose sales tax funds the city government," he said. "New York City will figure this out very quickly how to keep these businesses open and yet keep Trump Tower safe."
This article is commentary by an independent contributor. At the time of publication, the author held TK positions in the stocks mentioned.