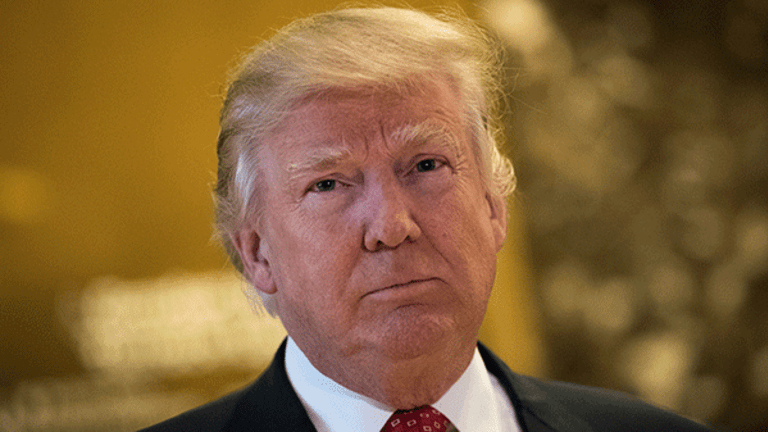 Trump Mulls Border Adjustment Tax That Could Spark Trade War
The proposed change in tax policy is an alternative to President-Elect Trump's tariff proposals, but he's skeptical.
President-elect Donald Trump's support for House Republicans' idea of a border adjustment tax changes by the day.
"Any time I hear border adjustment, I don't love it," Trump told the Wall Street Journal Friday.
By Tuesday, his tone had changed.
"It's certainly something that's going to be discussed," he told Axios, a just-launched website founded by veterans of Politico. "I would say, over the next month-and-a-half, two months, we'll be having more concrete discussions. Right now, we're really focused on health care more than anything else."
Trump had told the Journal that the proposal, spearheaded by Speaker of the House Paul Ryan (R-Wis.), is "too complicated." Here's an explanation.
A border adjustment tax would tax imported goods flowing into the U.S. at the existing corporate income tax rate and exempt exports flowing out from the U.S. The tax is designed to stimulate domestic economic production and discourage corporations from earnings-stripping - stashing corporate profits in friendly tax bases outside of the U.S. such as Ireland.
For companies with manufacturing bases in the U.S. like Dow Chemical (DOW) - Get Dow, Inc. Report, the tax is a prima facie reason for celebration thanks to the subsidy it provides for exports. On the other hand, foreign companies with large U.S. customer bases are concerned, as are domestic retailers such as Walmart  (WMT) - Get Walmart Inc. Reportthat rely heavily on imported goods and may have to pay a much higher cost for their products in the short-to-medium term.
There's no shortage of commentators skeptical of Trump's overtures towards a more protectionist trade policy, one of the consistent themes throughout his campaign.
"Protectionism is bad for growth," J.P. Morgan analyst Adrian Mowat wrote in a research note warning of the effect that border adjustment will have on Asian exporters such as Samsung and Kia Motors. "For the U.S. consumer, it is likely to lead to higher prices and less choice. But the electorates in numerous Western democracies for now perceive free trade as job-destroying."
The proposed border adjustment tax is a levy on goods as they arrive at their destination, much like the value-added taxes (VATs) used by the European Union, Australia, China and other developed nations. The key difference is that the border adjustment tax would allow corporations to exempt labor costs from their taxable income.
This may prove to be a sticking point in the tax's implementation process, as the World Trade Organization forbids a direct border adjustment tax on income.
Pushing forward with the tax in spite of the WTO's protests could lead to drastic consequences, Matt Gardner, a senior fellow at the Institute on Taxation and Economic Policy, outlined in a phone interview.
"The question is whether that would just mean a whole bunch of litigation or whether it would mean a trade war between members of the WTO and the U.S.," Gardner said. "That is a very real concern."
For much of his campaign, Trump has preferred to hold up tariffs as a means to achieve the U.S.' trade goals. His transition team floated the possibility of a universal tariff as high as 10% on all imports in December, CNN reported, but that might not mean much if Trump warms to the GOP's tax reform concepts once he takes office Friday.
"Trump himself is a huge wild card," economist Alan Cole of the nonpartisan Tax Foundation said in a phone interview. "There's a lot of times when we D.C. policy people continue chattering on about our policies as if things are relatively normal, but in fact we don't know what kind of person he's going to be on policy at all."
The long term effects of the tax - if it becomes reality - may be more muted.
"It's basically impossible for a country to significantly increase its exports, but not its imports - or vice versa - over a very long period," Cole said. Corresponding trades by importers and exporters on the currency markets that put pressure on the dollar in opposite directions would cancel each other out, he explained.
If the corporate income tax stays where it is now - 35% - then border-adjustment will bring in revenue of about $1.1 trillion over the next decade, Cole said. Of course, lowering the corporate tax rate has been a talking point for both Trump and the GOP. A decline in the corporate income tax rate to say, 20%, would cut the amount of revenue realized by the tax roughly in half.
"Once that currency effect is factored in and the market readjusts to the new information and new ways that things work and the prices change, what you'll see is probably a lot of peoples' business models basically going on in the long run the same way that they did in the days under the previous regime," Cole said.
That long-term outlook might not matter to the WTO.
"The very narrow line that supporters of this plan have been trying to walk is that in fact, this plan would be economically equivalent to a value-added tax. But at the same time, it wouldn't be a value-added tax," Gardner said. "What they're trying to tell the WTO is: "If it walks like a duck and looks like a duck, it must be a duck. But oh, by the way, you can't call it a duck.'"