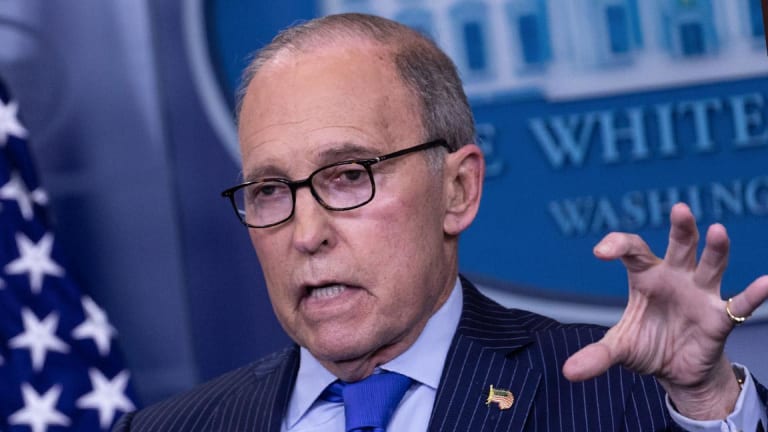 U.S. Is Optimistic About China, Disputes CBO Budget Warning, Larry Kudlow Says
The U.S. and China are scheduled to meet this week to discuss ending the trade war that has hampered both economies in recent months.
President Donald Trump is cautiously optimistic that a trade deal with China will be hammered out soon, National Economic Council Director Larry Kudlow said during a news conference Monday afternoon. 
The two countries are set to meet this week to discuss ending a trade war that has pressured markets and slowed growth both in China and domestically, but Kudlow refused to say whether he thought a deal would get done this week.
He did say that these are the most comprehensive talks ever conducted between the world's two largest economies and that deal enforcement issues will be a key part of the discussion between the two countries. 
Some of the other comments Kudlow made during the wide ranging news conference include:
The Trump administration did not see the government shutdown as being disruptive to the wider economy. Kudlow expressed sympathy for furloughed federal workers, but noted that the wider economic indicators remained robust during what turned out to be the longest government shutdown in U.S. history. 
The non-partisan Congressional Budget Office released a new report Monday that predicts that annual deficits that surpass $1.1 trillion will become the norm after 2022. By 2029 the CBO estimated that the deficit will reach $28.7 trillion, or 93% or gross domestic product. 
However, the Trump administration disputes the CBO budget deficit, Kudlow said, because the CBO is underestimating the growth generated by the Trump economy. Additionally, Kudlow said that Trump will pass a tough budget to tamp down spending. The administration has previously advocated a 5% cut in non-defense spending.