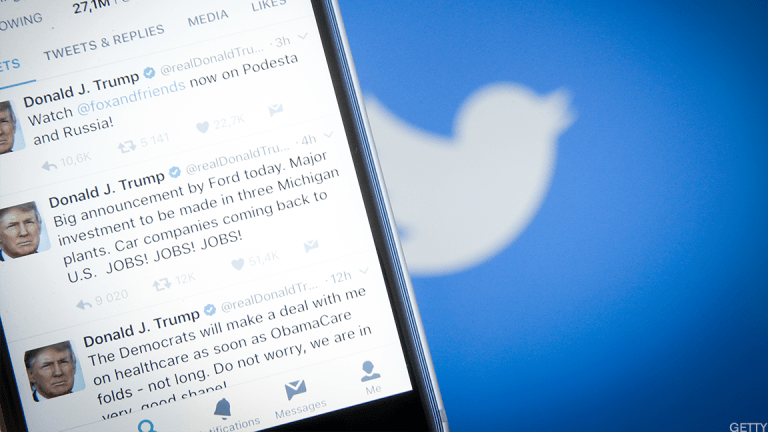 Trump Hits Out At NFL, LaVar Ball in Pre-Thanksgiving Tweet Storm
President Trump lashes out at NFL commissioner and celebrity basketball father after CNN interview.
President Donald Trump was on the attack again Wednesday, taking to Twitter to excoriate the NFL over its approach to anthem protests and tearing into the father of a UCLA basketball player who was arrested for shoplifting earlier this month in China. 
Trump's broadside against NFL Commissioner Roger Goodell marks the second time this week the President has focused his early morning missives towards the world of professional football and the controversy surrounding the actions of some players who kneel during the playing of "The Star Spangled Banner" before games in symbolic protest of racial and social inequality.
The Washington Post reported Tuesday that some NFL owners are ready to support a move that would keep players in the locker room during the playing of the anthem in order to limit the visual impact of the protests amid concerns over declining television ratings and merchandise sales.
The NFL's flagship Monday Night Football broadcast between the Atlanta Falcons and the Seattle Seahawks -- to recent SuperBowl participants -- rose 13% when compared to the previous week, according to deadline.com, but was down a significant 11% from the same period last year and bodes ill for broadcasters and advertizers ahead of Thanksgiving Day games in Detroit, Dallas and Washington. 
Trump's attack also comes amid unprecedented turmoil for both the League and its advertisers as attendance and viewer ratings decline -- for a host of reasons -- and franschise owners squabble over the fate of Goodell and publicly criticise Dallas Cowboys' owner Jerry Jones for his stance on League discipline and unity.
Trump also targeted LaVar Ball, the father of UCLA basketball star LiAngelo Ball, whose release the President said he helped secure after he and two teammates were arrested for shoplifting while the team was playing a series of exhibition games in China.
Ball senior, whose other son, Lonzo, is the starting point guard for the Los Angeles Lakers, appeared on CNN earlier this week to address the President's accusations that he wasn't thankful enough for the intervention.
"It wasn't like he was in the US and said, 'OK, there's three kids in China. I need to go over and get them.' That wasn't the thought process," he told CNN's Chris Cuomo. 
"I say thank you when I see something," LaVar said. "If you help, you shouldn't have to say anything," he said. "Let him do his political affairs and let me handle my son and let's just stay in our lane."
Watch More with TheStreet:
The 2018 Aston Martin Vantage Looks Insane
How to Pick the Perfect Port Wine for Your Holiday Dinner
Jim Cramer Has Some Cooking Advice for Thanksgiving