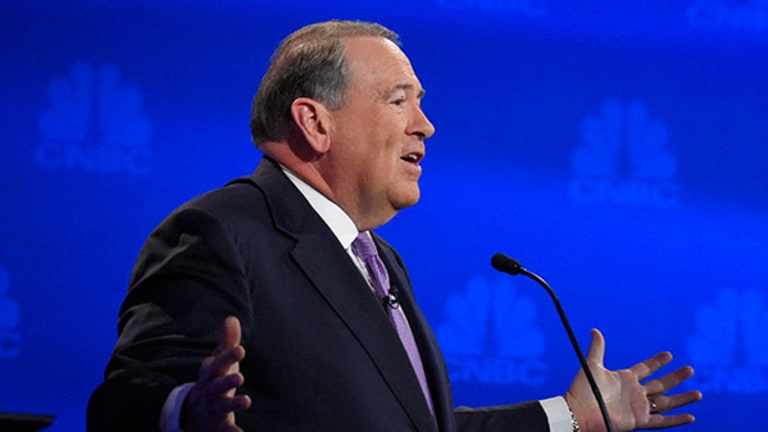 Pastor Huckabee Offers Trump Blessing Over Clinton at #GOPDebate
Donald Trump got an unexpected blessing from rival Mike Huckabee at the CNBC Republican Presidential debate.
Donald Trump got an unexpected blessing from Arkansas Governor Mike Huckabee, a fellow contender on the stage of the Wednesday CNBC Republican presidential debate.
The audience awkwardly laughed in anticipation when Huckabee was asked if Trump has the spiritual conviction necessary to guide and unite the nation on moral grounds.
"As a preacher as well as a politician you know that presidents need the moral authority to bring the entire country together," moderator John Harwood asked. "The leading Republican candidate, when you look at the average of national polls is Donald Trump. When you look at him do you see someone with the moral authority to guide the country?"
On stage, Florida Senator Marco Rubio let out an audible, "This is unreal," before Huckabee declared, "I love Donald Trump -- he is a good man. I'm wearing a Trump tie tonight."
Then, the televangelist scolded Hillary Clinton for being the candidate of inferior leadership virtues.
"Donald Trump would be a better president every day of the week and twice on Sunday than Hillary," he said. "I've spent a lifetime in politics fighting the Clinton machine."
Trump's supporters can take comfort that Huckabee has given his campaign his stamp of holy approval. Trump hopes to convince voters of the strength of his Christian faith, especially in states such as Iowa, where chief rival Ben Carson recently edged out Trump as the favorite, 28% to 19%, which many commentators think is on the strength of Carson's appeal to religious voters. 
Prior to this week's blessing, Trump's religious appeal was more questionable. I July, he said that he believes in god, but hasn't sought forgiveness (unsurprising, considering his self-stated biggest flaw). He also made fun of communion. Trump is a Catholic.