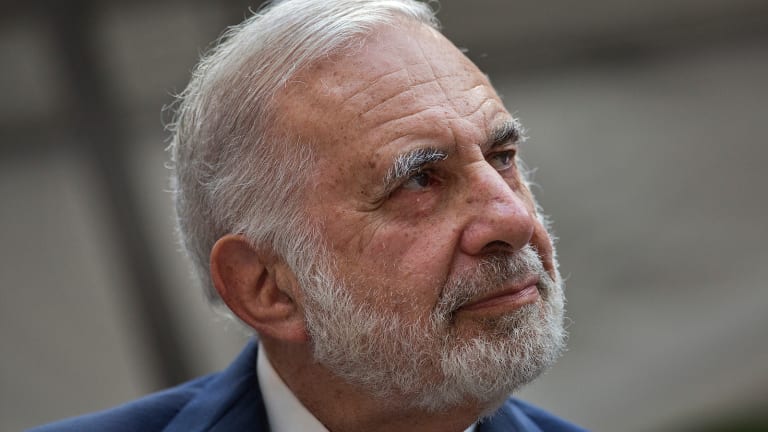 Trump Buddy Carl Icahn Just Bought More Herbalife and Hertz
Carl Icahn has taken some time out from his chummy relationship with President Trump to do some stock buying.
Carl Icahn took some time out from his relationship with Donald Trump to do some stock buying last year.
The New York-based activist investor increased his holdings in Herbalife (HLF) - Get Free Report and Hertz Global Holdings (HTZ) - Get Free Report during the fourth quarter of last year, according to his latest 13F filing, released Tuesday. The 80-year-old Icahn is a vocal Trump supporter and has been tapped by the president as a special adviser on regulatory reform.
Icahn listed $22.3 billion in equity holdings in an SEC filing as of December 31. (13F filings, required quarterly from institutional investors by the SEC, are released with a 45-day delay.)
His Herbalife stake is currently worth about $1.3 billion at current market value, and his Hertz stake is at $616 million. Icahn's Herbalife holdings have received a lot of public attention thanks to a public feud with fellow hedge fund manager Bill Ackman, who has shorted the stock.
Icahn exited his position in Voltari (VLTC) last quarter and cut his holdings in Freeport McMoRan (FCX) - Get Free Report , Nuance Communications (NUAN) - Get Free Report and PayPal (PYPL) - Get Free Report .
The billionaire's largest holding remains his eponymous company, Icahn Enterprises (IEP) - Get Free Report , in which he has a more than $7 billion stake. He also owns about $3 billion in AIG (AIG) - Get Free Report stock.
Trump's ties to Icahn, who Trump once mused he might consider enlisting as Treasury Secretary, have been cause for consternation. Democratic lawmakers on Monday sent a letter to White House Counsel Donald McGahn inquiring about the specifics of Icahn's role in the Trump administration.
"Icahn's role presents an unacceptable risk for further real or potential conflicts of interest absent immediate and thorough steps to address them," they wrote.
Democrats cited Icahn's vast investment holdings, specifically, his stake in CVR Energy (CVR) - Get Free Report . The oil refiner is subject under the Environmental Protection Agency to certain renewable fuel standards Icahn opposes. Scott Pruitt, who Trump has tapped to lead the EPA (a move Icahn supports), has been a critic as well.
According to his latest regulatory disclosure, Icahn has more than $1.5 billion invested in CVR.