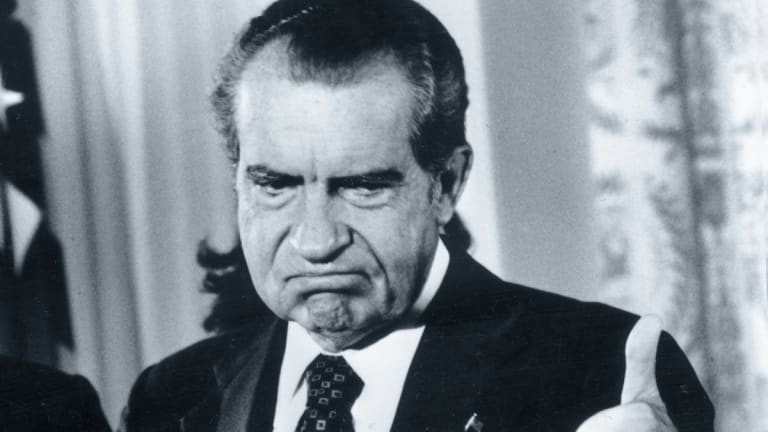 Trump's Attack on the Federal Reserve and China Leaves Investors Feeling Strange
Equity investors aren't overburdening their brokers with buy orders as they contemplate more out-of-the-ordinary presidential utterances.
The meandering market.
U.S. equities were little changed Friday and for the week, leaving the Dow Jones Industrial Average undefined a bit over 25,000 points, or about where it was on June 6, or March 12, or January 4, as the benefits of President Trump's low corporate tax regime and relaxed regulatory stance are regularly offset by surprising remarks from the Oval Office.
On Friday morning, the president said on TV that he's ready to raise the stakes in a coming trade war with China to, basically, all in.
"I'm ready to go to 500," the president told CNBC, referring to tariffs on $500 billion of imports from China. "We have been ripped off by China for a long time."
As of now, the U.S. has slapped tariffs on $34 billion of Chinese goods, with another $16 billion of levies on electronics and components scheduled for later this summer. The Chinese have responded tit-for-tat to the $34 billion and will likely match the $16 billion, but their options are limited. The president's math is absolutely correct: because the U.S. sells China about $130 billion of goods a year, and China sells the U.S. about $500 billion of goods, China can't match U.S. tariffs dollar for dollar.
Five hundred is more than 130.
Whether following through on that equation is going to be good for American investors, manufacturers, farmers, consumers, exporters or even Republican politicians may not be in the forefront of the president's thinking. "I'm doing this to do the right thing for our country," he said, without specifying who in the country stands to benefit.
Anyway, equity investors aren't overburdening their brokers with buy orders as they contemplate another out-of-the-ordinary presidential utterance, this time a tweet referring to the Federal Reserve, which sets benchmark interest rates in the U.S.
"Tightening now hurts all that we have done. Debt coming due & we are raising rates -- Really?," Trump tweeted.
It's another reminder that the President seems to regard the relative strength or weakness of the U.S. economy as a reflection on how well he's doing in his job, and how he may resent the Fed, which has the dual mandate of controlling inflation and boosting employment, for doing its. Trump may be signaling to Fed chairman Jay Powell, who he appointed to replace Janet Yellen in November, that the Fed's plan to raise rates twice more this year, in September and December, imperils the Trump economy, in turn imperiling the Trump presidency. But that's not a reason to celebrate, the president's rising poll numbers notwithstanding.
Equity investors who look for stability and commonsense have a good deal at stake in a president whose potential for attempting to influence the Fed may rival President Reagan's jawboning of Paul Volcker in the 1980s and President Nixon's intimidation of Arthur Burns in the 1970s, as Edward Luce pointed out in the Financial Times this week. "All of which," Luce writes, "underlines why we have independent central banks: politicians cannot be trusted to pursue optimal monetary policy."
In the meantime, investors will wait for the next shoe to drop when it comes to tariffs. The Wall Street Journal had a good feature on Wednesday that describes the scope of what American buyers will face should all of the Trump tariffs on some 6,000 Chinese products come into effect: from $23 billion worth of networking gear and $11.6 billion of data processing circuit boards down to $3 billion in wooden furniture and $1.8 billion in vinyl flooring. There's something for everyone.
Still to come may be a 25% tariff on imported cars and auto parts, which is something that affects more than just manufacturers including Mazda, Mitsubishi and Mercedes, which import finished cars from overseas. Consumers may wind up paying almost $7,000 more per vehicle, CBS News reported. A Honda Civic might cost an extra $1,100, while a Ford (F) Escape would be up almost $1,600 and an Audi Q5 almost $6,000 higher. The same report said a 25% tariff could cut U.S. vehicle sales by 2 million and result in the loss of as many as 117,500 auto dealership jobs.
It's been a strange week, leaving aside the odd Helsinki Episode, just like it's been a strange year or so, in which benign U.S. economic conditions produce excellent corporate earnings such as those by Honeywell (HON) and Microsoft (MSFT) , but not much in the way of rising stock prices. We'll see what happens next week.
Why Jim Cramer's Action Alerts PLUS member club is bullish on Honeywell and Microsoft.