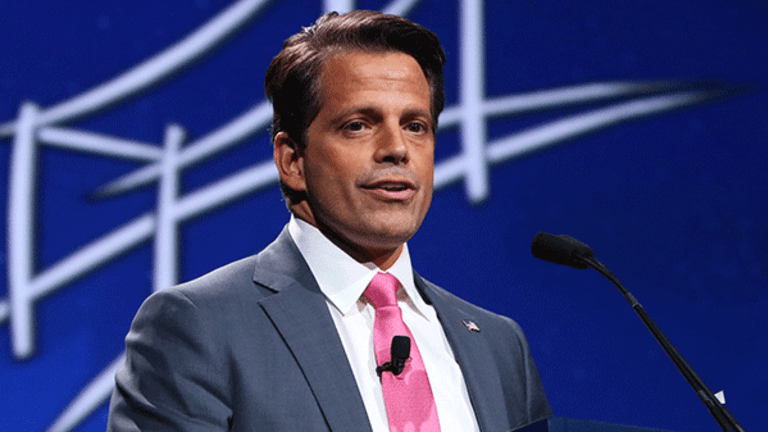 SkyBridge Sells Majority Stake as Scaramucci Departs for Trump Team
SkyBridge is one of the largest hedge fund managers and owner Anthony Scaramucci is known for putting on the famous SALT hedge fund conference in Las Vegas each year.
DAVOS -- Anthony Scaramucci, the owner of SkyBridge Capital who put it up for sale to join President-elect Donald Trump's administration, has agreed to sell a majority stake in the business to RON Transatlantic and HNA Capital, the American financial unit of Chinese billionaire Chen Feng's conglomerate.
Scaramucci is stepping down as co-managing partner effective immediately and will no longer be affiliated with the company or its well-known SALT hedge fund conference, the New York-based firm said in a statement. Scaramucci disclosed the sale during a media briefing at the World Economic Forum in Davos earlier today.
"It has been an honor and privilege to help build SkyBridge and work alongside some of the most talented individuals in the asset-management industry," Scaramucci said in the statement. "While I am moving on to a new chapter in my career, I am truly excited about what the future holds for SkyBridge."
The firm, which managed or advised on about $12 billion in assets as of Nov. 30, has investment offerings including commingled hedge-fund products, customized account portfolios, advisory services and a mutual fund. Aside from Scaramucci, senior managers and the current investment team will remain in their current roles, SkyBridge said.
While the SALT conference business will be spun off as a standalone company, SkyBridge said, this year's event will continue as planned in Las Vegas in May.
SkyBridge didn't disclose terms of the transaction. Scaramucci, who was reportedly seeking about $250 million for the company, told Bloomberg TV in December that Greg Fleming, who previously led Morgan Stanley's retail brokerage, was helping with the sale.
HNA Capital U.S., a subsidiary of Haikou, China-based HNA Group, invested in SkyBridge to further its goal of building a global asset-management business, said Guang Yang, head of the American company. HNA Group traces its roots to Hainan Airlines, though Chen has expanded since the 2008 financial crisis into industries including banking, securities, tourism and real estate.
The transaction is expected to close before the end of June, with RON Transatlantic CEO George Hornig -- former COO of Credit Suisse Asset Management and PineBridge Investments -- joining Skybridge's board to work with senior managers on driving growth.
"We are very excited for the opportunity to continue to expand the business that Anthony and his team have created," Hornig said in the statement. "The 'sky' is the limit for how far we can take SkyBridge."  
Scaramucci told reporters last Friday that he would serve as an adviser to Trump on connecting with U.S. businesses and local governments. A one-time supporter of Michigan governor Scott Walker and former Florida governor Jeb Bush who once called Trump a "hack politician," Scaramucci has become a close adviser and fierce defender of the president-elect.
"One of my other personal goals, though, is to get all of the American people to see President Trump the way I see him," Scaramucci said.
A graduate of Tufts University and Harvard Law School, Scaramucci previously worked for Goldman Sachs (GS) - Get Goldman Sachs Group, Inc. Report , whose alumni have taken several roles in Trump's administration. The investment bank famously hired, fired and rehired Scaramucci within two months.
In 2005, he founded Skybridge Capital, where he served as co-managing partner along with CIO Raymond Nolte. The 53-year-old Scaramucci, better known as a marketer than an investor, left the day-to-day operations to Nolte.
Baz Hiralal contributed to this article.