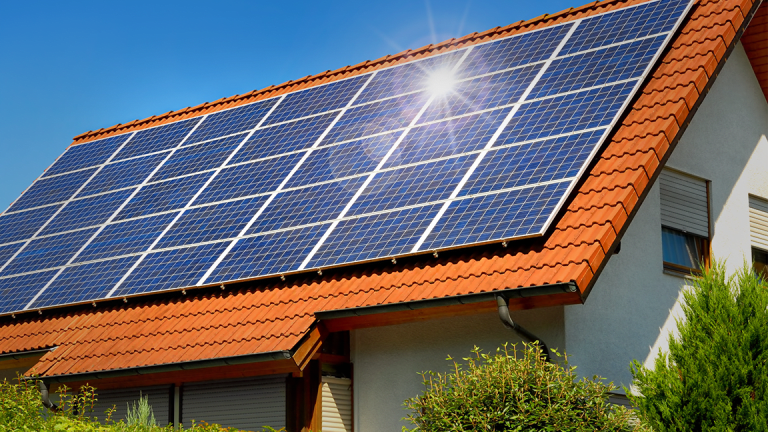 Trump Administration Imposes Tariffs on Foreign Solar Products, Washing Machines
First Solar soars in premarket trading on Tuesday.
The Trump administration imposed 30% tariffs Monday, Jan. 22, on imported solar-energy cells and modules -- the latest sign that the president is playing hardball with China, which dominates the sector.
The administration also slapped tariffs on foreign-made washing machines.
"The president's action makes clear again that the Trump administration will always defend American workers, farmers, ranchers and businesses in this regard," U.S. Trade Representative Robert Lighthizer said in announcing the move after markets had closed.
The decision imposes a 30% tariff on imported solar cells and modules in the action's first year, with levies slowly falling to 15% four years from now. The U.S. government will exempt the first 2.5 gigawatts of solar cells imported into America in each of the next four years.
The new tariffs follow a lengthy U.S. International Trade Commission investigation into whether Chinese manufacturers have been "dumping" solar products on the American market at unrealistically low prices in an attempt to drive U.S. manufacturers out of business. Lighthizer said the ITC concluded "that U.S. producers had been seriously injured by imports."
First Solar Inc. (FSLR) - Get First Solar, Inc. Report  shares were rising in premarket trading on Tuesday, up 3.1% to $71.11. Fellow solar-energy name SunPower Corp. (SPWR) - Get SunPower Corporation Report  rose 2% in premarket trading.
Goldman Sachs, in a note issued late Monday, said the impact of the tariffs would be "relatively benign" and added that it expects rooftop solar developers such as SunRun Inc. (RUN) - Get Sunrun Inc. Report and Vivint Solar Inc. (VSLR) - Get Vivint Solar Inc Report to rally in the near-term and said it sees First Solar outperforming Chinese peers JinkoSolar Holding Co. (JKS) - Get JinkoSolar Holding Co. Ltd. Report and Canadian Solar Inc. (CSIQ) - Get Canadian Solar Inc. Report .
With its move on imported washing machines, the administration decided on a combined tariff and quota for the next three years, the New York Times reported. "In the first year, the first 1.2 million washing machines that are imported will face a tariff of 20 percent, while all subsequent imports will have a tariff of 50 percent," the Times said.
Shares of U.S. washing machine maker Whirlpool Corp.  (WHR) - Get Whirlpool Corporation Report  rose 3.2% in after-hours trading on Monday.
Not everyone supported the administration's move on solar.
"President Trump says his intention is to save jobs, but the specifics show this decision is a job killer," said John Rogers, senior energy analyst with the pro-environmentalist group the Union of Concerned Scientists.
"The first year of tariffs is high enough to blunt the growth of solar energy in the United States and hurt domestic solar jobs, but the package is not nearly enough to give U.S. solar-panel manufacturers the ill-conceived walls of protectionism they were looking for."
South Korea's Samsung Electronics Co. blasted the Trump administration's move on washing machines.
"Everyone will pay more with fewer choices," Samsung said. 
Monday's move also comes at a time when markets are anxiously waiting to see what the Trump administration does with an ongoing investigation into alleged Chinese steel dumping. Some claim Chinese steel exports to America violate the U.S. 1962 Trade Expansion Act's Section 232, which provides for trade barriers to resources important to U.S. national defense.
This story has been updated from Monday, Jan. 22.
More of What's Trending on TheStreet:
Employees of TheStreet are restricted from trading individual securities.