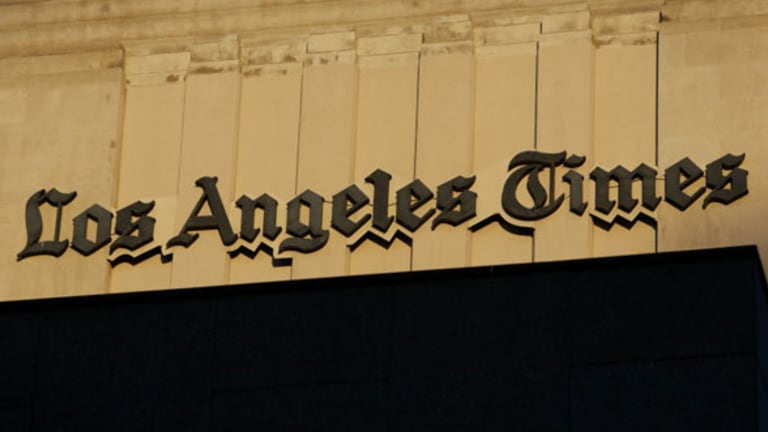 Tribune's Board Under Pressure as Gannett Highlights Shareholder Revolt
Tribune Publishing was falling Thursday after Chairman Michael Ferro succeeded in getting shareholder approval for his board of directors.
Tribune Publishing (TPUB) Chairman Michael Ferro won the battle but his war with Gannett (GCI) - Get Gannett Co., Inc. Report  is still not over.
The newspaper publisher announced on Thursday that a majority of its shareholders approved a slate of board directors backed by Ferro. But Gannett, in a press release, said that roughly 49% of shareholders not affiliated with Ferro or the company had withheld their support from the publisher's slate of nominated directors.
It was unclear what percentage of shareholders voted to withhold their support. Ferro owns a roughly 17% stake in the company. Gannett had urged shareholders to withhold their support to force Ferro to negotiate the company's $15 per share offer valued at $864 million including debt.
Earlier on Thursday, Bloomberg reported that Gannett was leaning toward dropping its bid if shareholders supported Ferro and his board, citing a person familiar with the matter. Yet a withhold vote over greater than 30% would symbolize that shareholders prefer that Tribune open talks with Gannett rather than endorse Ferro's plans to remake a company that lost $6 million in the first quarter, said Bruce Goldfarb of Okapi Partners, a proxy solicitor.
"A 30% or 40% vote of the shares that would vote 'withholding' is a strong number in a vote-no campaign," Goldfarb said in an interview in New York prior to Gannett's press release. "That's an indication of some significant investor support because you're voting against the recommendation of the proxy voting advising firms. These are investors who have made a decision not to following the proxy voting advisers or actively indicate that they're voting no most likely because of the campaign to negotiate."
The vote is being closely watched by dissident shareholders led by Oaktree Capital and St. Louis-based Towle & Co., which hold about 20% of Tribune shares. Both firms have urged Ferro to negotiate a deal with Gannett, which has offered $15 per share to to buy the owner of the Los Angeles Times and Chicago Tribune. The proposed bid is a 99% premium to Tribune's $7.52 closing price the day before its initial offer was made public.
Tribune shares were falling 4.7% on Thursday to $11.05 after tumbling as much as 13%.
The vote followed the filing of a shareholder lawsuit in Delaware Chancery Court on Wednesday charging Ferro, CEO Justin Dearborn and the investor Patrick Soon-Shiong with acting in the interest of personal gain. The lawsuit, filed by Capital Structures Realty Advisors , a commercial real estate company based in Del Mar, Calif., alleges that Ferro sought to entrench himself at Tribune when the company's board issued 4.7 million new shares in the company to Soon-Shiong, a California-based billionaire investor and Ferro friend.
Although the new shares were sold at $15 each, the same price Gannett is offering for the entire company, that was little solace to Oaktree and others who cried foul that their stakes had been watered down in the process. The transaction gave Soon-Shiong a roughly 13% stake in Tribune Publishing.
The sale to Soon-Shiong, the lawsuit said, was an effort "to silence the dissident stockholders' voices." Ferro became chairman of Tribune Publishing in February after his Merrick Media acquired a 17% stake in the company for $44.4 million or $8.50 a share.
In a statement, Tribune Publishing said that it had "just received a copy of the complaint and is reviewing it carefully. The stock sales to Merrick Media and Nant Capital were approved by the board of directors and will provide valuable growth capital to allow the company to execute on its new value-creating business plan."
Ferro has steadfastly refused to sell Tribune, arguing that he has a plan to infuse the company's newspaper operations with a "content monetization engine" that relies heavily on artificial intelligence and opening new bureaus in Lagos, Nigeria, among other global locales.
Dearborn, on the company's investor conference call last month, said Ferro's plan, called "Tronc," is "a transaction-based revenue business model that we believe allows us to leverage our massive content creation capabilities more effectively." "Tronc" is a British term for pooling tips or resources.
In a statement, Gannett said "the lawsuit is further validation that Tribune Publishing's own stockholders believe that the board has shown a disregard for all its stockholders' best interests and has prevented stockholders from realizing superior and certain cash value for their shares by approving a series of questionable actions over the past few months." 
The independent advisory firms Institutional Shareholder Services Inc. and Glass, Lewis & Co. had recommended shareholders approve Ferro's slate of directors.