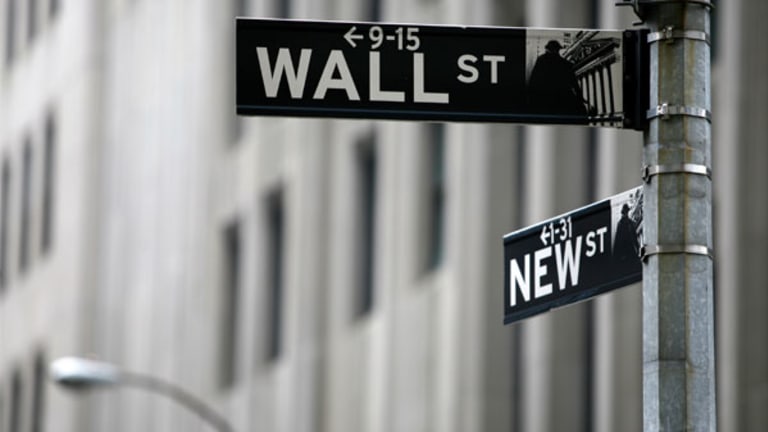 Treasury Pick Says Nothing New; Embrace Selloffs: Jim Cramer's Best Blog
Jim Cramer ponders how nothing new can be great, and observes that a selloff can be quite embraceable.
Jim Cramer fills his blog on RealMoney every day with his up-to-the-minute reactions to what's happening in the market and his legendary ahead-of-the-crowd ideas. This week he blogged on:
How a Treasury pick with nothing new to say is great
How a selloff is an opportunity
Click here for information on RealMoney, where you can see all the blogs, including Jim Cramer's -- and reader comments -- in real time.
Cramer: Trump's Treasury Pick Has Nothing New to Say, and That's Great
Posted on Jan. 19 at 2:28 p.m. EDT
Many of you might have watched the grilling of Treasury Secretary-designate Steve Mnuchin on Capitol Hill Thursday and considered the potential impact of this appointment on your portfolio and your financial life. Things did pretty much come to a standstill in the market when he faced the Senate Finance Committee, as market participants followed his every word.
Some, I am sure, came back disappointed that we didn't hear anything new or different. He wants better growth, tax reform and, in the long run, a strong dollar.
My view is the exact opposite. I was thrilled with his testimony because there was nothing new or noteworthy or tradeable or controversial. With the exception of the dollar comments, which seem at odds with the soon-to-be-president Donald Trump--although I could argue that Mnuchin was speaking about the long-term, not short-term, fluctuation--it was consistent with the tripod, the notion of corporate tax reform, repatriation of assets from overseas and deregulation to help businesses grow.
Why does that elate me? Because this bull market is predicated on the tripod being approved, and we don't want any surprises when it comes to what we can now regard as the holy grail of this rally. Sure, we got a lot of replay from what happened during the banking crisis, because Mnuchin was one of the winners at a time when there were many more losers. But I would simply regard him as shrewd as some of the other surviving bankers who feasted off the chaos and made money. I can't begrudge him. He saw an opportunity and took it.
What matters more is that the hearings demonstrate to me that, on the eve of the inauguration, we have many prisms to value stocks, and as long as the tripod stays in our sights, we can look at selloffs as opportunities to do some buying.
I like that. And the selloff we are getting?
I say this is the one that comes from people who say, "I want to sell before Trump gets in to get ahead of others," because once he is in, many things the market doesn't mind, including random tweets about business, might have a lot harder implications when he's in the White House.
I say let them sell off. The prisms, earnings, asset values, takeovers and acquisitions like the potential deal I wrote about earlier with CSX (CSX) - Get Free Report are free to play out.
You want Washington in the way only in so far as it furthers the agenda and nothing else about valuation. So call me a sanguine camper when it comes to these hearings.
Opportunities are awaiting a little lower from here after the inauguration selloff so many are looking for, and the setup is a most desired one given it's started ahead of the inauguration itself.
Action Alerts PLUS, which Cramer co-manages as a charitable trust, has no positions in the stocks mentioned.
Cramer: Embrace the Selloff as an Opportunity; Don't Run From It
Posted on Jan. 18 at 8:02 a.m. EDT
Can you get out and get in? All my trading life that has been the issue, as in, can you sell the stock of Bank of America (BAC) - Get Free Report at $23 knowing you like the stock and then get back in at, say, $20-$21? Can you be that good?
Action Alerts PLUS, which Cramer co-manages as a charitable trust, has no positions in the stocks mentioned .
If you are a hedge fund manager, you better be that good. That's what they pay you for. You have to identify when that stock has gone up too much and you have to leave it, even if you like it. Then, when it goes down--because, as is often the case, that's what happens after a huge run--do you have the brains, the wherewithal and the fortitude to start buying it back at, say, $21 or $20, betting you can get a full position back on, knowing that the numbers have to come up big if the Fed is sticking with its plan to raise rates?
I don't know if many people understand the concept of what good trading means within the context of a big rally. For me it has always meant parting with a stock I really like when everyone gets too excited knowing that I will have to thread the needle and buy that stock back when everyone gets fed up.
That's what I figured would happen this week. On the Mad Money gameplan that I delivered last Friday I said that Morgan Stanley (MS) - Get Free Report would report a spectacular quarter, but it might not matter because the stock had run so much.
Further, if it came down, there would be many people who would pronounce the bank rally over.
That's pretty much what happened.
What I didn't count on is a huge plummet in interest rates yesterday that triggered machine selling of the banks beyond what I thought possible.
Yes, when you are trading you have to recognize that the "active" shareholders are not just driven by the actual fundamentals of Bank of America or any bank, they are driven by the relationship with interest rates.
So, let's flesh out the dichotomy. I, as someone who believes in the fundamentals, listen to what the bank says on the call, try to figure out what I would pay for the possible earnings it could have and make a judgment about whether the stock is too rich or not, given those circumstances.
Other shareholders, less active, might be fine either way; some might take action, others might not. Still other shareholders, passive, don't care at all and have no judgment.
And then there are those that do nothing but trade Bank of America all day. Some of them are informed and are thinking, hmm, it has run too much. Others are algorithmic and buy Bank of America's stock when rates go up and sell when rates go down. They are the ones who sold yesterday.
What you have to do as a trader is assess the thinking of all of your other shareholders, not your own thinking of the fundamentals. It's that difference that is so vital for you to understand. They are two very different skillsets.
The short-term active shareholder base was ready to flip given the run and the lack of catalysts ahead beyond hoped-for deregulation. The longer-term active shareholder base has been trying to figure out when and how to get bigger going into a series of rate hikes and potentially years' worth of rollbacks of regulations which could mean a gigantic, meaningful return of capital from the bank itself. Bank of America is, for example, massively overcapitalized.
The rest is just noise, given how well the company has done, which you would know if you read the conference call and matched it against expectations, although I think most of the active traders may not bother to listen. The less active, bigger funds, though, the ones trying to make long-term decisions whether to buy a bank stock, would have loved what they said and are going to try to establish positions into this weakness.
It is in that no man's land that we find ourselves.
Now, what's not in the cards: could it go back to $16-$17? I don't think so, because of the rate hikes and deregulation. Also not in the cards: could it go right back to $23 and above? My judgment is that we have to lose the catalyst traders who bought it for the quarter and the algo traders who bought it for higher rates.
When they are shaken out would be the optimal time to get back in. Predicting "when" isn't as easy as we think, though. Predicting "price" is even tougher. Optimal is an art, not a science.
Which gets me back to the first instance. If you aren't a trader and you own Bank of America, the sell-to-buy exercise may not be worth it, even as many--say, on Twitter--wish I would do this for them. If you are a trader, you have to sell to buy or else you miss your opportunity.
Ask yourself, who are you? Passive trader? Active trader? Owner?
That question will give you the answer to how to handle no man's land. Otherwise, I think if you don't own the stock you should get a better chance lower, if rates keep going down. But the selloff is an opportunity to embrace, not to run from.
Action Alerts PLUS, which Cramer co-manages as a charitable trust, has no positions in the stocks mentioned.