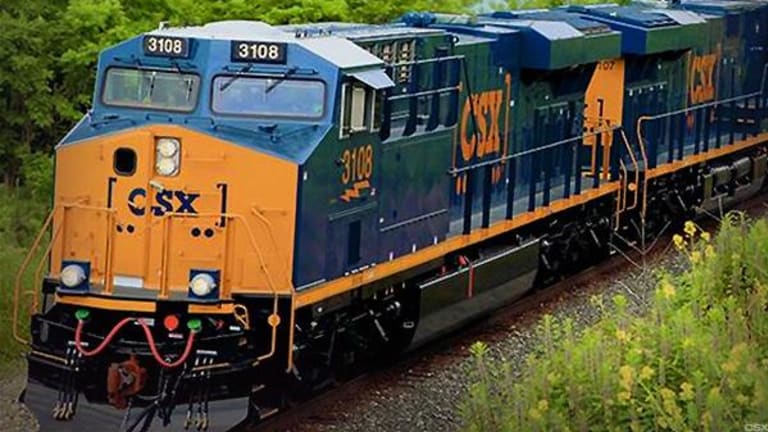 The Transport Stocks Are Getting Run Over And It's Unnerving, Jim Cramer Explains
Here is what you need to know.
Here are Jim Cramer's top thoughts on some of the biggest stories of the week.
Jim Cramer: Transports Getting Run off the Road
What the heck happened to the transports? One after another, they are rolling over just when we would expect them to advance. It's becoming unnerving and, after hitting all-time highs recently, we don't want to be surprised by their declines.
The stocks of the airlines and the rails have been obliterated and the whole pulverization's pretty shocking.
Take Wednesday's news about Norfolk Southern (NSC) - Get Norfolk Southern Corporation Report . The quarter really was terrific, with solid cargo growth all the way down the line. But when the Q&A came on the all-important conference call, it was all rather long-knived. Instead of talking about the excellent intermodal growth and the strength of coal and so many other cargos Norfolk Southern shipped, the focus was all on auto and how bad auto will be. When we talked about auto last night with Magna (MGA) - Get Magna International Inc. Report , the biggest auto parts and assembling company in the world, we had to deal with GM (GM) - Get General Motors Company Report CEO Mary Barra's comments about a pretty drastic decline in auto shipments. Ford's (F) - Get Ford Motor Company Report not giving you all that much hope today for a turnaround, either.
Next thing you know, a perfectly fine quarter produces a real hammering. I guess we should have been ready for this when CEO Hunter Harrison lowered the boom first at CSX (CSX) - Get CSX Corporation Report , where the miracle worker worked no miracles and we got a restrained outlook.
Worse, Union Pacific (UNP) - Get Union Pacific Corporation Report then reported what I thought was a blowout quarter with every single line item being terrific. But then CEO Lance Fritz came on Squawk on the Street and he was so glum he made me concerned that the second half could be a real downer, even as I don't think that's the case.
To top it all off, these rails all benefited from a resurgence in coal, including export coal, because of competitive advantages. But I think those could be going away, and let's never forget that while the president favors coal, that doesn't mean the utilities do. They will continue to phase it out and they are gigantic users of the stuff.
Then there are the pathetic airline stocks. What can I say? They had been a juggernaut ever since Warren Buffett started snapping them up. However, their quarters so far have been greeted with a thud and, again, without even any number cuts, we are getting an amber light for further investment. Just like the old days, there is now too much competition, except this time it's from overseas. No-frills carriers are just plain putting the hurt on any carrier with a good international business.
These stocks are getting cheap again and we know from Boeing's  (BA) - Get Boeing Company Report amazing quarter that it won't be easy to get new aircraft because the queue is long. But the group is heavy, to say the least.
What's the best hope for a reversal in this key group? I would say it comes from United Parcel (UPS) - Get United Parcel Service, Inc. Class B Report , which reports tomorrow, and people are expecting a good one given the incredibly fast shift to e-commerce in the country. UPS should be a huge winner, but how many times has this company snatched defeat from the jaws of victory? FedEx (FDX) - Get FedEx Corporation Report did a great job when it reported but the stock's been stuck in neutral. Perhaps UPS can get it going forward again.
If there is one saving grace, it's from Cramer fave XPO Logistics (XPO) - Get XPO Logistics, Inc. Report , the last-mile trucker and freight brokering company that has caught fire of late, rallying 43% for the year on the strength of all of that terrific e-commerce business both here and around the world. It just priced an 11 million share secondary at $60.50 and already it's up a buck and a half. It will use those proceeds to help fund its next big deal as, out of nowhere, it seeks to be the company that dominates trucking. It could be a huge winner if the Amazon (AMZN) - Get Amazon.com, Inc. Report -Sears (SHLD) tie-up for appliances ever gains any traction.
I can't stress how important this group is to any rally. Transports equal commerce. The more commerce, the higher the earnings for so many companies. Let's hope UPS breaks the dry spell. This group sure needs it.
Originally published July 26 at 2:37 p.m. EST.
Jim Cramer: This Is Not the End

Now, we are at a critical moment. To stick for a moment with the panickers who did their very best to tell you that we are finished and we are in an island reversal, the ones who come on early Friday morning or Thursday afternoon and told you that it is the death knell, you are now in a position on most Nasdaq names to get a better price than these self-justifying nattering nabobs of negativity would ever give you.
Now, again, at any given time someone can make a call that has to be heeded. But if I had a fiver for every time we had a hedge fund manager write a letter saying it is over and a big deal was made of it but then there was NO FOLLOW-UP, I would be rich.
That means, lets say you own Nvidia (NVDA) - Get NVIDIA Corporation Report . You no longer have to sell into the maelstrom that these jeremiads create. You are free to go in an orderly way. Same with Facebook (FB) - Get Meta Platforms Inc. Class A Report or Alphabet  (GOOGL) - Get Alphabet Inc. Class A Report . I like all of those.
All of them.
But I am ANTI-PANIC.
Friday morning, at the end of Squawk on the Street, I got quiet and said I had had enough with the "it's over" people, that I was done with having to defend a market that has been pretty darned good, even with all of its flaws, like the transports now.
Every time you see one of those letters or hear instant-bears telling you to sell I need you to remember this. Remember when Amazon (AMZN) - Get Amazon.com, Inc. Report first hit $1,000 and so few people had owned it straight through? Remember the sheer panic in Apple (AAPL) - Get Apple Inc. Report at $93 as so many blew out of it? Facebook in the twenties? It would be so easy for me to come on air and say "get out of Nasdaq NOW."
I know it would be a big splash, I know I could put the hurt on for certain. Lots of bears would applaud as they did when one came on Scott Wapner's show and said short Nvidia.
But I don't want people to overtrade. I don't want people to panic.
And on news cycles like this one?
I feel very lonely.
Originally published July 28 at 1:17 p.m. EST.
Jim Cramer fills his blog on RealMoney every day with his up-to-the-minute reactions to what's happening in the market and his legendary ahead-of-the-crowd ideas. This week he blogged on:
How you should buy on weakness like a pro
How despised tech names are rallying
Action Alerts PLUS, which Jim Cramer co-manages as a charitable trust, is long FB, AAPL and GOOGL.