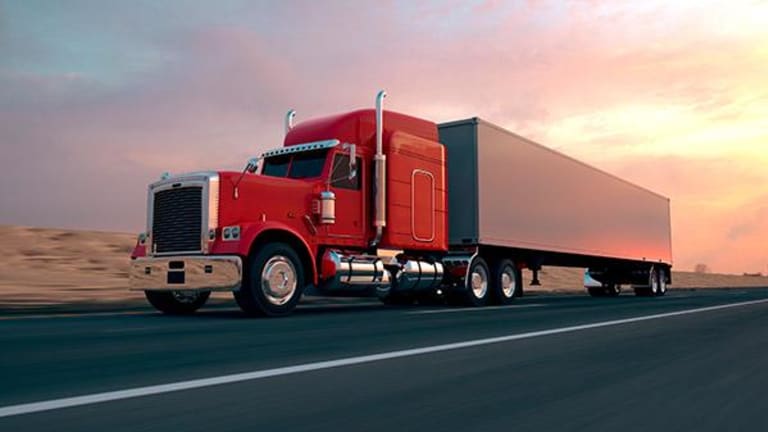 The Dow Transports Have Mysteriously Plunged - What We Know
The Dow Jones Transportation Average lagged far behind industrials this month.
Despite some earnings beats in the sector, the Dow Jones Transportation Average struggled this month as the Dow Jones Industrial Average lurched forward to tack on eight record-high closes. The transportation average, which is the oldest index still in use, hit a record-high close of $9,742.76 mid-month on July 14 before taking a plunge.
The transportation average fell more than 3% from the beginning of the month, closing at 9227.07 Friday, July 28, even as the industrial average rose more than 2% in the same period to a record 21830.31. A divergence in the transportation and industrial indices, if it persists, can signal a potential pullback in the market.
According to analysts at Wolfe Research, the selloff could be caused by declining expectations for freight tonnage in the second half, driven by coal and grain slippage as well as falling auto sales.
The analysts wrote that "pretty much everyone faces tougher volume" in the second half, with many firms in the sector offering lowered guidance for the months ahead despite the positive start to the year.
Rail, in particular, has suffered from lowered guidance.
The Transport Stocks Are Getting Run Over And It's Unnerving, Jim Cramer Explains
Despite reporting an earnings beat for the second quarter, shares of Jacksonville, Fla.-based railroad company CSX Corp. (CSX) - Get CSX Corporation Report fell more than 5% July 19 as the company predicted an unfavorable second half for auto production and domestic coal. For the month as a whole, the stock fell more than 8%.
Another rail company, Norfolk Southern Corporation (NSC) - Get Norfolk Southern Corporation Report fell more than 2% July 26 after the company reported second quarter sales that matched expectations, even as profits were up 23% compared to the same period the year before. The company projected moderated volume growth for coal and merchandise in the second half, with coal exports set to slow and pipeline growth expected to cut into some of the company's business. The stock is down more than 6% this month.
Omaha, Neb.-based rail transporter Union Pacific Corporation (UNP) - Get Union Pacific Corporation Report is also hurting this month after projecting flat volume for the third quarter. The stock fell 1.58% after its second quarter earnings release July 20 and is down more than 5% for the month.
While coal exports were strong in the second quarter, rail companies will likely continue to face headwinds in the commodity in the future. The commodity has been bolstered by limits on coal mining in China but faces long term down trends.
"To top it all off, these rails all benefited from a resurgence in coal, including export coal, because of competitive advantages," TheStreet's founder and Action Alerts PLUS portfolio manager Jim Cramer wrote today. "But I think those could be going away, and let's never forget that while the president favors coal, that doesn't mean the utilities do," he wrote.
Transport's recent woes extend beyond rail companies.
Greeneville, Tenn.-based Forward Air Corporation FWRD, an air freight logistics company, as well as Oak Brook, Ill.-based trucking firm Hub Group, Inc. HUBG also lowered their guidance for the second half.
Forward Air dropped their third quarter guidance 3% below consensus estimates in their second quarter earnings report, sending the stock down 5% July 27 to $50.75 from $53.70. The same day, Hub Group lowered its second half guidance 9% below consensus, with the stock falling almost 15% to $33.85 from $39.80 on the report, the largest drop for the company in more than five years.
Todd Fowler, equity research analyst at KeyBanc Capital Markets, said that the trucking sector was cursed by high expectations heading into earnings season thanks to a trucking market that's as tight as it's been since 2014.
"Investors are getting a little bit skittish that the environment going into [the second quarter] won't persist going forward," he said. Fowler noted that some trucking logistics companies, such as Thomasville, N.C.-based Old Dominion Freight Line, Inc. (ODFL) - Get Old Dominion Freight Line, Inc. Report had some irregular shipping in July because the fourth of July holiday fell mid-week, a temporary shock to transporters, but that it was a stock that he would "circle back to" in the second half. 
Airlines have also taken a beating this month, with Atlanta-based Delta (DAL) - Get Delta Air Lines, Inc. Report down more than 6% over the month to $50.33 July 28, Dallas-based Southwest Airlines Co (LUV) - Get Southwest Airlines Co. Report down 9% to $56.56, and Chicago-based United Continental Holdings Inc (UAL) - Get United Airlines Holdings, Inc. Report down almost 10% to $67.88.
Cramer called the stocks' performance "pathetic," saying better returns are unlikely over the next few quarters.
"Just like the old days, there is now too much competition, except this time it's from overseas," Cramer wrote. "No-frills carriers are just plain putting the hurt on any carrier with a good international business."
More of What's Trending on TheStreet:
Tesla, Amazon, Altria Are Monday's Smoking Hot Tickers
Amazon Is Attracting Sizable Enemies and Its Stock Should Be Avoided, Doug Kass Reveals
Snap Has No Way to Make Money, One Analyst Says as Lockup Period Expires