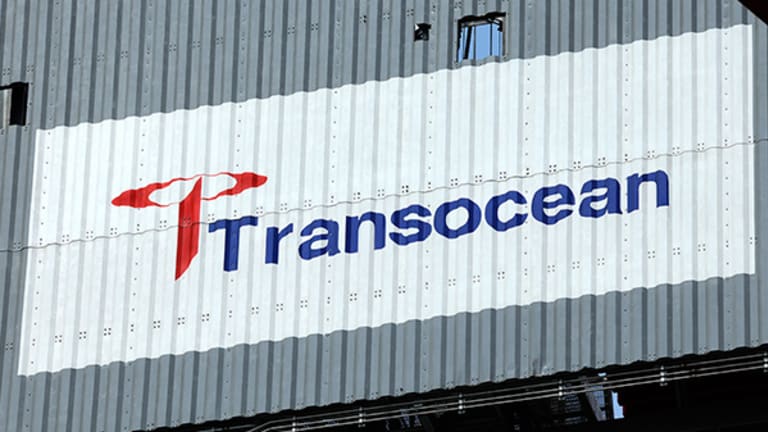 Publish date:
Transocean Likely to Gain After Agreeing Jack-up Fleet Sale
Norway's Borr Drilling will pay a higher-than-expected $1.35 billion for the 15 mobile rigs.
Norway's Borr Drilling will pay a higher-than-expected $1.35 billion for the 15 mobile rigs.
Transocean (RIG) - Get Transocean Ltd. Report  said Monday it will sell its entire jack-up fleet for $1.35 billion, reducing its rig count amid an ongoing slump in offshore drilling that has left about half of the global rig fleet idol.
The oil rig owner and operator will sell 15 of the mobile rigs, which are often used in exploratory drilling, to Norwegian oil services group Borr Drilling. The sale included 10 operational rigs and five rigs that are still under construction, said the buyer.
Speculation of a sale of Transocean's jack-up fleet has been doing the rounds for weeks and, coupled with better than expected Q4 results, briefly pushed Transocean stock higher at the end of February before shares lost momentum and tumbled in March. 
Transocean shares were marked 0.4% lower in Zurich at Srf12.45 each by 11:15 CET. Shares in New York closed down 2%, or 25 cents, to $12.22 per share.
Confirmation of a deal for the rigs and the fact that the price paid by Borr is higher than the $1.2 billion that had been expected is likely to push Transocean shares higher on Monday.
The deal comes at a low point for rig operators. which had invested heavily in their fleets amid a boom in offshore drilling that collapsed in 2014 as oil prices fell from over $110 per barrel to less than half that.
Oil producers slashed exploration and production budgets in response to the decline, forcing rig operators to idle much of their fleets. Of the about 220 floating rigs across the globe just over 110 are in use, while a further 66 have been semi-permanently mothballed and just over 40 remain in construction.
Transocean, which has booked about $6 billion in asset write downs since 2014, owns or has stakes in a total of 61 offshore rigs, of which 27 are in cold stack, meaning they are in long-term storage and unlikely to reenter operations, while a further four are idle.  
Closely-held Borr said that it had already paid a deposit on the rigs and has secured financing for the deal through a private placement of equity. The deal is expected to close in May.
Transocean had about $3 billion in cash at the end of 2016 and reported earnings per share of $0.24 over the fourth quarter, well ahead of analyst expectations of $0.06 as it benefited from asset sales, payments from clients to terminate contracts and cost cutting.