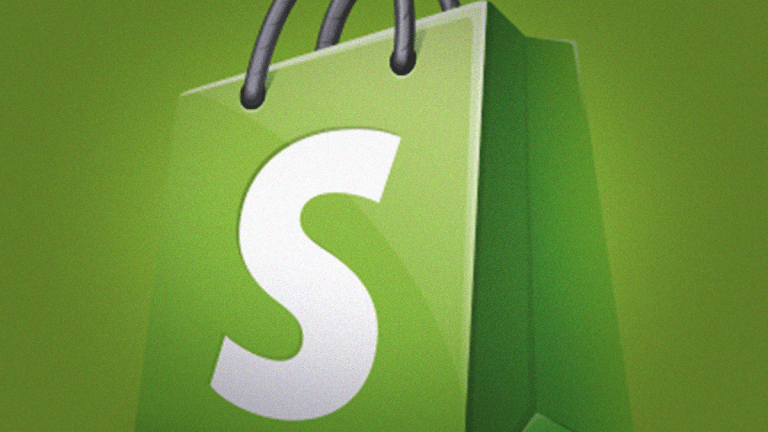 Trading Shopify Earnings as Stock Surges to New Highs
Shopify stock is hitting new all-time highs.
Shopify (SHOP) - Get Free Report stock hit new highs early in Thursday's trading session, surging more than 10% at one point to a new all-time high of $349.94. Shares closed with less enthusiasm, but still ended higher by 7.4% at $341.39. It also held a key level in doing so. 
Fueling the move? The company's second-quarter earnings report, which came in ahead of expectations. Both non-GAAP and GAAP earnings per share topped expectations, while revenue of ~$362 million surged almost 48% year-over-year and topped estimates by more than $11 million.
Even better, though, management upped its full-year outlook. The company now expects revenue of $1.51 billion to $1.53 billion, with the midpoint of that range topping consensus views of $1.51 billion. It's also up from management's prior outlook of $1.48 billion to $1.50 billion.
Net income is moving in the right direction, while Shopify has various revenue segments kicking out robust growth. The stock is expensive and traditional investors may scoff at its now $40 billion market capitalization. But it's hard to deny that this company is firing on all cylinders and disrupting the way small- and medium-sized businesses approach e-commerce.
That's one reason why Shopify stock is a holding in Jim Cramer's Action Alerts PLUS member club. Want to be alerted before Jim Cramer buys or sells SHOP? Learn more now.
From the AAP team: "Bottom line, Shopify performed to our expectations and we believe the momentum can continue. ... It is also important to keep in mind that there is a flywheel effect here as customer growth plays right back into Shopify's own growth."
Trading Shopify Stock
Shopify stock has been on fire, rallying 150% so far in 2019. Ironically, the stock is up the same amount over the past 12 months. No matter how one cuts it, though, that's still an incredible performance in such a short period of time.
It's put to shame by Shopify's three-year performance, though, which now stands at 910%.
How do investors trade something that's up so much in such a relatively short period of time? The same way they would trade anything. Identify key levels and trends. On the charts, it's clear that $340 is a key level for Shopify stock.
Now clearly above that level, it's important that SHOP stock maintains that level going forward.
While risky at the time thanks to the Fed-fueled volatility, the way that Shopify stock held up above the 50-day moving average on Wednesday was highly encouraging ahead of earnings. Now back above both long- and short-term trend support (blue and purple lines), bulls remain in control of SHOP.
It seems hard to believe for some, but should the overall market remain favorable and if Shopify stock maintains its trend lines and channels, a significant move higher is possible. Channel resistance doesn't come into play until north of $400, while there's a Fibonacci extension currently near $433.50.
Should Shopify stock hit $400, it will tack on another 14.5% gain from current levels.
Summer Break Sale: Subscribe to Real Money and Save 76%
Join Real Money, our premium site for active investors, and enjoy exclusive access to real-time market analysis from Jim Cramer and more than 20 columnists hand-picked by him.
This article is commentary by an independent contributor. At the time of publication, the author had no positions in the stocks mentioned.