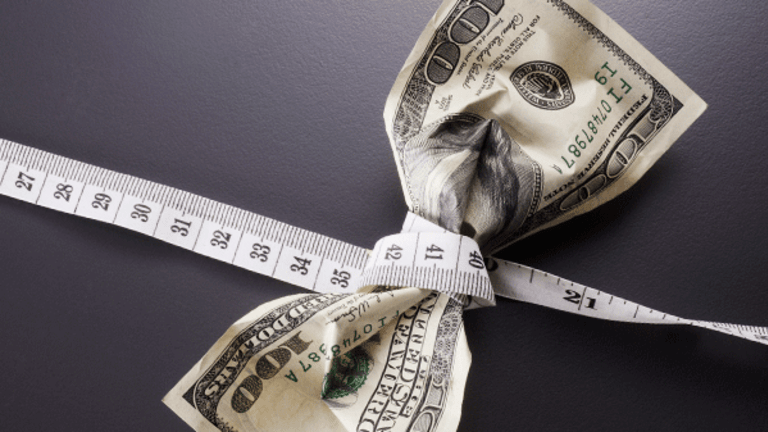 Trading Five Volatility Squeeze Plays
Price action and support and resistance levels determine the direction of these trades.
Periods of low volatility as measured by narrow Bollinger bandwidth are often followed by volatility breakouts or breakdowns, and being prepared to catch the move is the strategy behind the "squeeze" play. Stocks with charts that reflect low volatility ranges or tight bandwidth, and defined levels of support and resistance offer that quick trading opportunity.
Shares of the chocolate confectioner, Hershey Foods (HSY) - Get Free Report have been rising since December last year and managed to close a long-term gap last month. Since then, they have been moving in a small horizontal channel with resistance at the $110.00 level and support at the 50-day moving average, currently in the $107.00 area. The stock price retested the upper end of the channel in Tuesday's session but closed back off its high. Chaikin money flow is in positive territory and the relative strength index is above its centerline, so the technical indications point to an upside break. That said, the squeeze play has no particular bias and is short term in nature, so making a quick profit by trading either a breakout or a breakdown is the strategy.
Lannett (LCI) - Get Free Report is a generic drug manufacturer and price action in its shares has been forming a symmetrical triangle or wedge formation on the daily chart for the past five months. This week they moved back up to retest the pattern downtrend line and the stock closed near its high in Wednesday's session. The relative strength index has moved broken above its 21-period average and center line, and the accumulation/distribution line is tracking above its rising signal average. Its looks like another candidate to breakout but, again, let price determine the direction of the trade.
The financial ratings service company, Moody's (MCO) - Get Free Report has been trading in a channel pattern since March, but the stock price has shown signs of fatigue in the last three sessions and returned to the lower end of the channel. The stochastics oscillator is reflecting the decline in price momentum since the first week of March and the aroon indicator, designed to identify early shifts in trend, has made a bearish crossover. Chaikin money flow is suggesting a significant decline in positive money flow.
Norwegian Cruise Line Holdings (NCLH) - Get Free Report has been trading in a pattern of higher highs and higher lows since November 2016, but it has been bumping up against a stubborn ceiling of support in the $52.00 area for the last month. Moving average convergence/divergence is in slight bearish divergence to price and Chaikin money flow has dropped into negative territory. Let the clearly defined levels of support and resistance determine if the trend is your friend or if the rally is coming to an end.
Targa Resources (TRGP) - Get Free Report is a midstream energy services company and its stock price pulled back below a flat 50-day moving average last month forming a strong downtrend line above a rounded bottom. The trend line and the 50-day average were retested in Wednesday's session, and the technical indications suggest a bullish break. Stochastics has been moving in positive divergence to price and is above its centerline, and Chaikin money flow moved into positive territory two weeks ago and is tracking higher. Price, again, is the final arbiter of the "squeeze" play, so be prepared to enter a trade quickly and exit just as quickly, taking either a fast profit or a small loss.
No positions in the stocks mentioned.