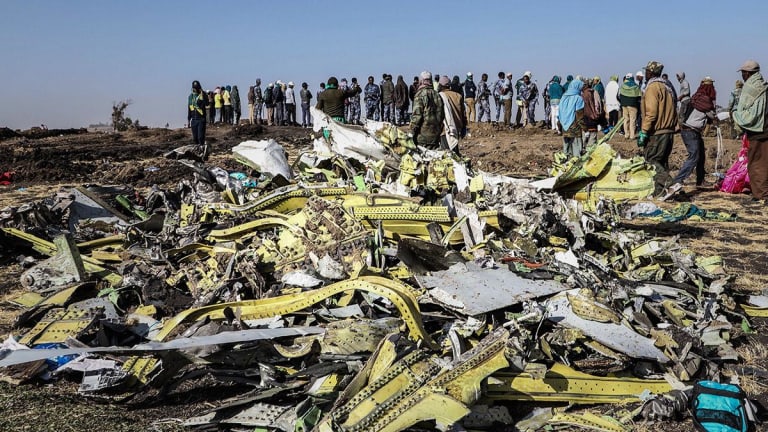 Trading Boeing Stock Through the Deadly Crash News
Boeing shares rising after a big gap down on horrific news.
Boeing (BA) - Get Report shares were down more than 13% in pre-market trading and down double-digits at the open. By the close Monday, though, shares were down "just" 5.36% to $400.01 and looking for more upside.
The stock is under pressure after one of its new models, the 737 Max 8, crashed while piloted by Ethiopian Airlines over the weekend. There were no survivors and it's the second such event since the plane's introduction.
Given the concern, it's no wonder shares are under pressure. Richard Suttmeier's call to book profits on Boeing on Feb. 26 is looking pretty good now, despite anyone's ability to predict such a horrific event. After citing several Boeing crashes, he wrote: "These and other close-calls are reasons to be concerned about sustaining a solid order flow and future orders. Investors should keep an eye on these safety concerns."
So far, though, the bounce looks encouraging at this point. Let's take a look and discuss.
Trading Boeing Stock
While the initial stock drop looks scary, the gap fill down to $365 drew in a wave of buyers. The stock quickly rallied up through the 50-day moving average and that notable $382 post-earnings level. With intraday momentum gathering, bulls will surely try to press this name higher up to $400.
There may or may not be a problem with Boeing's new aircraft. Following the first 737 Max 8 crash with Lion Air on Oct. 29, worries are beginning to grow for Boeing and China has already grounded all flights involving that model. That said, Boeing is an incredibly well-run company and Monday's wave of buyers shows that there was pent-up demand to buy this name on a pullback. Boeing will work through this problem and investors are confident in that. Notice how quickly the stock rebounded in late-October following its first crash, even amid the nasty fourth-quarter correction.
Barring drastically negative developments from this event for Boeing, investors may try to push this back up to the $410 to $420 area.
Admittedly, we talked about the trade setup first, but there are a few things to keep in mind. First, this crash that killed 157 people from 30 different nations is a tragedy. How much was lost (or gained) in Monday's trading session is irrelevant compared to the lives that were lost and the pain that will persist as a result of this weekend's event.
Second, an event like this should also put things in perspective, particularly for investors and traders. While a livelihood for many, it underscores just how unimportant work is when compared to the family and friends in our life. Take a moment to forget about the profits and be grateful for the meaningful things in life -- big and small.
This article is commentary by an independent contributor. At the time of publication, the author had no positions in the stocks mentioned.