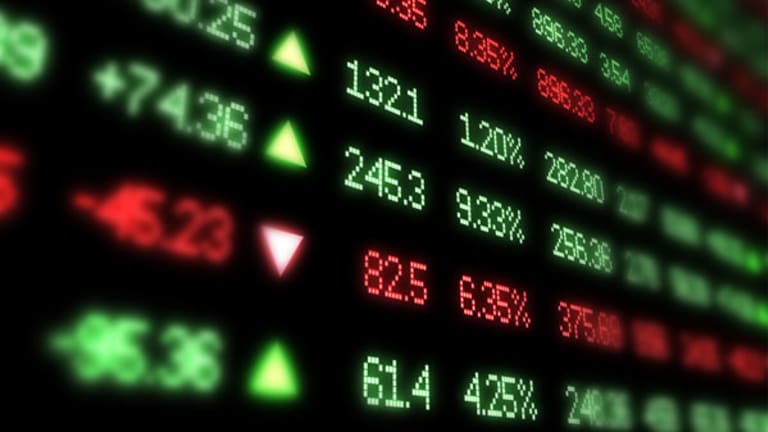 Trades Aren't Long-Term Leases; Why Shorting IBM Makes Sense: Best of Kass
In highlights from this week's trading diary and posts, Kass tells us about how trades should not be considered long-term leases and discusses why he's shorting IBM.
Doug Kass fills his blog on RealMoney every day with his up-to-the-minute reactions to what's happening in the market and his legendary ahead-of-the-crowd ideas. This week he blogged on:
How trades are not long-term leases.
Why he's shorting IBM.
Click here for information on RealMoney, where you can see all the blogs, including Doug Kass'--and reader comments--in real time.
Trades Are Rentals, Not Long-Term Leases

Originally published Dec. 14 at 3:55 p.m. EDT
I took off the balance of my Direxion Daily Small Cap Bear 3X Shares (TZA) above $20 to close out this week's "Trade of the Week" for a nice gain.
I remain a committed and possibly "convicted" short the Russell Index. Here and here.
As I previously wrote, trades are short-term rentals and not long-term leases.
This is particularly important with leveraged ETFs, which have premium decay, rebalancing issues and, as a result, often don't track well over longer periods of time.
Position: Short IWM.
MetLife, Lincoln National Return as 'Best Ideas' Shorts

Originally published Dec. 14 at 8:03 a.m. EDT
As we enter the new year, my expectations for both interest rates (lower) and the stock market (also, lower) prospects are different than the consensus.
According to Bank of America, only 6% of economists are looking for lower interest rates in 2017. This group has been generally wrong about the direction and magnitude of the rate change for four years. I expect no different from them next year.
As a result, I am adding two life insurers, MetLife (MET) ($56.65) and Lincoln National (LNC) ($67.05), back on to my Best Ideas List (I am back short both of these as of Wednesday).
I have a good record in shorting this sector (we made 30% the last time!) and hopefully we can repeat this performance.
Both insurance stocks are leveraged to equity markets and are rate-sensitive. Accordingly, they have moved up dramatically as the 10-year U.S. note yield has risen from 1.4% to 2.5% and as equities have surged higher. I expect markets and rates to decline in 2017.
Both stocks now sell above what I quantify at as above private market value.
I remain long Hartford Financial Services Group (HIG) , gauging the chances of a takeover at 40% to 50% over the next 12 months.
I would also note that in the financial sector I continue to hold on to small short trading positions in three banks--Bank of America (BAC) , Citigroup (C) and JPMorgan Chase (JPM) --but the shorting opportunity in life insurers is more of an intermediate-term opportunity as MET and LNC will not benefit from some easing of regulatory constraints under the new administration.
Position: Long HIG; short LNC, MET, BAC, C, JPM (all small).
The China Syndrome

Originally published Dec. 14 at 7:53 a.m. EDT
"I know the vibration was not normal."
--Jack Godell, "The China Syndrome"
Two stocks that have rallied mightily over the last month--Apple (AAPL) and General Motors (GM) --have an underappreciated risk.
That is, a much colder relationship between the U.S. and China under a Trump administration.
The risk is greater for Apple, which is relying on China as an important driver to sales and profit growth, but both hold real business risks.
Position: Short AAPL.
Shorting Big Blue

Originally published Dec. 13 at 8:17 a.m. EDT
I have shorted International Business Machines (IBM) and I am adding the name to my Best Ideas List this Wednesday morning at $165.60.
IBM's shares have risen by about 10% in 2016 but are up 30% from the yearly lows.
Unfortunately, on a fundamental basis, there appears to be less of a turnaround than many believe:
As has been the case over the last few years, the company's earnings results have been buoyed by nonrecurring items and not an improvement in IBM's core operations. These items include restructuring credits, Japanese tax benefits, a lower effective tax rate and transfers of intellectual properties.
Non-operational benefits are not likely to be sustained over the next two to five years.
With organic growth likely down 4% in 2017 and down again the following year, core profitability continues to erode and 2017-2018 estimates are likely to be revised lower in the quarters ahead.
Margins are imperiled by continuing investments and by the ongoing lack of scale in the service business.
In a period of expected large gains in S&P profits, I would project that 2018 earnings per share will be lower than 2017 results.
In terms of risk/reward I see a 12-month upside of $180 to $185 (+11%) compared to a downside of $120 to $125 (-26%)--a ratio favoring the downside by a factor of more than two to one.
I will have a more detailed analysis of this short in the days ahead.
Position: Short IBM small.
Action Alerts PLUS, which Cramer co-manages as a charitable trust, is long C and AAPL.
At the time of publication, Kass and/or his funds were long/short XXX, although holdings can change at any time.
Doug Kass is the president of Seabreeze Partners Management Inc. Under no circumstances does this information represent a recommendation to buy, sell or hold any security.