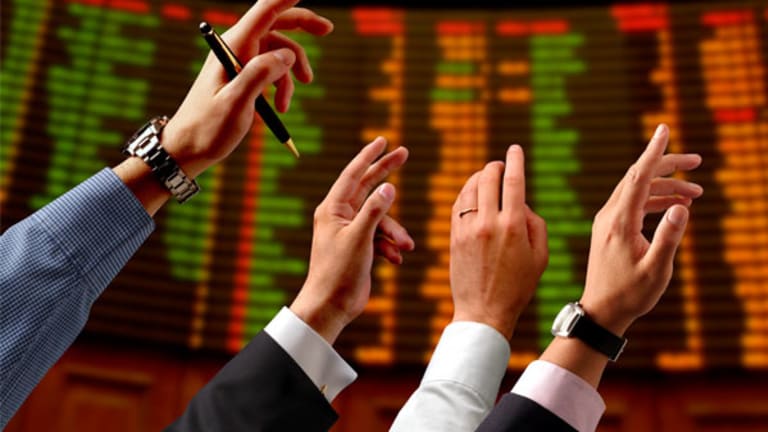 Traders Are Cleaning Out Their Portfolios: Rev Shark's Best Blog
Rev Shark steps in for Jim Cramer this week.
Jim Cramer shares his views every day on RealMoney. Click here for a real-time look at his insights and musings.
Will This Be Another Lousy January?
Posted at 4:23 p.m. EDT on Dec. 30, 2016

Market players spent most of the day talking about what happened in 2016 and making predictions about 2017. Very little happened in the market today as volume dropped even more and the idea of Dow 20,000 slid further into the murky future.
We did have a little last-minute buying but overall the volatility today was less than I expected. After the reversal that hit on Wednesday, market players seemed to have closed up shop and have done little. The big rotation out of stocks and into bonds that many were anticipating never materialized, but we didn't have any window-dressing mark-ups to speak of either.
The last three Januaries have started poorly and there seems to be quite a few market players anticipating that it will be four in a row. We had some very ugly action last January as market players grew concerned that the Fed was overlooking global economic weakness as it grew more hawkish. That may be an issue again, but the main focus will be on how fast and to what extent the Trump administration will roll out new policy.
Fourth-quarter earnings will start to hit right around Inauguration Day, so we will have an interesting confluence of events to consider. The bears believe this market has already overshot to the upside and we'll see how the market feels about it next week.
In 2016, the conventional wisdom has been wildly wrong quite a few times. At this point, I'm not quite sure what most folks are expecting in 2017, but given their track record it is probably better that I don't.
I want to wish everyone a happy new year. We are going to have a great year in 2017. Enjoy the break and be ready to go to work next week.
At the time of publication, Rev Shark had no positions in the stocks mentioned.
Action Alerts PLUS, which Cramer co-manages as a charitable trust, is long C, WFC.
Traders Are Cleaning Out Their Portfolios
Posted at 11:47 a.m. EDT on Dec. 30, 2016

The gap-up open was quickly sold, as market players seem more interested in cleaning out their portfolios so they can start fresh in 2017, rather than starting new positions. Breadth is running about 2,600 to 3,800 negative, and we only have about 100 stocks hitting new 12-month highs today.There is weak action in the big-cap FANG names, and there isn't much going on as far as themes.
The action today is dominated by subjective factors, such as taxes, allocations, window dressing and mental preparation for a new year. There is no way to game these things in a logical manner. If you are trying to trade like you do at other times of the year, you are likely having a hard time.
I have a few small-caps on my radar, such as Cemtrex (CETX) , Hudson Technologies (HDSN) , Conatus Pharmaceuticals (CNAT) and Tabula Rasa Healthcare (TRHC) but the thin trading is impeding momentum. It is only going to slow further as the day progresses but the longer-term pattern of these four names looks ok so I'll give them some room.
For those of you heading out early today I want to wish you the best in the new year. I know it will be a very challenging market at times but I also am certain there will be some outstanding opportunities. We just need to put forth sustained effort.
Please note that due to factors including low market capitalization and/or insufficient public float, we consider CETX to be a small-cap stock. You should be aware that such stocks are subject to more risk than stocks of larger companies, including greater volatility, lower liquidity and less publicly available information, and that postings such as this one can have an effect on their stock prices.
At the time of publication, Rev Shark was long CETX, HDSN, CNAT and TRHC, although positions may change at any time.
Rev's Forum: 3 Factors That Will Drive the Market Action in 2017
Posted at 7:45 a.m. EDT on Dec. 30, 2016

"Predicting rain doesn't count. Building arks does."
-- Warren Buffett
This is the time of the year when market pundits roll out their market predictions. Although no one is very good at it, the business media likes the easy headlines and fills up some space during the slow holiday period.
I purposely forego making major market predictions, as I believe it creates mental and psychological biases that can impact the way I manage my trades. I want to freely admit I don't know what will happen in 2017, so that I will be ready to react to whatever may develop.
Nonetheless, I do find it helpful to contemplate the major factors that are likely to drive the action in the year ahead. We can react faster and more aggressively if we are watching for the early signs of a major shift in the market.
There are three factors that are going to determine what happens to the market in the year ahead: the central banks, the business cycle and politics. Those are pretty general ideas, but we have to keep them in mind as we navigate the market action.
Central banks have been the primary factor driving this market since the Great Recession. Nothing has mattered more than low interest rates. It is now becoming clear that the days of endless accommodation are slowing. We still have bankers in Asia and Europe pressing to keep rates lower, but they are running out of ammunition. In the U.S., the Fed is clearly signaling that it has started to slowly increase rates and the bond market has reacted swiftly.
The bears have always believed that it would be the central banks that ended the long running uptrend. The old saying about not fighting the Fed worked very well to the upside; now the question is whether it will work to the downside.
The other factor that will have a huge impact on the market in 2017 is the business cycle. We have experienced one of the slowest, but longest cycle recoveries over the past eight years. It has been low interest rates rather than economic growth that has driven the recovery and now we have to wonder if growth can finally accelerate to the point that has been anticipated for many years.
Barack Obama had the great fortune to be elected at the very bottom of the business cycle. There likely would have been a better economy over the past eight years simply because of the natural business cycle. We can debate whether or not his policies aided the cycle or hurt it, but there is no question that the cyclical nature of economics drove the action and now we are at a late point in the cycle.
That brings us to politics. Many pundits believe that the presidency of Donald Trump will be the most important factor driving the market in 2017. While the Trump administration has the ability to prolong the positive business cycle, there is much that is not under its control. Tax and trade policies will have some impact, but the business cycle and monetary issues are far more powerful.
While I'm optimistic about a better business and economic environment under President Trump, I'm concerned that the business cycle and the lack of support from central banks will keep the market contained.
As always, there will be great market opportunities. We really don't need to know where the indices will be, a year from now. We need to recognize that there will be some major themes and trends during the year, and if we embrace them in a timely manner we will do well.
We are kicking off the last day of the year with a positive start, but extremely thin trading caused some unusual action in currencies overnight and the likelihood is that we will have some random action today.
At the time of publication, Rev Shark had no positions in the stocks mentioned.
Action Alerts PLUS, which Cramer co-manages as a charitable trust, had no positions in the stocks mentioned.