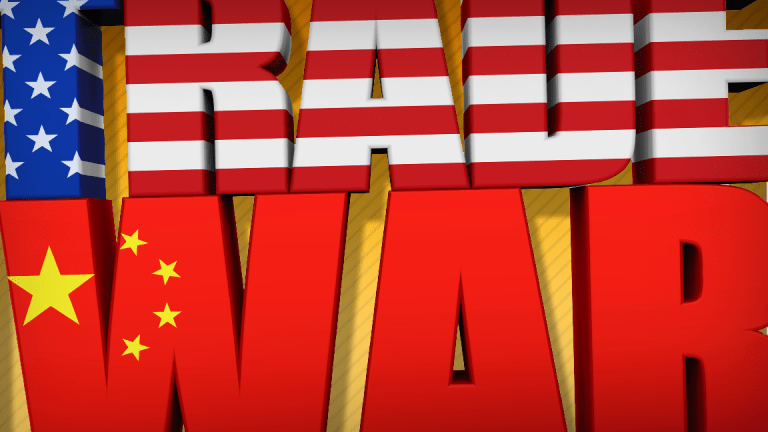 Trade War Sparks Fear of Imported Inflation as Consumer Prices Set to Rise
Equity investors make their bets on what they think is going to happen in the quarters to come, and one thing that looks to be coming is a dose of imported inflation sparked by a growing trade war.
Here comes the inflation.
U.S. equity markets are hovering near their highest levels since February as concern about an escalating trade war have eased after China declined to immediately respond to the latest round of U.S. tariffs. Count on a reprise of those concerns.
Investors are expecting excellent results this earnings season, as corporate profits expand under the Trump administration's policies of low taxes, rolled-back regulations and lax enforcement. JPMorgan Chase (JPM) - Get JPMorgan Chase & Co. (JPM) Report had solid results on Friday, points out the Action Alerts PLUS research team. Trouble is, equity investors make their bets on what they think is going to happen in the quarters to come. And one thing looks to be coming is a dose of imported inflation sparked by a growing trade war.
Last week the U.S. levied a 25% tariff on $34 billion worth of Chinese imports, mostly on parts imported to manufacture U.S. goods. China retaliated with taxes on an equal amount of U.S. products, including soybeans, electric cars and pork. Another $16 billion in U.S. tariffs on Chinese goods may take effect at the end of July.
It's not just China, of course. The U.S. started the trade war when it slapped tariffs on imported steel and aluminum from allies including the EU, Canada and Mexico. All three responded with levies on U.S. exports of products including blue jeans, whiskey, motorcycles and agricultural products.
It's not clear what the end point of the trade war might be, except that the Trump administration says it hopes that China and the other U.S. trade partners will change their policies and be fairer to the U.S. Hope, as the late Vince Lombardi may or may not have said, is not a strategy.
In the meantime, consumers will be paying higher prices for lots of stuff, no matter if companies figure out ways to avoid some higher costs by shifting suppliers or altering supply chain routes.
Some of the goods people use every day that are liable to become more expensive in the months ahead include tool sets, batteries, remote controls, flash drives and thermostats, the National Retail Federation said last week.
"And students could pay more for the mini-refrigerator they need in their dorm room as they head back to college this fall," the group said. The same goes for washing machines, whose prices rose 9% in April and 6% in May, according to the U.S. Bureau of Labor Statistics.
People thinking about buying a new house made of wood will be paying more than they used to because tariffs in Canadian lumber are adding about $9,000 to single-family home prices, Randy Noel, chairman of the National Association of Homebuilders said last month, as reported by CBS News.
To be sure, homebuilders such as Lennar (LEN) - Get Lennar Corporation Class A Report , have locked in supplies earlier, so as to keep to a minimum the costs of some materials, such as steel bars used to reinforce concrete.
"To a lesser extent, there are some minor increases in products such as garage doors, screws and nails," Lennar's Chief Operating Officer Jon Jaffe told investors on a conference call.
According to the Information Technology Industry Council, a group that represents tech companies, U.S. electronics consumers could see price increases on a range of products that use Chinese components, including computers, phones, thermostats as well as sensors, printers and scanners.
President Trump has also threatened to charge a 25% tariff on imported cars, a step that could boost average prices by about $5,800 according to estimates made by the Alliance of Automobile Manufacturers (AAM), a lobbying group for carmakers.
U.S. farmers that depend on exports have the opposite problem: they're going to get paid less. For example, Chinese wheat buyers stopped purchases in March in retaliation for U.S. tariffs on Chinese imports, the National Association of Wheat Growers said last week.
"While trade tensions with U.S. soy's largest customer continue to escalate, soy growers from across 30 states are in Washington, talking with the members of the administration and Congress, urging them to rescind these tariffs and bring a sense of stability and certainty back to farmers who depend on trade," said ASA President and Iowa soybean farmer John Heisdorffer.
Start saving, U.S. consumer.