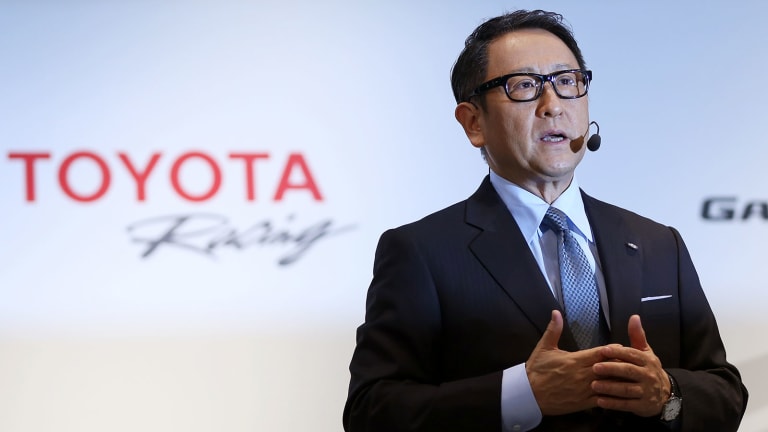 Toyota Loses Top Global Automaker Crown Amid Trump Pressures on Trade
Japan's exporters are facing pressure to decide on their stance against Trump's 'America First' policy.
ToyotaMotor (TM) has lost its position as the top global seller of cars to rival Volkswagen (VLKAY) , but such figures may now be the least of its worries for Japan's biggest company as it mulls whether to appease or defy U.S. President Donald Trump's protectionist trade policy. 
The maker of the Prius and Corolla models said Monday its global vehicle sales rose 0.2% year on year to 10.175 million units. That's below the 10.31 million sold by Volkswagen and the first slide from the top spot in four years. Exports to North America, the Middle East, and Africa dropped for Toyota, while they fell in other regions as well for subsidiaries Daihatsu and Hino.
The announcement of the annual sales results comes within a month of Trump threatening Toyota it would need to pay 'big border taxes' if it went ahead with its plan to build a new plant in Mexico for selling Corolla models in the U.S. 
Such quandaries Toyota faces imposes a larger problem for Japan, whose economy is largely supported by its exporters. After robust export figures were announced last week, the Nikkei 225 index, which represents the country's blue chips, rallied to close in on the 20,000-mark. 
For now, the climate among the Japanese exporters seem to be to appease Trump's "America First" stance. 
Last week, Toyota said it would invest $600 million and add 400 jobs in its Indiana plant where it assembles the Highlander midsize SUV, as part of a bigger plan to invest $10 million in the U.S. over the next five years.
But the company also reminded the market that over the last 60 years it had created 34,000 jobs in the United States, as part of its larger achievement in producing more than 30 million cars and trucks in North America. 
The Japan Business Federation, a lobby group which represents companies listed on the main Tokyo Stock Exchange, is reportedly setting up a committee next month to consider measures against Trump's policies, including ways to appeal how much contribution Japanese companies are making to the U.S. economy.
Japanese Prime Minister Shinzo Abe is set to meet Trump on Feb. 10 when they will discuss the economy and general security issues. Prior to this, Abe is reportedly meeting Toyota president, Akio Toyoda with the likely theme of discussion being Japan's stance on trade. This meeting is set for later this week, according to the reports.
Abe's economic stance will also remain in focus after Trump issued an executive order as soon as he took office this month to withdraw from the Trans-Pacific Partnership agreement aimed at cutting a majority of tariffs among 12 countries as part of his larger move to focus on bilateral trade deals instead. Abe was the first country leader to pay a visit to Trump after he won his election and before his inauguration, a move which was perceived at gauging the president's stance on the TPP, which had been many years in the making.
Trump's protectionist stance on trade could dampen the momentum Japanese exporters have recently enjoyed. Last week, the Ministry of Finance said exports rose for the first time in 15 months in December, driven by automotive parts, semiconductor components, and electric circuits, which each saw exports jump 17%, 15%, and 18%.
The Nikkei 225 has rallied 8.4% over the past 12 months and is chasing the Dow Jones Industrial Average as it hovers around the 20,000 milestone. The index includes the world's leading automakers such as Toyota, Nissan, and Honda, as well as other large exporters such as Canon (CAJ) , Hitachi (HTHIY) , and Sony undefined.
Toyota shares closed up 0.01% at ¥6,705 on Monday. The stock has dropped 8.2% over the past 12 months.