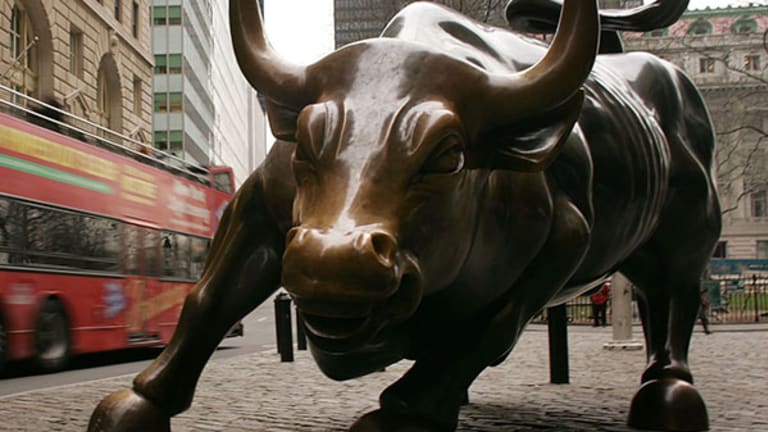 Towel Throwers; Where Equifax Equifaxed Up: Best of Cramer
Cramer explains why towel throwers are always late to the game, and also discusses -- some of -- what Equifax did wrong.
Here are Jim Cramer's top thoughts on some of the biggest stories of the week. 
Jim Cramer: Towel Throwers Are Always Late to the Game
You want something to worry about? How about analysts who throw in the towel because they have been so wrong, or because they are running out of patience to buy things.
Why do these worry me? Because if the stock market takes a downturn, which it will eventually, there will be no upgrade cushion to stabilize things -- because everyone's in the pool.
Let me give you some classic examples. Let's start with The Sherwin-Williams Co. (SHW) - Get Sherwin-Williams Company Report , the paint company, which just had its analyst day where it talked about the success it is having with its purchase of rival Valspar Corp. (VAL) - Get Valaris Ltd. Report .
First, Wall Street had tremendous antipathy toward this deal, and the group in general, because of concerns about slowing housing and construction.
But the cake-taker in negativity was the Bank of America Merrill Lynch analyst who gave you the fabled double upgrade, the sell to buy, now, after the stock has rallied 40%. That's right, here's an analyst who fought this one all the way because of -- and I quote -- "concerns about high valuation, risks from the Valspar acquisition, potential peaking margin and expectation of slowing volume growth."
Mind you that, while the analyst admits the valuation remains elevated -- no kidding its up huge from his sell -- "we have turned constructive on the latter items." Wait a second, so the acquisition is now good, the margins aren't peaking and there is no slowing volume?
That's right. The rest of the double upgrade is a refutation of his own stance -- a towel throw. Sure there were the hurricanes that boosted demand. But this deal was always going to be positive because did anyone think if you merge two of the largest paint companies together there wouldn't be massive synergies, as well as a huge step toward cozy, oligopolistic pricing? I mean what was the point of the deal? This is a genuine towel throw of the "I can't take it anymore" variety.
Or how about the Microsoft Corp. (MSFT) - Get Microsoft Corporation Report upgrade from Canaccord today, which discussed, "Beyond-the obvious case for Long Term acceleration-upgrade to buy." Yet, when I read the report, it was almost all written by Captain Obvious. The office productivity, the gaming, the marketing, the Azure cloud platform. The only thing that was left out was Satya Nadella's cool black T-shirt look.
How do I know that this is a towel-throw upgrade? Because the analyst tells you in this gem of a paragraph, beginning with: "Why Now?" Here's the answer: "we had hoped for a random correction in Microsoft shares or a correction in the overall stock market. Neither happened."
Another guy who simply could not take it anymore and had to slap the buy on because the market refuses to come down.
Painful.
Why do I hate towel throws? Because they are value subtracted. Do I really want to hear NOW why I should buy Sherwin Williams, now when all of the good news is out?
Do I really care that someone puts a buy on Microsoft now because he's tired of waiting for something to drive the stock or the market down?
Why not just wait? You've waited this long? Either of the authors of these two pieces of research might have at least waited for a down day, after eight straight up days.
While I am not bearish, I will say that when you see this kind of research, you are not early into a move. You are late. Remember that, and remember when we do go down -- and we will -- none of these towel throwers will be able to have an impact upgrade. What a shame. And what a waste of some very valuable trees -- for nothing of value.
More From Jim Cramer
Action Alerts PLUS, which Cramer co-manages as a charitable trust, has no positions in the stocks mentioned.
Originally published Oct. 5 at 2:04 p.m. ET

Jim Cramer: Equifax Should Have Slammed The Selling Window Shut
The moment a company's management finds out that it possesses material non-public information the selling window must be closed for insiders because there is too great a chance that officers might know something negative and sell on the news.
This is not something that is subjective. It is black and white. The Securities and Exchange Commission or SEC has always made it clear that it will insist on these kinds of procedures to insure that there is no insider trading.
It is very clear that the top level management of Equifax (EFX) - Get Equifax Inc. Report knew that there was a significant breach in its data on July 29. That is about as material piece of information as there is.
Immediately, the general counsel should have been told to close the window. Immediately.
Had that had been the case, the insiders would not have sold stock. There is no gray area here. It is open and shut. In fact I can't believe the window was even open given how this breach had manifested itself weeks and weeks before, and we are only sure about the end of the July knowledge because we know from two separate sources that Fireeye was brought in on July 29 because of suspicious activity.
It is almost inconceivable that management woke up on that day and called in Fireeye's mandiant division. It is far more likely that they looked at the situation, which had been addressed by Mandiant before, and had negligently thought it was solved.
If you didn't think that it is material to bring them back then there really is nothing that left that's material.
I used to handle insider sales at Goldman Sachs. I have been intimately involved in all decisions involving insider buys and sells with both counsel and brokers for years and years and years.
We all know that these windows are the guardians against insider trading. I am aghast that these execs, high level execs -- the CFO, John Gamble; the president of US Information Solutiona, Joseph Lougran and the president of Workforce Solutions, Rodolfo Ploder -- sold stock worth $946,374, $584,099 and $240,458 on August 1 and August 2.
This is the type of thing that Congress should immediately refer to the SEC. The SEC should examine why this window was kept open when it was so important to slam it shut the moment the company was in possession of material non-public information. Can the compromising of 140 million accounts not be material?
Why is this so important? Because while there has been public shaming including the hearings on Capitol Hill today and yesterday, there has been no sign that there has been any damage to the company's reputation with its customer banks whatsoever. Any losses have occurred only to the shareholder base. I am sure that the government has no idea how to try to get at what happened here given how it has so often failed to go after execs for wrongdoing. But the SEC could find that Equifax knowingly failed to observe the trading window rules. Then it could easily go after these execs and if there is any sign whatsoever that these three didn't know about the hack they should be fired for a lack of basic knowledge of their own company. If they did know, they should be prosecuted to the fullest extent of insider trading laws.
More From Jim Cramer
Action Alerts PLUS, which Cramer co-manages as a charitable trust, has no positions in the stocks mentioned.
Originally published Oct. 4 at 2:28 p.m. ET
Click here for information on RealMoney, where you can see all the blogs, including Jim Cramer's--and reader comments--in real time.
Jim Cramer fills his blog on RealMoney every day with his up-to-the-minute reactions to what's happening in the market and his legendary ahead-of-the-crowd ideas. This week he blogged on:
How payroll numbers cause a lot of head-scratching
How Costco goes down on fabulous numbers
Action Alerts PLUS, which Jim Cramer manages as a charitable trust, has no positions in the stocks mentioned.