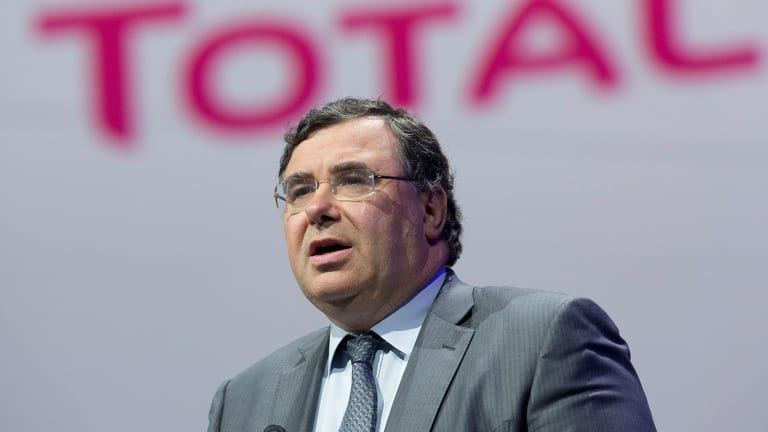 Publish date:
Total Beats Expectations, Eni Misses as Output Proves Key
The French oil producer posts its second consecutive quarterly beat on increased production and above-forecast cost cutting.
The French oil producer posts its second consecutive quarterly beat on increased production and above-forecast cost cutting.
France's Total (TOT) - Get Report posted adjusted net profit of $2.07 billion for the third quarter, beating analysts' expectations as increased production and deeper-than-expected cost cutting offset weak oil prices and a decline in refining margins.
Total shares traded Friday at €44.15 ($48.22), down €0.41, or just under 1% on their Thursday close, following a small slide in overnight Brent crude prices, which fell to $50.39 a barrel, down 0.16%.
"The group increased cash flow by 13% compared to the second quarter of 2016 despite a 27% reduction in European refining margins and flat Brent prices," said chairman and CEO Patrick Pouyanné in a statement. "Operating costs continue to fall and savings are expected to increase  to more than $2.7 billion in 2016, or 10% above the objective set at the start of the year."
Total posted earnings per share of $0.84, down 28% on the third quarter of 2015, but ahead of consensus expectations of $0.81. Sales came in at $37.4 billion, down 8% year-on-year, while operating profit was $2.34 billion, down 21%.
Cash flow from operations was $4.74 billion, down 21% year-on-year but up 64% on the second quarter. Net cash flow fell to negative $594 million, including a $927 million net outflow on acquisitions including the $1 billion deal for battery maker Saft.
Total's result confirms the company's resilience in the face of low oil prices after the Paris-based group was the only European major to beat analysts' expectations in the second quarter. Oil producers are expected to post declining sales and earnings in the third quarter due to lower oil prices. Brent crude traded at an average of $45.90 over the third quarter, marginally higher than the previous quarter's prices but down on the average of $50.50 in the third quarter of 2015.
Total produced 2.4 million barrels of oil equivalent in the third quarter, up 4.3% on the third quarter of 2015 and marginally higher than the second quarter of this year, boosted by startups and rampups. Refinery throughput fell 6% in the third quarter, hit by maintenance at Total's Schwedt refinery in Germany.
Total reaffirmed its production target of a 4% increase for 2016. Total also reaffirmed its targets for 2017, including capital expenditure of $15 billion to $17 billion, and said that with an oil price of $55 per barrel it was on target to cover organic investment and its dividend payments.  
Total will pay a third-quarter dividend of €0.61 in cash or shares, unchanged from the previous quarter. The French company's senior management will give a presentation on the results later today.
Also on Friday, Italian oil producer Eni (E) - Get Report posted a worse-than-expected third-quarter adjusted net loss of €484 million compared with a loss of €127 million in the same period last year. Analysts had been expecting a narrow net loss of about €70 million, according to a consensus figure collated by Eni. Cash flow fell 19% year-on-year to €1.33 billion.
Eni blamed the miss on lower oil prices and outages at its Val d'Agri operation in southern Italy. This left production flat over the quarter despite increased output from some other operations. Eni confirmed its existing targets for the full year, including plans to cut costs by 20%.
Shares in Eni traded Friday at €13.51, down €0.22, or 1.7%, on their Thursday close.