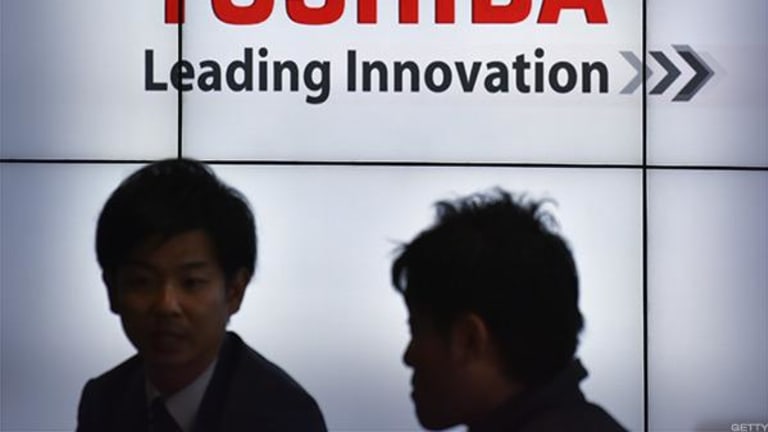 Toshiba To Divide Into Four Wholly Owned Subsidiaries
Toshiba will split itself into four wholly-owned subsidiaries in a bid to ensure to maintain special construction business licenses in Japan, it said Monday, sending shares up.
Toshiba (TOSYY)  shares gained in Tokyo Monday after the group said it will split itself into four wholly-owned subsidiaries in a bid to maintain special construction business licenses with the Japanese government.
The Tokyo-based conglomerate had warned earlier this month that its ability to stay in business was at risk after huge losses at its U.S. nuclear business Westinghouse Electric Company, which was put into Chapter 11 bankruptcy protection last month.
As of July 1, the company will divide out into three subsidiaries - Infrastructure System, Storage & Electronic Devices, and Industrial Information and Communication Technology. Three months after that, the Energy Systems & Solutions company will be split off and transferred into a new company.
"The new company will obtain special construction business licenses in order to maintain business continuity in respect to its ability to engage in businesses that require such licenses," the company said Monday.
Toshiba shares closed 0.39% higher in Tokyo at ¥208.10, after gaining more than 1% in early afternoon trading following the announcement, although they're still down 26.5% since the start of the year.
Toshiba is also selling its memory chip business, which has attracted interest from Japan's state-supported innovation fund. Reuters has reported that Toshiba has narrowed the field to four prospective buyers, including Broadcom Ltd. (AVGO) - Get Broadcom Inc. Report , Foxconn, Western Digital Corp. (WDC) - Get Western Digital Corporation Report and SK Hynix.
The restructuring comes in a bid to satisfy requirements to get its license renewed for big construction projects that have rules about how much capital or shareholder equity a company needs.
Toshiba filed a twice-delayed third quarter earnings report in April despite having failed to gain a sign-off from its auditors.
In the nine months ending in December, which showed a ¥532.5 billion ($4.7 billion) loss. Toshiba has warned that full-year loss could top ¥1 trillion. The results are due in May.