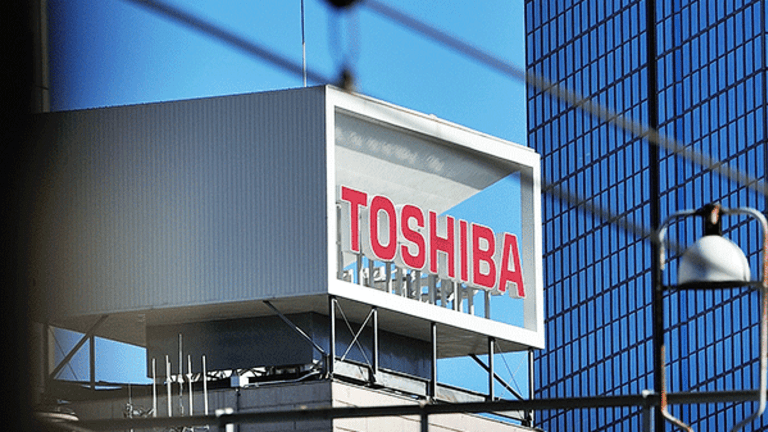 Why Toshiba Just Got Walloped
Where the financials?
Toshiba Corp. (TOSYY) was granted an extension Friday to file its full year results from Japanese regulators, sending shares down in the beleaguered conglomerate.
The company will now have until Aug. 10 to file the results for its April 1, 2016 to March 31, 2017 financial year.
The Japanese conglomerate has been under pressure since it was forced to put its U.S. nuclear into Chapter 11 bankruptcy protection. Toshiba booked a $6.3 billion writedown on the unit.
Toshiba shares dropped 4.4% in Tokyo to ¥308, a two-week low. Shares have slumped more than 31% since the company revealed in late December that write-downs at its Westinghouse unit would be much larger than expected owing to cost overruns in projects in Georgia.
The company Friday said the accounting and auditing of Westinghouse will take until the end of July, due to the special procedures that are part of the bankruptcy process.
The conglomerate also released an updated outlook for the full year 2016, but it was not significantly different from that released in May.
"As Westinghouse Group was deconsolidated from Toshiba group as of March 31," the company said. "There is no possibility of major changes in the balance sheet as of March 31, 2017, unless there is a subsequent discovery of currently unknown events that occurred in the reporting period."
Toshiba earlier this week chose a group led by Bain Capital Private Equity LP, but also supported by government-backed investment funds that has offered ¥2 trillion ($18 billion) for the world's second-largest producer of NAND flash memory chips.
The group includes Korea-based SK Hynix Inc., the Innovation Network of Japan and the Development Bank of Japan and appears to have won the bidding contest despite failing to meet the ¥2.2 trillion price proposed by a paring of U.S. chipmaker Broadcom Inc. (AVGO) - Get Report and Silver Lake Private Equity Partners.
However, the sale could be slowed -- or possibly cancelled altogether -- as a result of legal action from Western Digital Corp. (WDC) - Get Report , a former partner of Tosbhia's that has consistently said the auction process violates prior agreements between the two companies. Western Digital's SanDisk unit owns a 49% stake in Toshiba's main chip plant in Yokkaichi.
More of What's Trending on TheStreet:
Visit here for more of the latest business headlines.