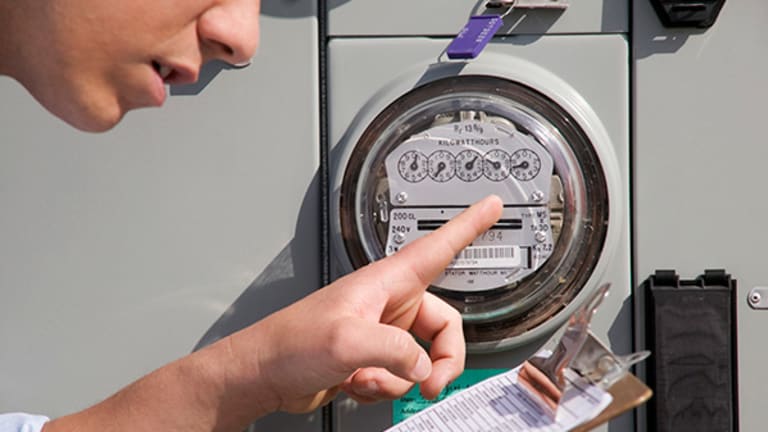 Toshiba's Electricity Metering Business Landis+Gyr Fails to Spark Following IPO
Landis+Gyr IPO off to low-energy start.
Toshiba Corp.'s (TOSYY) majority owned electricity meters business Landis+Gyr Group AG made a low-energy start Friday when shares in the newly listed company fell after starting with a market value of $2.4 billion.
The stock, which trade under the ticker (LAND) - Get Gladstone Land Corp. Report , changed hands at about Sfr77.80 in the moments after the market opened, down from it's listing price of Sfr78, leaving investors in the red following the Swiss market's biggest IPO for 11 years.
Demand had proven strong for the maker of so-called smart meters, which remotely track electricity consumption. Orders for the stock outstripped supply by about five times, enabling the banks managing the sale to price shares just north of the mid-point of the company's indicative price fork of Sfr70 to Sfr82. The Sfr78 price equated to a market capitalization of Sfr2.3 billion ($2.4 billion).
Japan's Toshiba said Friday it will take in a total of ¥161.7 billion ($1.44 billion) from the sale of its 60% stake and will make a consolidated net profit of ¥40 billion. Toshiba acquired the Zug, Switzerland-based company for $2.3 billion in 2011 from an investor consortium led by the founder of Australian buyout firm Bayard Group Pty. Ltd.
Cash from the sale will be used to help plug a gaping hole in the Japanese company's finances left by the bankruptcy of its U.S. nuclear business Westinghouse Electric Co. LLC. Toshiba said it will receive cash from the sale on July 25 and will immediately deconsolidate the Swiss group from its accounts.
Toshiba is also in the process of selling its memory chip division for as much as $18 billion, though its plans are being challenged by the operation's joint venture partner Western Digital Corp. (WDC) - Get Western Digital Corporation Report .
Toshiba stock closed Friday at ¥277.5, up 5.5% on its Thursday close and almost 15% over the past five days.  
The remaining 40% stake in Landis+Gyr is owned by the Innovation Network Corporation of Japan (INCJ), which has also sold its entire stake.
The IPO is the largest on the Swiss market since the 2006 sale of oil refiner Petroplus AG.
UBS and Morgan Stanley are acting as Joint Global Coordinators and Joint Bookrunners for the IPO. Credit Suisse and JP Morgan are acting as additional Joint Bookrunners, while Bank Vontobel and Mizuho are acting as Co-Bookrunners in connection with the IPO. Lilja & Co. is acting as the independent financial adviser to Landis+Gyr, Toshiba and INCJ. Niederer Kraft & Frey and Morrison & Foerster LLP are acting as legal advisers to Landis+Gyr, Toshiba and INCJ, with Bar & Karrer and Sullivan & Cromwell LLP representing the managers.