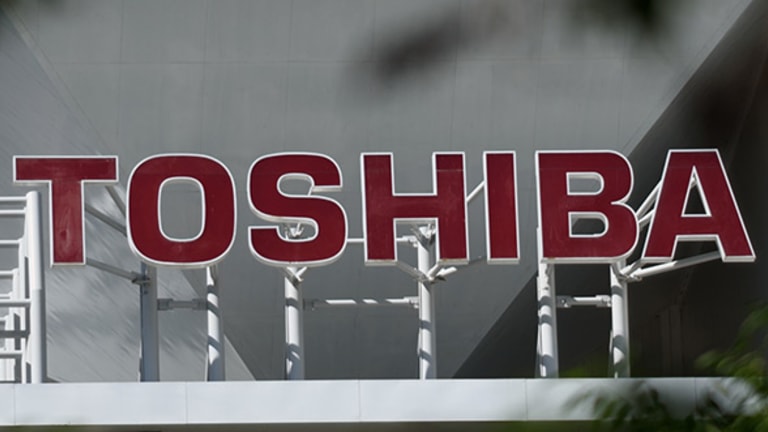 Toshiba Risks Delisting After Accounting Blunder Lops Billions From Market Value
The electronics conglomerate says the value of its newly acquired U.S. nuclear power unit was much smaller than expected.
Toshiba (TOSYY) faces the humiliating possibility of being delisted from the Tokyo Stock Exchange after the consumer electronics maker admitted it had overvalued its newly acquired U.S. nuclear unit and its stock lost a third of its value in two days.
The revelation could not only jeopardize its position as a listed company, but also its determination to return to profit after booking record losses and its brand name already damaged by fraudulent accounting practices exposed last year.
The Tokyo-based maker of PCs and TVs lost 32% of its market value in the last two days, since the news was initially reported by the local media. Shares closed down 20.4% at ¥311.6 Wednesday to value the company at ¥1.3 trillion ($11.05 billion). The stock was suspended from trading after dropping the limits of its permitted range and was the biggest loser on the Nikkei 225 constituents.
Toshiba said Tuesday the value of some assets held on the balance sheet of CB&I Stone & Webster was much lower than it initially expected, and that related losses will likely hurt earnings. Westinghouse, a unit of Toshiba, bought CB&I last year.
Toshiba now estimates goodwill impairment costs for the nuclear construction unit at several billions of dollars, compared with its initial estimate of $87 million. President Satoshi Tsunakawa did not narrow down the amount any further when he spoke to the press.
When Westinghouse acquired the nuclear power plant construction unit in December 2015, Toshiba said they would finalize the value of the unit's assets and amortization costs by the end of this year based on third-party assessment. The $87 million figure was based on in-house estimates.
The admission comes at a time the 141-year old conglomerate has barely put behind the damages from its accounting scandal that surfaced last year. In July 2015, Toshiba admitted that it had inflated the value of some projects over many years. This led to the resignations of then-president Hisao Tanaka and seven other executives.
In September, both the Tokyo Stock Exchange and the Nagoya Stock Exchange put Toshiba on their watch lists pointing to serious compliance issues, exposing the company to risk of being delisted.
Last week, Toshiba said it remained on their watch lists, and that if the two bourses did not deem the company had improved its accounting and monitoring practices, the stock would be removed.
The news also comes months after Toshiba wrote down the value of Westinghouse, which it first acquired in 2006 before further raising its stake not only to expand its geographical footprint, but also to acquire a business involved in pressurized water reactors, as opposed to boiling water reactors -- Toshiba's forte. In April 2016, Toshiba wrote down the value of the nuclear power business as well as its shareholdings in the U.S. subsidiary.
Toshiba currently expects to return to profit this year, forecasting bottom line to come in at ¥145 billion on revenue of ¥5.4 trillion for the year ending March 2017 after booking losses for two consecutive years. The company upgraded its outlook in November for a third time this year mainly based on robust demand for smartphone memories semiconductors and hard disk drives. Toshiba has booked net losses for two consecutive years. 
Toshiba is involved in a wide range of businesses, spanning from PCs, semiconductors, air conditioners, to energy. The company has been involved in the nuclear power business since the late 1950s. It has provided its products and expertise to various power stations across Japan, including the Fukushima Nuclear Power Stations, which were damaged following the Great Eastern Japan Earthquake in March 2011.