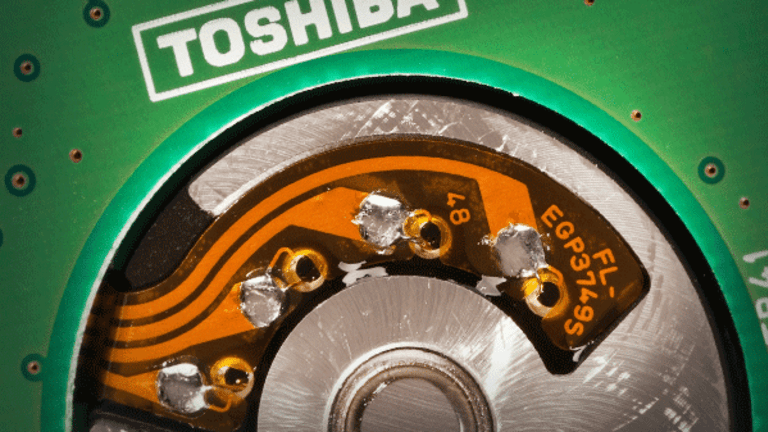 Toshiba Is Worst Performer in Tokyo After S&P Downgrade
The troubled electronics maker could raise over $1.8 billion by spinning off its chip business.
Toshiba (TOSYY) was the worst performer among Japan's largest companies on Wednesday following a downgrade by S&P and media reports of fundraising by the troubled electronics-to-nuclear conglomerate emerged. 
Shares in the Tokyo-based maker of goods from PCs to nuclear power plants to elevators closed down 2.1% at ¥254.40, compared with a 1.4% increase in the Nikkei 225. It was the worst performer among the constituents of the index. The stock has tanked 43% since it emerged last year the value of assets on its newly acquired U.S. nuclear asset was much lower than previously estimated.
The Tokyo-based Toshiba yesterday said it would disclose the final goodwill figures resulting from its acquisition of CB&I Stone Webster on Feb. 14 alongside third-quarter earnings results. The Japanese media has reported the cost overruns would amount to as much as ¥700 billion ($6.2 billion), and that the company is seeking to partly fund it by spinning of its chip business.
Since then, it has newly emerged that the company could raise more than ¥200 billion from investors interested in cashing in on the chip business. Companies such as Canon (CAJ) , TokyoElectron (TOELY) , WesternDigital (WDC) as well as investment funds such asPermira Advisers andBainCapitalhave emerged as parties interested in investing in the business.
The Toshiba board could approve the spin off on Jan. 27.
Several local media outlets have also reported that Toshiba is willing to sell some assets, including its hospital business. The Sankei Shimbun newspaper reported Toshiba would secure around ¥300 billion in funds through such moves.
Toshiba has appeared to have maintained its financial lifeline for now with major lenders agreeing its finance the company, although some smaller lenders appear to have decline to continue loaning any further.
S&P yesterday downgraded Toshiba to CCC+ from B- and maintained the company on its watch list. The credit rating company's move follows similar downgrades by Moody's and Rating and Investment Information late December, soon after the company admitted costs stemming from the purchase of CB&I Stone & Webster would exceed estimates.