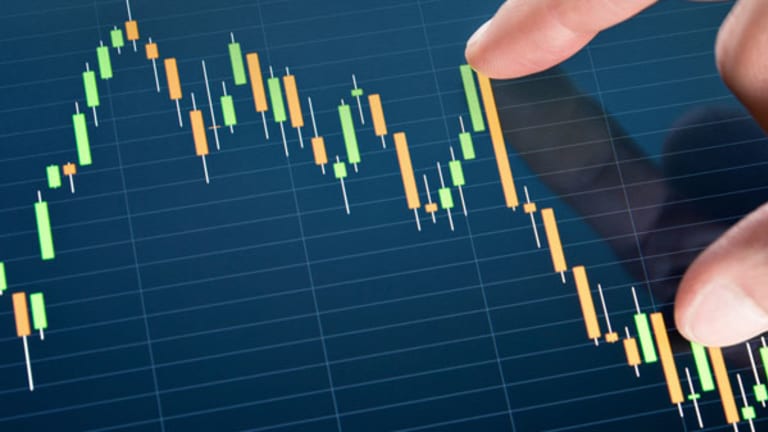 Top Weak-Euro Stock Plays
Here 's a look at a number of stocks that will benefit from a falling euro.
WINDERMERE, Fla. (Stockpickr) -- The old world economies are becoming relevant again on Wall Street. That's right -- the European debt crisis is slowly creeping back into the minds of market players.
On Tuesday, markets across the globe sold off sharply as borrowing rates for some of Europe's most indebted nations rose to historic levels. The yield on 10-year Irish government bonds rose to 5.98%, which is higher than the price it reached in early May when the Greek debt crisis was front and center. Yields also jumped on Greek and Portuguese bonds as investors decided to sell now and ask questions later.
The renewed fears were sparked by a
Wall Street Journal
article that said Europe's recent "stress test" of the strength of its biggest banks understated some lenders' holdings of potentially risky government debt.
This news motivated market players to dump any debt tied to the PIIG nations. The euro currency was sold off sharply as investors feared the worst like complete financial chaos for one of these troubled European nations. The euro dropped 1.4% to $1.269 from $1.288 on Tuesday.
As I write this, the euro has managed to rebound back toward $1.274. This rebound was spurred by news out of Ireland today. Ireland's finance ministry said nationalized lender
Anglo Irish Bank
will be split into a funding bank and an asset recovery bank to wind down its assets.
This news might be helping to cause a relief rally in the euro for now, but the fundamental and technical picture are not pretty and should lead to more downside in the future.
From a technical perspective, the euro is now trading below both the 200-day ($133.59) and 50-day ($128.23) moving averages. Ever since the euro hit its August highs of $133.34, it has never come even close to regaining that level. The most recent high was $128.98. Investors should watch for a break below the nearest support level of $126. A move below that level should open up the floodgates for much more downside. I would use targets of $122 and $119 as the next most likely areas of support.
Here 's a look at a number of stocks that will benefit from a
One way to play a falling euro is to simply buy the new reserve currency of the world: gold. The best way to play gold, besides buying the actual futures, is to buy the
SPDR Gold Trust ETF
(GLD) - Get Free Report
. This ETF is designed to track very closely the actual spot price of gold.
Currently, this ETF is closing in on a breakout if the stock can manage to trade above some previous resistance at around $123.56 a share. If you see the GLD trade above that level with heavy volume, it should bode well for higher prices in the near future.
If you think the euro is going to fall much further from its current prices, then it might be a good idea to buy the
ProShares UltraShort Euro
(EUO) - Get Free Report
. This ETF seeks to provide a daily investment result that corresponds to twice the inverse of the daily performance of the U.S. dollar price of the euro. This basically a way to get short the euro without having to take the leveraged risk of being short like you would in the actual futures market.
The ProShares UltraShort Euro ETF has recently broken above the 50-day moving average of $22.61 a share. Market-players should look for a break above $23.28 if you see a lower euro in the near future. A move above that level should put $25 to $26 a share in focus.
Another way to play a plunging euro is to simply get long the U.S. dollar. The dollar has the perception as a safe haven currency, so if investors think the euro is going to go lower, they will pour money into the dollar. The best way to get long the dollar without trading the actual currency pairs is to buy the
PowerShares DB US Dollar Index Bullish
(UUP) - Get Free Report
.
From a technical perspective, the UUP looks ready to break above the 50-day moving average of $24.04 a share. A sustained uptrend above that level should cause the UUP to take out its 52-week highs of $25.84.
Another currency ETF that could benefit from a weak euro is the
CurrecnyShares Swiss Franc
(FXF) - Get Free Report
. The investment objective of this ETF is to reflect the market price of the Swiss Franc plus accrued interest, if any, less the expenses of the Trust's operations.
The CurrencyShares Swiss Franc appeals to investors in a number of ways if they want to avoid any euro exposure. First, the Franc is viewed as a safe haven currency among many market players. Switzerland likes to stay neutral on world issues, especially economic and political ones, so investor love to pour money into the Franc when any type of crisis arises. Second, Switzerland doesn't use the euro, despite its close proximately the eurozone.
If you're not interested n playing the currency trade off of a potential weak euro, than you might want to consider some U.S.-based companies that should benefit from a weaker euro. The most likely winners would be domestic companies that don't have a lot of foreign exposure.
I would look toward playing U.S.-based utilities, which not only have zero euro risk but should also hold up well if a financial crisis were to break out, due to their solid dividends and stable cash flow. Some names to consider are
Duke Energy
(DUK) - Get Free Report
,
Wisconsin Energy
(WEC) - Get Free Report
,
Progress Energy
(PGN)
and
American Electric Power
(AEP) - Get Free Report
.
>>>Also see: Top-Rated Electric Utility Stocks
Another group of stocks that could be big winners off a weak euro are German exporters. Germany is the second-largest exporter in the world, so any decline in the euro will make the country's products much cheaper for overseas customers. A weaker euro will also bring down bond yields for Germany and make it cheaper for them to borrow money. Some German exporter stocks that should benefit include
SAP AG
(SAP) - Get Free Report
,
Siemens AG
(SI) - Get Free Report
,
Daimler AG
and
Fresenius Medical Care AG
(FMS) - Get Free Report
.
>>>Who Owns Siemens AG?: Ken Fisher
You could also play Germany buy just simply buying the
iShares MSCI Germany Fund Index ETF
(EWG) - Get Free Report
. This fund seeks to provide investment results that correspond generally to the price and yield performance of publically traded securities in the aggregate in the German market.
To see more stocks that could benefit from a falling euro like
CurrencyShares Swedish Krona Trust
(FXS) - Get Free Report
and
WisdomTree Dreyfus Emerging Currency ETF
(CEW) - Get Free Report
, check out the
portfolio on Stockpickr.
-- Written by Roberto Pedone in Winderemere, Fla.
RELATED LINKS:
>>Fantasy Football Stocks for the 2010 Season
>>Breakout Stocks: DirecTV, Yum! Brands
>>5 Rocket Plays for September
Follow Stockpickr on
and become a fan on
Facebook.
At the time of publication, author had no positions in stocks mentioned.
Roberto Pedone, based out of Windermere, Fla., is an independent trader who focuses on stocks, options, futures, commodities and currencies. He is also an outside contributor to Beconequity.com and maintains the website Maddmoney.net, which he sold to Blue Wave Advisors in 2008. Roberto studied International Business at The Milwaukee School of Engineering, and he spent a year overseas studying business in Lubeck, Germany.
Stockpickr is a wholly owned subsidiary of TheStreet.com.