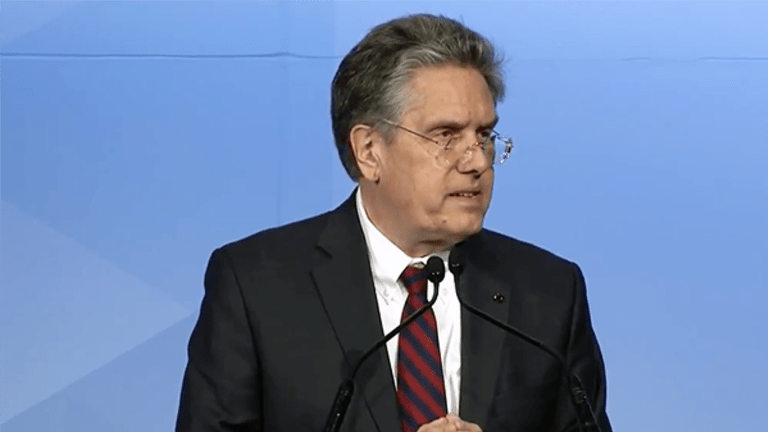 Publish date:
Top U.S. Bank Regulator Pushes Back on Rules Rollback as Trump Calls for Overhaul
The OCC's Thomas Curry urged bank executives to remember the 2008 financial crisis, saying current regulations have made the financial system strong.
The OCC's Thomas Curry urged bank executives to remember the 2008 financial crisis, saying current regulations have made the financial system strong.
A top U.S. banking regulator is pushing back against calls to undo sweeping reforms enacted following the 2008 mortgage crisis, even as President-elect Donald Trump pledges to dismantle key rules designed to make financial institutions safer.  
Comptroller of the Currency Thomas Curry told a roomful of bankers in New York Wednesday that a rollback should be avoided. Curry, who was appointed by Obama for five years beginning in April 2012, told reporters after his speech that he planned to remain in his post until end of his term. 
"We cannot return to the same practices and weaker safeguards that resulted in the crisis we experienced in 2008," Curry said at an annual meeting of The Clearing House, a trade group for big banks including JPMorgan Chase (JPM) - Get JPMorgan Chase & Co. (JPM) Report , Bank of America (BAC) - Get Bank of America Corp Report  and Citigroup (C) - Get Citigroup Inc. Report . "The benefits of a robust banking system built on strong capital should not be forgotten in any debates about regulatory reform."
The Office of the Comptroller of the Currency, along with the Federal Reserve, Securities and Exchange Commission and Federal Deposit Insurance Corp., have spent the past eight years putting new rules into place to prevent a repeat of the crisis and ward off future government bailouts. Much of their work has come from implementing the 2010 Dodd-Frank Act, the main piece of financial legislation emanating from the crisis. 
Americans "must never settle for light-touch supervision," and "now is not the time to change course," Curry said.
Curry's remarks came almost exactly as Trump's nominee for Treasury secretary, former Goldman Sachs (GS) - Get Goldman Sachs Group, Inc. (GS) Report partner Steven Mnuchin, told Fox Business in an interview that parts of the Dodd-Frank Act should be scrapped. In a separate interview with CNBC, Mnuchin said that doing so would be "the number one priority on the regulatory side." Mnuchin was named by Trump as his Treasury pick earlier in the day.
"There's many aspects of it that we've got to kill," Mnuchin said in the Fox Business interview, according to a transcript. "We need to make sure that banks lend. We want to see huge growth in this economy in small- and medium-size business, and we need to make sure that the banks are lending to them."
Officially known as the Dodd-Frank Wall Street Reform and Consumer Protection Act, the law was written to provide greater consumer protection and create tougher regulations on trading and banking to prevent excessive risk-taking.
Asked by a reporter about Trump's call for a slowdown or loosening of new regulations, Curry said: "We're an independent agency, we've got a job to do, and we're going to continue to do it until Congress tells us otherwise. It's pretty simple."
Effective regulation and supervision helps to ensure that any economic damage during the next downturn will not be so "deep or so wide," the regulator said.
"Those who forget or choose to ignore the lessons of the last crisis do so at their own peril and increase the risk to all of us," he said.
Curry's OCC supervises two-thirds of the assets in the U.S. commercial banking system, including more than 1,400 national banks and federal savings associations and 50 foreign bank federal branches and agencies, according to its website.
Pre-tax profits of U.S. banks were $33.5 billion, "dwarfing" European banks' profit of $4.2 billion last year, he said. Meanwhile, banks have added nearly $700 billion in common equity capital -- the cushion of extra assets that's supposed to ensure a financial instution remains solvent in the face of steep loan losses. The number of "troubled institutions" in the U.S. -- banks in jeopardy of failing -- fell to less than 50 last year from 196 at the end of 2010, Curry said. 
Curry said he was "glad that our banks and the banking system are stronger today," and he warned against "importing policies views or political views" into the OCC's supervisory mandate.
EXCLUSIVE LOOK INSIDE:Citigroup is a holding in Jim Cramer'sAction Alerts PLUS charitable trust portfolio.Want to be alerted before he buys or sellsthese stocks?Learn more now.