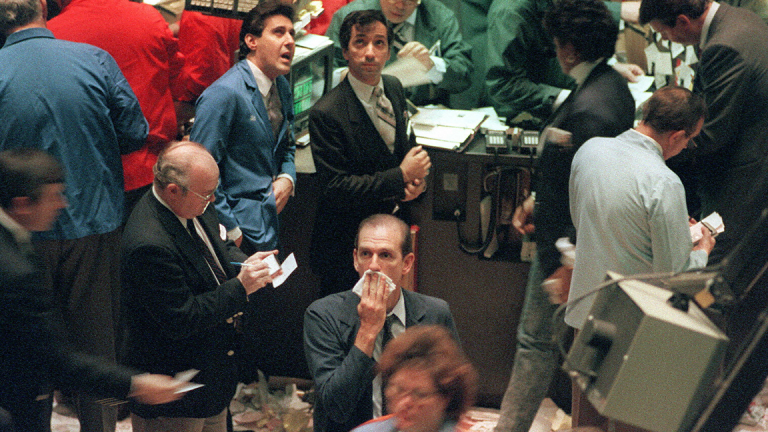 Top Investing Legends Reflect on the Black Monday Crash in 1987
The Oct. 19, 1987, stock market crash - known as Black Monday - was a market decline for the record books.
The Oct. 19, 1987 stock market crash -- known as Black Monday -- was a market slump to remember.
The Dow Jones Industrial Average ended up losing over 500 points that day, a roughly 23% decline.
As investors reflect on the 30th anniversary of this monumental trading day, TheStreet compiled some perspective from some legendary investors who were on Wall Street at the time:
Jim Cramer
Then: hedge fund manager
Now: Founder, TheStreet; Host, CNBC's "Mad Money"; Co-Anchor, CNBC's "Squawk on The Street"
"It was a time of tremendous uncertainty because people don't realize, as bad as Black Monday was, on Terrible Tuesday (the day after Black Monday) the market was completely undiscoverable. We had no idea what any price was. You didn't know whether Caterpillar (CAT) - Get Caterpillar Inc. Report was at $50 or $40 or $30. It was total chaos."
Jack Bogle,
Then: Chief Executive Offer, The Vanguard Group:
"I think Black Monday is a wonderful reminder to investors that stock markets and stocks have risk. They can go up as well as down."
Now: Bogel retired from the chairman post in 1999.
Peter Schiff
Then: Wall Street trader
Now: CEO, Euro Pacific Capital
"I had just recently graduated from college and I was starting my first job - I was going to be trading futures. I remember Alan Greenspan had not been the Federal Reserve Chairman that long and this crisis happened relatively early in his tenure at the Fed. And I was a big Alan Greenspan fan back then. I was very surprised by what Greenspan did in response to the crisis - so much so that I wrote him a letter."

You can check out Greenspan's response to Schiff here.
Sam Stovall
Then: Head of Sales, Argus Research
Now: Chief Investment Strategist, CFRA Research
"Back then, I was just starting my career. I really didn't have that much money at stake. To try to put it into perspective, if today the S&P 500 lost the 20.5% that it did back then, we'd be down more than 500 points. And leading up to that decline, the market was already off by 16%, so I think investors should have felt that something was amiss."
Stephen Guilfoyle
Then: Trading assistant on the NYSE floor
Now: TheStreet market columnist
"In my 30-40 year career on Wall Street, I have never seen the pandemonium that I saw on that day. I just remember them wheeling carts of sandwiches on the floor because nobody could leave. What blew me away that day was as we left, late that night, I tried to leave the exchange and there were so many reporters outside the exchange sticking microphones in our faces that we couldn't even get to the subway."
Originally published Oct. 19.