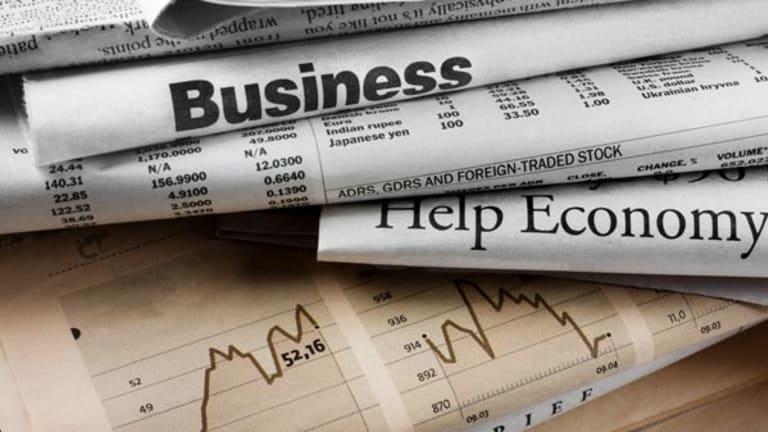 Top Five Small-Cap Stocks: Balchem
Balchem, Exponent, American Physicians Capital, Pericom Semiconductor and Natus Medical are all on top.
Each business day, TheStreet.com Ratings compiles a list of the top five stocks in five categories -- fast-growth, all-around value, large-cap, mid-cap and small-cap -- and publishes these lists in the Ratings section of our Web site.
This list is based on data from the close of the previous trading session. Today, small-cap stocks are in the spotlight. These are stocks of companies that have market capitalizations of between $50 million and $500 million that rank near the top of all stocks rated by our proprietary quantitative model, which looks at more than 60 factors.
The stocks must also be followed by at least one financial analyst who posts estimates on the Institutional Brokers' Estimate System. They are ordered by their potential to appreciate.
Note that no provision is made for off-balance-sheet assets such as unrealized appreciation/depreciation of investments, market value of real estate or contingent liabilities that might affect book value. This could be material for some companies with large underfunded pension plans.
Balchem
(BCPC) - Get Balchem Corporation Report
develops, manufactures and markets specialty performance ingredients and products for the food, feed and mechanical sterilization industries. Balchem produces choline products for both human and animal consumption. Choline, a vitamin-B complex, plays a vital role in the metabolism of fat and the building and maintaining of cell structures. Choline deficiency can result in reduced growth and perosis (a disease characterized by a deformity of the leg joint) in poultry and fatty liver, kidney necrosis and general poor health in swine, among other symptoms. In humans, choline is recognized as playing a key role in the structural integrity of cell membranes, the processing of dietary fat, reproductive development and neural functions such as memory and muscle function.
Balchem also produces encapsulated performance ingredients for use throughout the food and animal-health industries in end products such as baked goods, refrigerated and frozen dough, processed meats, seasoning blends and confections. These performance ingredients are used to enhance nutritional fortification and improve shelf life of prepared products.
Our buy rating for Balchem has not changed since June 2003. The company reported record quarterly results for the first quarter of fiscal 2008. Balchem achieved net sales of $56.9 million, reflecting a 35% increase compared with the same quarter one year prior. Net earnings also increased 35% year over year to $4.6 million. As a result, the company's earnings per share increased 32% to 25 cents from 19 cents in the year-ago quarter.
Management reported that the integration of several acquisitions made during fiscal 2007 have gone well, and stated that the first-quarter results did not yet reflect the company's full expectations for those acquisitions. Additionally, management noted again that rising raw-material costs are expected to remain a challenge for Balchem in the near term. While the company has taken pricing steps to counteract the effects of these increased input costs, the actions taken in the first quarter did not offset all the cost increases, primarily due to timing. Overall, management expects the remainder of fiscal 2008 to continue to bring double-digit increases in sales and earnings. Bear in mind, however, that global economic issues could affect results.
Exponent
(EXPO) - Get Exponent Inc. Report
is a science and engineering consulting firm whose multidisciplinary team of scientists, physicians, engineers and business and regulatory consultants brings together more than 70 different technical disciplines to solve complicated issues facing industry and businesses. Its professional staff can perform in-depth scientific research and analysis or very rapid-response evaluations to provide clients with information.
Exponent has been rated a buy since November 2001. An impressive record of EPS growth and compelling growth in net income are some of the company's strengths. For the first quarter of fiscal 2008, revenue rose 15% year over year. Net income for the same period increased 26% to $6.4 million. Exponent reported that EPS improved 29% to 40 cents in the most recent quarter. In fact, the company has demonstrated a pattern of positive EPS growth over the past two years. Finally, return on equity improved slightly from the year-ago quarter.
Driven by earnings growth of 29%, this stock has surged 58% over the past year. We feel that Exponent should continue to climb despite its already impressive performance. The company believes that it remains well positioned to capture new opportunities for growth as it moves further into fiscal 2008. For the full year, management expects to report high single-digit to low double-digit growth in revenue as a result of the company's plans to pursue strategic opportunities. However, Exponent's future results could be negatively impacted by any disruptive changes in both general and industry-specific economic conditions and the effects of tort reform and government regulation of the company's business.
American Physicians Capital
( ACAP) is an insurance holding company. Its primary focus is medical professional liability insurance, which it writes through its subsidiary, American Physicians Assurance Corporation. The company underwrites policies for physicians, their corporations, medical groups, clinics and ancillary health care providers. Medical professional liability insurance covers physicians and other health care providers against liabilities arising from providing or failing to provide professional medical services. American Physicians' main office is located in Michigan, and the company markets its coverage in that state, as well as Illinois, Wisconsin, Indiana, New Mexico, Kentucky and Ohio. The company was founded in 1975.
Our buy rating for American Physicians has not changed since November 2004. The company exhibits several positive investment measures, such as increasing net income, impressive earnings-per-share growth and solid stock-price performance. For the first quarter of fiscal 2008, net income increased 8% year over year to $11.4 million. Although revenue fell 11% from the year-ago quarter, an increase in EPS indicates that the decline did not hurt the company's bottom line. EPS rose to $1.13 in the most recent quarter from 90 cents in the first quarter of fiscal 2007. American Physicians' current debt-to-equity ratio of 0.12 is very low, implying successful management debt levels. Finally, the company's strong earnings growth has contributed to an increase in stock price over the past year.
Management estimates earnings of at least $4.25 a share for fiscal 2008, based on current trends in frequency, severity and pricing. However, should these trends fail to continue through fiscal 2009, the company's future financial performance could be negatively affected.
Pericom Semiconductor
(PSEM)
designs, develops and markets high-performance interface integrated circuits and frequency control products used in advanced electronic systems. Interface ICs transfer, route and time electrical signals among a system's microprocessor, memory and various peripherals and between interconnected systems. FCPs are electronic components used as time and frequency clocks in electronic products ranging from computers and telecommunications switching equipment to cell phones and televisions. Pericom's interface products increase system bandwidth.
We have rated Pericom a buy since February 2007. The company reported that its earnings for the third quarter of fiscal 2008 surged 58% year over year, bolstered by strong demand for its products. Aided by strong demand for products used in digital video high-performance PCs and servers, total revenue for the quarter climbed 36% to $41.2 million, vs. $30.2 million in the year-ago quarter. Net income increased to $4.1 million, or 16 cents a share, from $2.6 million, or 10 cents a share, a year ago. The company expanded its Digital Video solutions by launching two new switches that allow next generation computing platforms using dual function graphics ports to be switched between either of the high speed protocols. Pericom also launched three new signal-conditioning products and expanded its Timing portfolio.
Looking ahead, management expects revenue for the fourth quarter of fiscal 2008 to be in the range of $42 million to $43.2 million, with gross margin expected to be in the range of 36.8% to 37.8%. In addition, the company expects its operating expenses to be between $10.8 million and $11 million. However, weak demand for semiconductors, higher stock option expenses, and the highly competitive market could restrict Pericom's future growth.
Natus Medical
undefined
is a provider of health care products used for the screening, detection, treatment, monitoring and tracking of common medical ailments such as hearing impairment, neurological dysfunction, epilepsy, sleep disorders and newborn jaundice. The company also has products used in newborn metabolic testing. Natus' principal product lines include its ALGO and ABaer screening products for newborn hearing screening, its Echo-Screen OAE device for hearing screening in newborns and hearing monitoring in young children and adults, its Navigator and AuDX products for diagnostic hearing assessment in children and adults, and its neoBLUE LED line of phototherapy devices for the treatment of newborn jaundice. The Ceegraph VISION product line for diagnostic electroencephalograph (EEG) monitoring, the Sleepscan VISION product line for EEG monitoring of sleep disorders and the Neometrics newborn screening data management systems are also key product lines for the company. The company sells its products in over 80 countries.
Natus has been rated a buy since June 2007, due to what we believe is a generally positive outlook for the company. For the first quarter of fiscal 2008, Natus reported a 36% revenue increase year over year. The company also reported that its earnings per share improved from 7 cents a year ago to 11 cents in the most recent quarter. Over the same period, net income rose from $1.5 million to $2.6 million. First-quarter results were led by strong sales of the company's newborn hearing screening products. Additionally, the company completed its integration of Excel-Tech ahead of schedule, and recently announced an agreement to acquire Sonamed, a manufacturer of hearing screening products.
Looking ahead, Natus increased its revenue and earnings guidance for fiscal 2008 and now anticipates revenue to range from $161 million to $162 million. Earnings per share are expected to be in the range of 70 cents to 72 cents for the full fiscal year, while guidance for the second quarter anticipates EPS in the range of 14 cents to 15 cents. This guidance does not include the potential impact of the Sonamed acquisition, which is expected to close by the end of May 2008. Bear in mind that the company's stock price has surged 35.13% over the last year and is now trading at a price that is somewhat expensive when compared to the rest of the industry. We do, however, feel that the company does not currently have any significant weaknesses and that its strengths justify the higher stock price levels.
Our quantitative rating is based on a variety of historical fundamental and pricing data and represents our opinion of a stock's risk-adjusted performance relative to other stocks.
However, the rating does not incorporate all of the factors that can alter a stock's performance. For example, it doesn't always factor in recent corporate or industry events that could affect the stock price, nor does it include recent technology developments and competitive dynamics that may affect the company.
For those reasons, we believe that a rating alone cannot tell the whole story and that it should be part of an investor's overall research.
This article was written by a staff member of TheStreet.com Ratings.