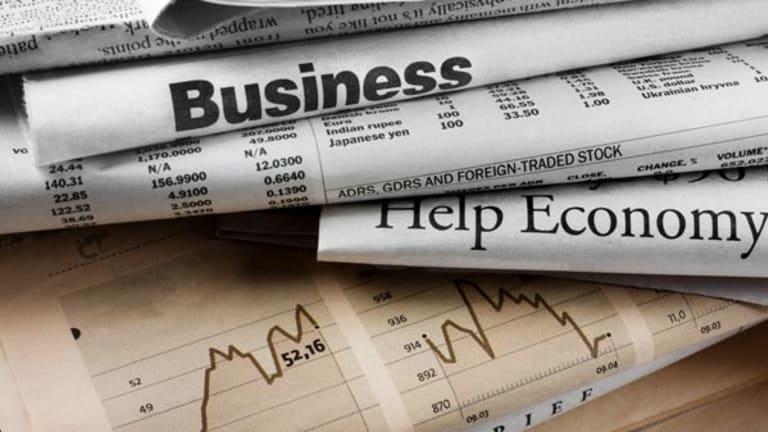 Top Five Small-Cap Stocks
Exactech, CAM Commerce, AZZ, EMS Technologies and Chindex are all on top.
Each business day, TheStreet.com Ratings compiles a list of the top five stocks in five categories -- fast-growth, all-around value, large-cap, mid-cap and small-cap -- and publishes these lists in the Ratings section of our Web site.
This list is based on data from the close of the previous trading session. Today, small-cap stocks are in the spotlight. These are stocks of companies that have market capitalizations of between $50 million and $500 million that rank near the top of all stocks rated by our proprietary quantitative model, which looks at more than 60 factors.
The stocks must also be followed by at least one financial analyst who posts estimates on the Institutional Brokers' Estimate System. They are ordered by their potential to appreciate.
Note that no provision is made for off-balance-sheet assets such as unrealized appreciation/depreciation of investments, market value of real estate or contingent liabilities that might affect book value. This could be material for some companies with large underfunded pension plans.
Exactech
(EXAC)
develops, markets and sells orthopedic implant devices, related surgical instrumentation and biologic materials to hospitals and physicians in the U.S. and 27 other countries. The company produces knee systems and other joint replacements. Exactech's revenues are derived primarily from sales of its knee- and hip-replacement systems; however, revenue from the worldwide distribution of biologic materials have increased as a percentage of the company's total revenue.
Exactech has been rated a buy since March 2007, primarily due to a strong financial performance, higher guidance, and a currently favorable industry trend. In the third quarter of 2007, net sales increased 23% year over year to $30 million, largely due to the success of new products and continued growth from existing products.
Exactech performed well in both domestic and international markets on the revenue front; the company reported a 24% increase in revenue from the domestic market and a 21% increase in revenue from international markets. Management raised its fiscal 2007 guidance and now expects revenue for 2007 between $120.5 million and $122.5 million, with earnings in the range of 78 cents to 79 cents a share.
We expect Exactech to benefit from continued innovation and expansion. It remains focused on improving its existing line of business, and it is also awaiting approval on several new products in both the U.S. and overseas markets. However, the company is highly exposed to foreign exchange risks with its increasing share of global business, and stiff government regulation could negatively impact product approvals and therefore operating results.
CAM Commerce
( CADA) provides a variety of software, hardware and other technical systems for retailers. Our buy rating, in place since February 2006, is based on strong revenue growth, a solid financial position, strong stock performance, and growth in net income.
Powered by earnings growth of 70% for the first quarter of 2008, this stock has surged by 64% over the past year. Revenue rose 37% year over year for the first quarter. CAM Commerce has no debt to speak of, giving it a debt-to-equity ratio of zero, which we consider a favorable sign. Net income increased 75% from the year-ago quarter.
Finally, the company has demonstrated an impressive pattern of EPS growth over the past two years. Looking forward, we feel that this trend should continue.
AZZ
manufactures electrical equipment and provides hot dip galvanizing services. The company serves the global markets for power generation, transmission and distribution, general industrial markets, and the national steel fabrication market. Its electrical and industrial products transmit medium- and high-voltage electricity as well as protect the distribution of power from the point of generation to the end user. AZZ's galvanizing segment, Aztec Galvanizing Services, consists of a coordinated group of 20 hot dip galvanizing plants located across the southern U.S. They provide environmental corrosion protection to steel products.
We have rated AZZ a buy since January 2005. For the fourth quarter of fiscal 2008, net income increased 5% year over year to $7.3 million from $7 million a year ago. Earnings per share for the quarter rose slightly, to 60 cents from 58 cents in the year-ago quarter, continuing a trend of positive EPS growth over the past two years.
The growth indicates that AZZ's weak revenue results did not hurt the company's bottom line. Net operating cash flow increased significantly to $18.8 million. Management announced that strong market demand for galvanizing services continued during the quarter, and the company's tons processed increased 18% for the fiscal year.
Looking forward, management feels that its April 1 asset purchase agreement with AAA Industries will strengthen the company's national market leadership position and make a positive financial contribution in the first year of ownership. It is expected that the acquisition will enhance the company's growth and expansion opportunities and compliment previous acquisitions.
Previously issued projections for fiscal 2009 revenue of $320 million to $330 million were not changed based on the evaluation of the most recent data available to management. Management said its estimates assume that the company will not experience any significant delays in the delivery or timing in the receipt of orders of electrical and industrial products, and that the cost of zinc will not significantly change from current levels.
EMS Technologies
( ELMG) designs, manufactures and markets products for wireless communications. The company focuses on the needs of the mobile information user, with an increasing emphasis on broadband applications for high-data-rate, high-capacity wireless communications. The Defense and Space Systems segment manufactures custom-designed, highly engineered hardware for use in space and satellite communications, radar, surveillance and military countermeasures.
A subsidiary, LXE Inc., manufactures rugged mobile computers and wireless local area network products whose typical uses include real-time data communications on inventory movement in large warehouses, manufacturing facilities and container yards. The EMS Wireless segment manufactures base-station antennas and repeaters for PCS/cellular communications services.
The SATCOM segment is a division of the company's Canadian subsidiary and manufactures earth-based antennas, terminals and other hardware for communications via satellite link.
Our rating for EMS Technologies was upgraded to buy from hold in January 2008. This change was driven by its solid stock performance, revenue growth and solid financial position. For the fourth quarter of fiscal 2007, the company's revenue increased 5% year over year, and this revenue growth appears to have trickled down to the bottom line, as earnings per share improved slightly.
The company has demonstrated a pattern of positive EPS growth over the past two years, reporting an increase to 46 cents in the most recent quarter from 44 cents a year ago. A debt-to-equity ratio of 0.06 is very low, implying effective management of debt levels. We also consider the company's 41% gross profit margin to be strong.
Investors have apparently begun to recognize the positive factors we see in this stock, as EMS Technologies shares rose 33% over the past year. This is a very nice gain, but we feel that the stock could move higher in the future. Bear in mind, however, that any unexpected regulatory changes and the acceptance or emergence of new standard formats are typical challenges faced by the communications equipment industry and could potentially affect this stock.
Chindex
(CHDX)
is an American supplier of Western medical technologies to health care markets in China, including Hong Kong. Revenues are generated from the provision of health care services and the sale of medical equipment, instrumentation and products. The company operates a network of private hospitals and clinics through its Healthcare Services division. The United Family Hospitals in Beijing and Shanghai are 50-bed facilities with affiliated satellite clinics strategically located to expand geographical reach and service offerings in the company's target patient markets.
The hospitals offer a full range of health care for men, women and children. They strive to deliver top-quality, international-standard health care services to the largest urban centers in China. The Medical Products division markets, distributes and sells select medical capital equipment, instrumentation and other medical products for use in hospitals in China and Hong Kong.
We have rated Chindex a buy since January 2008. Strengths include revenue growth, net income growth, a solid financial position and a pattern of EPS growth. For the third quarter of fiscal 2008, the company reported year-over-year revenue growth of 19%. This appears to have helped boost the company's earnings per share, which showed significant improvement to 42 cents in the most recent quarter from 9 cents in the third quarter of fiscal 2007.
Net income and net operating cash flow increased substantially in the same period. Finally, the company's relatively low debt-to-equity ratio of 0.77 implies successful management of debt levels.
Looking forward, Chindex is currently implementing a market entry plan in Guangzhou, also known as Canton, with the construction of an outpatient clinic center. Management also announced the company's active participation in programs related to the 2008 Summer Olympics, to be held in China. Management is also optimistic about the future performance of the Medical Products division, due to pent-up demand for imported medical devices. While the stock is trading at a premium based on our review, we feel that the company's strengths outweigh the high price, at this time.
Our quantitative rating is based on a variety of historical fundamental and pricing data and represents our opinion of a stock's risk-adjusted performance relative to other stocks.
However, the rating does not incorporate all of the factors that can alter a stock's performance. For example, it doesn't always factor in recent corporate or industry events that could affect the stock price, nor does it include recent technology developments and competitive dynamics that may affect the company.
For those reasons, we believe that a rating alone cannot tell the whole story and that it should be part of an investor's overall research.
This article was written by a staff member of TheStreet.com Ratings.