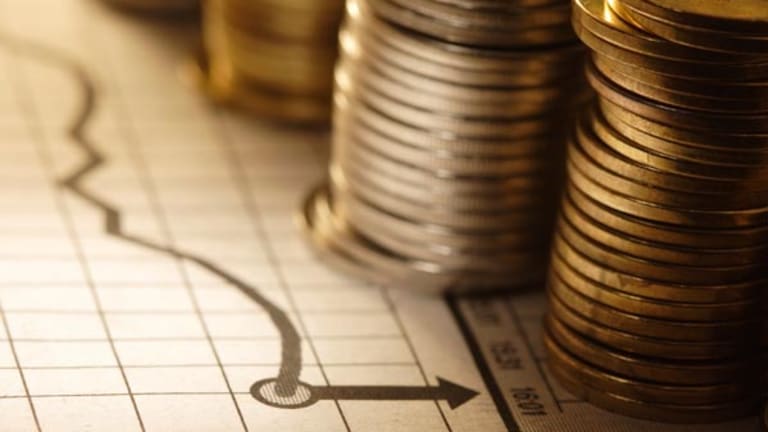 Top Five Small-Cap Stocks
Cam Comm Solutions, National Research on top.
Each business day, TheStreet.com Ratings compiles a list of the top five stocks in five categories -- fast-growth, all-around value, large-cap, mid-cap and small-cap -- and publishes these lists in the Ratings section of our Web site.
This list, updated daily, is based on data from the close of the previous trading session. Today, small-cap stocks are in the spotlight. These are stocks of companies that have market capitalizations of between $50 million and $500 million that rank near the top of all stocks rated by our proprietary quantitative model, which looks at more than 60 factors.
Top 5 Mid-Cap Stocks
var config = new Array(); config<BRACKET>"videoId"</BRACKET> = 1343634460; config<BRACKET>"playerTag"</BRACKET> = "TSCM Embedded Video Player"; config<BRACKET>"autoStart"</BRACKET> = false; config<BRACKET>"preloadBackColor"</BRACKET> = "#FFFFFF"; config<BRACKET>"useOverlayMenu"</BRACKET> = "false"; config<BRACKET>"width"</BRACKET> = 265; config<BRACKET>"height"</BRACKET> = 255; config<BRACKET>"playerId"</BRACKET> = 1243645856; createExperience(config, 8);
The stocks must also be followed by at least one financial analyst who posts estimates on the Institutional Brokers' Estimate System. They are ordered by their potential to appreciate.
Note that no provision is made for off-balance-sheet assets such as unrealized appreciation/depreciation of investments, market value of real estate or contingent liabilities that might affect book value. This could be material for some companies with large underfunded pension plans.
Today begins with
CAM Commerce Solutions
( CADA), which engages in the design, development, marketing, installation and servicing of integrated retailing and payment processing for brick-and-mortar and e-commerce businesses. It has been rated a buy since November 2005. The company has demonstrated a pattern of positive EPS growth over the past two years, and this trend is expected to continue. Powered by its strong earnings growth and other important driving factors, this stock has gone up in the last 12 months. Naturally, any stock can fall in a major bear market. However, in almost any other environment, this stock should continue to move higher. Although the company may harbor some minor weaknesses, they are unlikely to have a significant impact on results.
National Research
( NRCI), which provides ongoing survey-based performance measurement for the health care industry, has been rated a buy since November 2006. The company has shown impressive growth in revenue, earnings per share and net income. Revenue has grown over the year-ago quarter and came in higher than the industry average. These strengths outweigh the fact that the company has had somewhat disappointing return on equity.
LSI Industries
(LYTS)
provides corporate visual image solutions to the petroleum/convenience-store industry. It has been rated a buy since November 2005. The company's revenue growth outpaces the industry average, and it has no debt to speak of. LSI's fiscal-year first-quarter net income increased 26.5% from a year ago to $7 million, or 32 cents a share, while sales rose 4% to $90 million. The stock has risen over the past year, reflecting both the market's overall trend during that period and the company's robust earnings growth. These strengths outweigh the company's low profit margins.
Pericom Semiconductor
(PSEM)
, which makes integrated circuits and frequency-control products, has been rated a buy since February on the basis of growth in the company's revenue, net income and operating cash flow over the last quarter and fiscal year. Also, Pericom has a healthy cash balance, an improved return on equity and minimal long-term debt. Fiscal-year first-quarter net profit surged 139% over that of a year ago to $3.9 million, or 15 cents a share, bolstered by strong demand for its products. Sales climbed 24.5% to $38.5 million. Operating expenses edged up 1.9% to $9.92 million from $9.74 million as a result of higher selling, general and administrative expenses and stock-based compensation costs. Finally, higher interest and other income, which advanced to $1.37 million, also helped the net income increase. During the quarter, Pericom expanded its digital video product portfolio by introducing a dual mode DisplayPort to DVI/HDMI Bridge. The company also launched two new HDMI switches under the same segment. To meet its target for the share-repurchase program, Pericom repurchased 454,000 shares of its stock during the quarter at an average price of $10.93 for a total of $5 million. On the downside, stiff competition and a weaker gross margin could negatively affect its future earnings.
Axsys Technologies
( AXYS), which makes optical system components, has been rated a buy since November 2005. Robust demand for infrared camera and lens products and contribution from the acquisition of Cineflec drove third-quarter revenue growth of 34.4% to $45.22 million compared with the same period last year. Axsys' continued investment in capital equipment and focus on research and development could enhance production capacity and enable it to respond rapidly to changing technological developments in the industry. The buy rating is not risk-free. Any significant reduction or delay in the purchase of precision optical solutions by the U.S. government could have an impact on financial performance, as the company derives a significant portion of revenue from this source.