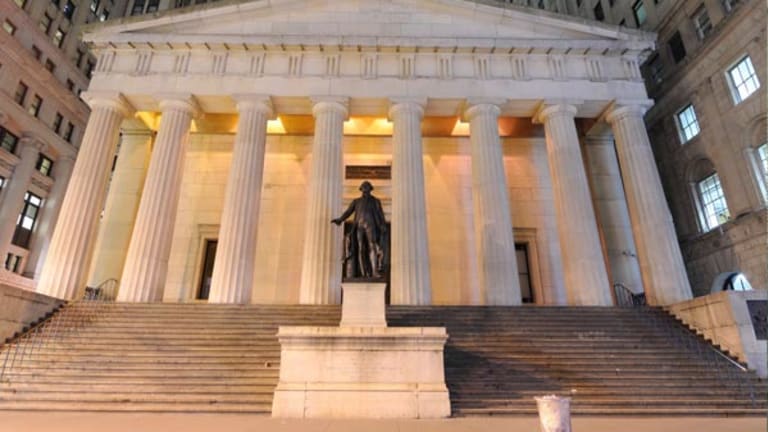 Top Five Small-Cap Stocks
Multi-Color Corp. and Waste Industries USA head up this week's list of top-rated companies.
Each weekday, TheStreet.com Ratings compiles a list of the top five stocks in five categories -- fast-growth, all-around value, large-cap, mid-cap and small-cap -- and publishes these lists in the Ratings section of our Web site.
This list, updated daily, is based on data from the close of the previous trading session. Today, small-cap stocks are in the spotlight. These are stocks of companies that have market capitalizations of between $50 million and $500 million that rank near the top of all stocks rated by our proprietary quantitative model, which looks at more than 60 factors.
The stocks must also be followed by at least one financial analyst who posts estimates on the Institutional Brokers' Estimate System. They are ordered by their potential to appreciate.
Note that no provision is made for off-balance-sheet assets such as unrealized appreciation/depreciation of investments, market value of real estate or contingent liabilities that might affect book value. This could be material for some companies with large underfunded pension plans.
Today begins with
Multi-Color Corp.
(LABL) - Get Report
, which supplies decorative labels and packaging services to consumer product and food and beverage companies, retailers and container manufacturers. The company has been rated a buy since February 2006. It displays significantly increased net operating cash flow and notable stock price appreciation with good potential for further growth. The market expects EPS growth in Multi-Color's fiscal 2007.
These strengths outweigh the company's subpar net income growth.
A buy since May 2005,
Waste Industries USA
(WWIN)
provides solid waste collection, transfer, disposal and recycling services to commercial, industrial and residential customers in six states in the Southeast. It demonstrates improved operating margins due to companywide pricing initiatives, higher productivity gains and increased internalization of waste into its landfills. The company also completed acquisitions in South Carolina and Georgia that will boost hauling revenues and strengthen its routes in desired markets.
Since the solid waste industry is very competitive and requires considerable labor and capital resources, and is subject to extensive federal, state and local environmental laws and regulations, any changes in the economic, legal and regulatory environment could hurt its future financial performance.
Martin Midstream
(MMLP) - Get Report
provides marine transportation, terminalling, distribution and midstream logistical services for producers and suppliers of hydrocarbon products and byproducts. It has been rated a buy since June 2005.
The company shows revenue growth, significantly increased net income growth and strong stock price performance. These positives outweigh concerns about Martin Midstream's somewhat disappointing return on equity.
EnergySouth
( ENSI) is a holding company concentrated on the purchase, distribution, storage and transportation of natural gas in southwest Alabama. It has been rated a buy since May 2005. The company's strengths include revenue growth that has outpaced the industry average and a pattern of EPS growth over the past year. Its stock is expensive relative to its peers, but given its performance, the higher price is justified.
Though EnergySouth shows low profit margins, its overall financial strengths outweigh its weaknesses.
Cherokee
(CHKE)
markets, licenses and manages brand names and related trademarks. It has been rated a buy since May 2005.
The company's strengths include notable stock price appreciation, net income growth that has significantly exceeded that of the
S&P 500
and its industry, and improved return on equity. While no company is perfect, it does not currently show any significant weaknesses likely to detract from the generally positive outlook.