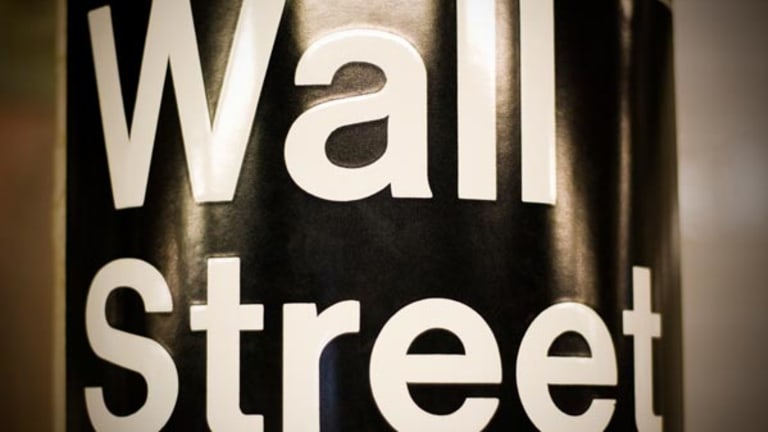 Top Five Mid-Cap Stocks
Flowserve, Sigma-Aldrich, Bucyrus, Steel Dynamics and Cabot Oil & Gas are all on top.
Each business day, TheStreet.com Ratings compiles a list of the top five stocks in five categories -- fast-growth, all-around value, large-cap, mid-cap and small-cap -- and publishes these lists in the Ratings section of our Web site.
This list is based on data from the close of the previous trading session. Today we focus on mid-caps. These are stocks of companies that have market capitalizations of between $500 million and $10 billion that rank near the top of all stocks rated by our proprietary quantitative model, which looks at more than 60 factors.
The stocks must also be followed by at least one financial analyst who posts estimates on the Institutional Brokers' Estimate System. They are ordered by their potential to appreciate.
Note that no provision is made for off-balance-sheet assets such as unrealized appreciation/depreciation of investments, market value of real estate or contingent liabilities that might affect book value. This could be material for some companies with large underfunded pension plans.
Flowserve
(FLS) - Get Flowserve Corporation Report
develops, manufactures and sells precision-engineered flow equipment through three divisions: Flowserve Pump, Flow Control and Flow Solutions. The company operates worldwide, with 43% of its revenue coming from North America.
We have rated Flowserve a buy since January 2007. This rating is based on a convergence of positive investment measures, such as robust revenue growth, good cash flow from operations and expanding profit margins. Flowserve's revenue rose 19% year over year for the third quarter of 2007. The company also reported earnings per share of $1.10, compared with 49 cents in the third quarter of 2006. Furthermore, net operating cash flow has significantly increased to $106.8 million, and the company has a gross profit margin of 36%, which we consider strong.
The recent surge in commodity costs is a challenge to the machinery industry. This could affect Flowserve's results in the future.
Sigma-Aldrich
(SIAL)
develops, manufactures and distributes a broad range of biochemicals and organic chemicals. These chemical products and kits are used in scientific and genomic research, biotechnology, pharmaceutical development and the diagnosis of disease. They are also used as key components in pharmaceutical and other high-tech manufacturing processes. The company operates in 35 countries, with chemical production facilities in Australia, Canada, France, Germany, India, Japan, Singapore, Switzerland, the U.K. and various U.S. states.
Our buy rating for Sigma-Aldrich has been in place since November 2003. For the first quarter of fiscal 2008, the company reported that net income grew to $84.5 million from $74.9 million in the first quarter of 2007. Sales set a record, reaching a new quarterly high of $569.6 million, an increase of 15% year over year. Despite higher tax rates, the company saw EPS improve 14% to 64 cents. Management attributes the EPS growth to Sigma-Aldrich's efforts to expand margins through process improvement activities. Finally, cash flow from operations increased 2.3% to $89.6 million.
Looking forward, management expects sales for 2008 to meet the company's organic growth goal of 7%. Furthermore, management has raised its full-year 2008 EPS estimate by five cents to a range of $2.57 to $2.67, which represents an increase of 9.8% to 14% over 2007 earnings. However, bear in mind that Sigma-Aldrich's future results could be negatively affected by changes in pricing due to the competitive environment, fluctuations in foreign currency exchange rates and regulatory changes.
Bucyrus
( BUCY) designs, manufactures and markets equipment for use in surface mining. Products include draglines, electric mining shovels and rotary blasthole drills. The company also provides after-market replacement parts and service for these machines. Over the life of a machine, customer purchases of after-market parts and services generally exceed the original purchase price of the machine.
Bucyrus has a network of 26 sales and service offices located in all countries with major surface mining operations, as well as manufacturing facilities in Wisconsin.
Bucyrus has been rated a buy since July 2006. The company reported impressive year-over-year revenue growth in the fourth quarter of 2007. Net income also grew, rising to $61.91 million from $17.54 million a year ago. Earnings per share rose to $1.64 from 56 cents a year ago. We feel that EPS growth over the past two years should continue in the future.
Powered by its strong earnings growth and other factors, this stock has surged 121% over the past year. We feel that the company's strengths outweigh the fact that it is now trading at a premium valuation to its peers. Bear in mind, however, that the machinery industry as a whole faces challenges from the recent surge in commodity prices.
Steel Dynamics
(STLD) - Get Steel Dynamics Inc. Report
is the nation's fifth-largest producer of carbon steel products. The company operates five electric-furnace mini-mills and employs about 3,500 people. Using steel primarily from scrap materials, the company produces flat-rolled steel, fabricated products and so-called long products such as bars and beams. Steel Dynamics was founded in 1993.
We have rated Steel Dynamics a buy since June 2003. The company's strengths can be seen in its revenue growth, increased earnings per share and growth in net income. Steel Dynamics recently reported a 40% year-over-year increase in net income that was bolstered by strong sales growth in the flat-roll steel market and the metals recycling business. Revenue for the first quarter more than doubled, increasing to $1.90 billion from $865.67 million a year ago. This revenue growth appears to have helped boost earnings per share, which improved 43% in the same period. Steel Dynamics shares have surged by 65% over the past year.
Looking forward to the second quarter, the company forecast EPS between 80 cents and 90 cents. In addition, the company expects to take advantage of the current strong demand for flat-rolled steel created by domestic supply constraints, low steel inventories and limited steel imports. However, Steel Dynamics' future results could be influenced by changes in economic conditions that affect steel consumption, increases in energy costs and difficulties in integrating acquired businesses.
Cabot Oil & Gas
(COG) - Get Cabot Oil & Gas Corporation Report
is an independent oil and gas company engaged in the exploration, development, acquisition and exploitation of oil and gas properties in North America. Headquartered in Houston, Texas, the company has five principal areas of operation: Appalachian Basin, the Rocky Mountains, Anadarko Basin, the Gulf Coast (onshore and offshore in Texas and Louisiana), and the gas basin of western Canada. Cabot states that approximately 97% of reserves and 90% of production are natural gas.
The stock has been rated buy since September 2004. The company displayed an impressive performance in the fourth quarter of fiscal 2007, benefiting from increasing production and pricing trends. Revenue increased 13% year over year, and net income increased 31% to $42.1 million. This was mainly due to lower brokered natural gas costs and lower taxes, partially offset by higher depreciation, depletion and amortization charges.
Due to successful drilling programs, the company's natural gas production increased 5.2% following a rise in production from the East Coast, Gulf Coast and Canada operational regions. Total production of crude oil and natural gas increased 5.4%.
Looking forward, Cabot plans to continue its strategy of pursuing lower-risk drilling opportunities and selectively pursuing impact exploration opportunities, a tactic that is expected to enhance shareholder returns in the longer term. The company expects to complete the drilling of approximately 419 gross wells during fiscal 2008.
While we feel that the current trends in Cabot's results should continue on the back of this investment in exploration activities, it is important to remember that crude oil and natural gas prices are highly volatile and cyclical in nature. Oil and natural gas are already trading at record highs, and any significant downward trend may affect Cabot's profitability. Moreover, oil exploration is a matter of chance, and the company's currently high success rate may change in the future.
Our quantitative rating is based on a variety of historical fundamental and pricing data and represents our opinion of a stock's risk-adjusted performance relative to other stocks.
However, the rating does not incorporate all of the factors that can alter a stock's performance. For example, it doesn't always factor in recent corporate or industry events that could impact the stock price, nor does it include recent technology developments and competitive dynamics that may affect the company.
This article was written by a staff member of TheStreet.com Ratings.