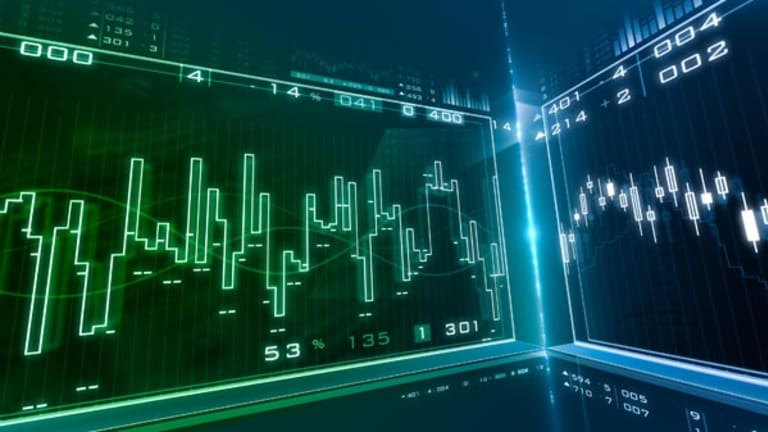 Top Five Mid-Cap Stocks
Devry, Heico, Bucyrus International, Ametek and Woodward Governor are on top.
Each business day, TheStreet.com Ratings compiles a list of the top five stocks in five categories -- fast-growth, all-around value, large-cap, mid-cap and small-cap -- and publishes these lists in the Ratings section of our Web site.
This list is based on data from the close of the previous trading session. Today we focus on mid-caps. These are stocks of companies that have market capitalizations of between $500 million and $10 billion that rank near the top of all stocks rated by our proprietary quantitative model, which looks at more than 60 factors.
The stocks must also be followed by at least one financial analyst who posts estimates on the Institutional Brokers' Estimate System. They are ordered by their potential to appreciate.
Note that no provision is made for off-balance-sheet assets such as unrealized appreciation/depreciation of investments, market value of real estate or contingent liabilities that might affect book value. This could be material for some companies with large underfunded pension plans.
Top 5 Mid-Cap Stocks
var config = new Array(); config<BRACKET>"videoId"</BRACKET> = 1381651990; config<BRACKET>"playerTag"</BRACKET> = "TSCM Embedded Video Player"; config<BRACKET>"autoStart"</BRACKET> = false; config<BRACKET>"preloadBackColor"</BRACKET> = "#FFFFFF"; config<BRACKET>"useOverlayMenu"</BRACKET> = "false"; config<BRACKET>"width"</BRACKET> = 265; config<BRACKET>"height"</BRACKET> = 255; config<BRACKET>"playerId"</BRACKET> = 1243645856; createExperience(config, 8);
DeVry
(DV)
, an education services company, has been rated a buy since January. The company's strengths can be seen in several areas, such as its largely solid financial position with reasonable debt levels by most measures, solid stock price performance and impressive growth in revenue, EPS and net income. These strengths should outweigh the company's low profit margins.
Fiscal-year first-quarter adjusted earnings totaled $29.1 million, or 40 cents a share, up about 28% from a year ago. The company has demonstrated a pattern of positive EPS growth over the past two years and this is expected to continue. Revenue rose 14% to $250.3 million.
Last month, DeVry said total undergraduate enrollment for the fall 2007 semester increased 10%. The educational services market is characterized by intense competition. Private companies also face tough competition from public institutions, which are backed by government subsidies, grants, tax incentives and other financial resources generally not available to private schools.
Heico
(HEI) - Get HEICO Corporation Report
, a maker of aerospace, defense and electronics products, has been rated a buy since December 2005. Fourth-quarter profit increased about 15% over a year ago to $10.8 million, or 40 cents a share. The company has demonstrated a pattern of positive EPS growth over the past two years and this is expected to continue. Revenue climbed 27% to $139.9 million.
Heico said its flight support group reported a 31% increase in sales for the quarter and the electronic technologies group posted an 18% increase over a year ago.
The stock has risen over the last 12 months to a price level that is now somewhat expensive compared with the rest of its industry. The other strengths this company shows, however, justify the higher price levels. Heico's weak operating cash flow is not a threat to the buy rating at this time.
Bucyrus International
( BUCY), which makes excavation equipment, has been rated a buy since July 2006. The company maintains a largely solid financial position with reasonable debt levels by most measures, good cash flow from operations and growth in EPS, revenue and net income. These strengths are expected to outweigh the company's somewhat disappointing return on equity.
Third-quarter net income totaled $28.6 million, or 77 cents a share, up from $16.7 million, or 53 cents a share a year ago. Bucyrus has demonstrated a pattern of positive EPS growth over the past two years, and this trend is expected to continue. Revenue leaped by 170.4%, outstripping the industry average of 8%.
The machinery industry overall is poised to continue the growth it has exhibited over the past few years, growth that has outpaced that of the overall economy. The challenges the industry faces include the recent surge in commodity costs, which has lowered margins on many goods.
Electronic instruments and electromechanical device manufacturer
Ametek
(AME) - Get AMETEK, Inc. Report
has been rated a buy since November 2005.
The company's acquisition strategy is expected to augment revenue growth, with nearly 30 acquisitions completed since 1999. In June, the company announced the acquisition of Hamilton Precision Metals -- a deal that will diversify its electromechanical segment -- and two privately held aerospace businesses. It also picked up Cameca SAS, a maker of high-end analysis systems, in August.
The company has also invested more than $300 million in new-product initiatives over the last five years. Ametek's third-quarter revenue was up 13.9% compared with the same period last year, driven by strong organic growth and contributions from acquired businesses. Net income grew 20.8% over the same timeframe, supported by margin expansion, partly offset by higher interest and taxes. The strong third-quarter results prompted the company to raise its full-year guidance.
The principal risks to the buy rating include possible difficulties integrating acquisitions, rising raw-material costs and any prolonged downturn in the aerospace, heavy-vehicle and process instrumentation markets.
Designing, manufacturing and servicing electrical components and equipment for aircraft and industrial engines,
Woodward Governor
( WGOV) has had a buy rating since December 2005. It demonstrates robust revenue growth, a very low debt-to-equity ratio and a largely solid financial position with reasonable debt and valuation levels.
Fiscal-year fourth-quarter profit totaled $36 million, or $1.02 a share, up from $17.1 million, or 49 cents a share, a year earlier. Revenue increased 25% during the quarter to $290.8 million.
The company said it expects to beat Wall Street's expectations for fiscal 2008 profit. Woodward Governor is projecting EPS to range from $3.05 and $3.15 a share for the year, while analysts are looking for earnings of $2.95 for the year.
Woodward Governor's stock price climbed over the last year and while almost any stock can fall in a broad market decline, it should continue to move higher. These strengths outweigh the company's low profit margins.
Our quantitative rating is based on a variety of historical fundamental and pricing data and represents our opinion of a stock's risk-adjusted performance relative to other stocks.
However, the rating does not incorporate all of the factors that can alter a stock's performance. For example, it doesn't always factor in recent corporate or industry events that could impact the stock price, nor does it include recent technology developments and competitive dynamics that may affect the company.
For those reasons, we believe a rating alone cannot tell the whole story, and should be part of an investor's overall research.
This article was written by a staff member of TheStreet.com Ratings.