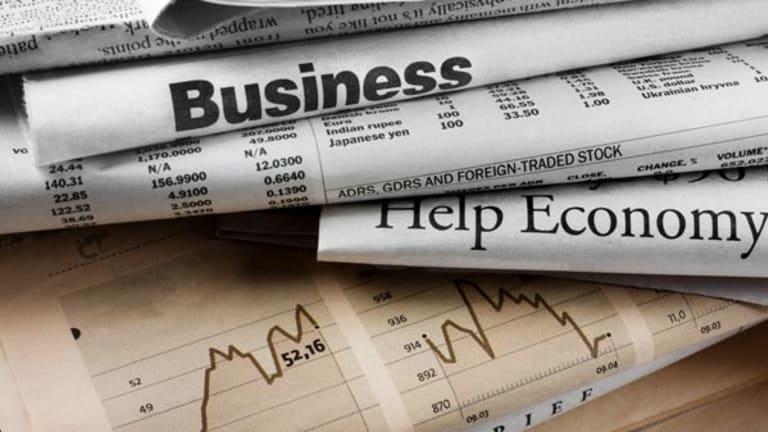 Top Five Mid-Cap Stocks
Valmont Industries, AMETEK in the lead.
Each weekday, TheStreet.com Ratings compiles a list of the top five stocks in five categories -- fast-growth, all-around value, large-cap, mid-cap and small-cap -- and publishes these lists in the
Ratings section of our Web site.
This list, updated daily, is based on data from the close of the previous trading session. Today, mid-cap stocks are in the spotlight. These are stocks of companies that have market capitalizations of between $500 million and $10 billion that rank near the top of all stocks rated by our proprietary quantitative model, which looks at more than 60 factors.
The stocks must also be followed by at least one financial analyst who posts estimates on the Institutional Brokers' Estimate System. They are ordered by their potential to appreciate.
Note that no provision is made for off-balance-sheet assets such as unrealized appreciation/depreciation of investments, market value of real estate or contingent liabilities that might affect book value. This could be material for some companies with large underfunded pension plans.
Today begins with
Valmont Industries
(VMI) - Get Free Report
, which produces fabricated metal products. It has been rated a buy since August 2005. The company's revenue grew 18.7% in the second quarter of 2007 compared with the year-earlier period, exceeding the industry average of 4.6%. Its debt-to-equity ratio of 0.55 is below the industry average, implying that there has been successful management of debt levels.
Valmont has demonstrated a pattern of positive EPS growth over the past two years, a trend that should continue. Powered by strong earnings and other factors, the company's stock price has increased significantly over the last 12 months, and while it is now somewhat expensive compared with its industry peers, the company's strengths justify the higher price level. Valmont's low profit margins are no threat to the company's buy rating at this time.
Electronic instruments and electromechanical device manufacturer
AMETEK
(AME) - Get Free Report
has been rated a buy since July 2005. The company's acquisition strategy is expected to augment revenue growth, with nearly 30 acquisitions completed since 1999. In June, the company announced the acquisition of Hamilton Precision Metals, which will diversify its electromechanical segment. That same month, it announced the acquisition of two privately-held aerospace businesses. In addition, the company has invested more than $300 million in new product initiatives over the last five years.
The company's second-quarter revenue was up 15.3% on the year to $519.47 million. Its net income increased by 24.8% to $58.01 million in the same timeframe.
The principal risks to the buy rating include possible difficulties integrating acquisitions, rising raw material costs and any prolonged downturn in the aerospace and defense, heavy-vehicle and process instrumentation markets.
Heico
(HEI) - Get Free Report
, a maker of aerospace, defense and electronics products, has been rated a buy since July 2005. The company has demonstrated a pattern of positive EPS growth over the past two years, and its year-on-year revenue growth of 31.62% for the second quarter was well above the industry average of 6.3%. The stock's sharp appreciation over the last year has driven it to a price level that is now somewhat expensive compared to the rest of its industry. The other strengths this company shows, however, justify the higher price levels. While no company is perfect, currently TheStreet.com Ratings does not see any significant weaknesses that are likely to detract from the generally positive outlook.
Clinical diagnostics company
Dade Behring Holdings
( DADE) has been rated a buy since August 2005. The company's stock has performed solidly, and its revenue, net income, earnings per share and cash flow have all been growing. While the company may harbor some minor weaknesses, they are not expected to have a significant impact on results.
In July, Dade Behring Holdings said second-quarter earnings climbed 34% over the year-earlier period to $50.3 million, or 61 cents a share, while sales increased 8% to $480.8 million. Despite its growing revenue, the company underperformed as compared with the industry average of 8.2%. Net operating cash flow has significantly increased by 77.75% to $95.10 million.
Designing, manufacturing and servicing electrical components and equipment for aircraft and industrial engines,
Woodward Governor
( WGOV) has had a buy rating since August 2005. It demonstrates solid revenue growth, a very low debt-to-equity ratio and a largely solid financial position with reasonable debt and valuation levels. Its net operating cash flow increased 34.71% to $36.44 million in the third quarter of fiscal 2007 compared with the same period last year. These strengths outweigh the company's subpar net income growth.