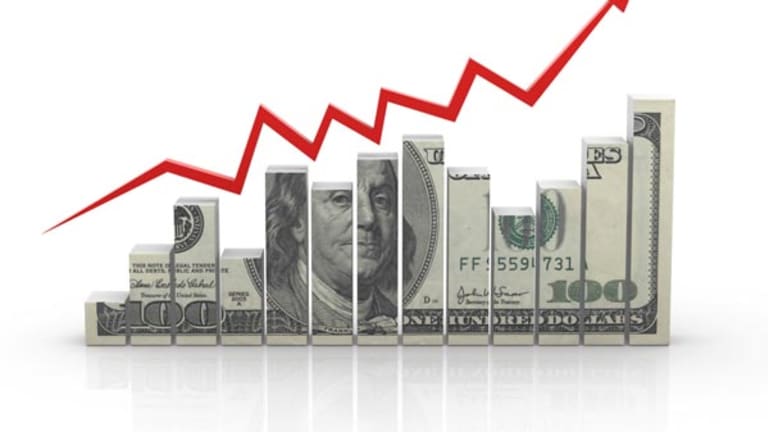 Top Five Large-Cap Stocks: April 2
Apache, XTO Energy, CSX Corp., EOG Resources and Murphy Oil are all on top.
Each business day, TheStreet.com Ratings compiles a list of the top five stocks in five categories -- fast-growth, all-around value, large-cap, mid-cap and small-cap -- and publishes these lists in the Ratings section of our Web site.
This list is based on data from the close of the previous trading session. Today, large-cap stocks are in the spotlight. These are stocks of companies with market capitalizations of over $10 billion that rank near the top of all stocks rated by our proprietary quantitative model, which looks at more than 62 factors. In addition, the stocks must be followed by at least one financial analyst who posts estimates on the Institutional Brokers' Estimate System. The stocks are ordered by their potential to appreciate.
Note that no provision is made for off-balance-sheet assets such as unrealized appreciation/depreciation of investments, market value of real estate or contingent liabilities that might affect book value. This could be material for some companies with large underfunded pension plans.
Big-Hitting Large-Cap Stocks
var config = new Array(); config<BRACKET>"videoId"</BRACKET> = 1485890858; config<BRACKET>"playerTag"</BRACKET> = "TSCM Embedded Video Player"; config<BRACKET>"autoStart"</BRACKET> = false; config<BRACKET>"preloadBackColor"</BRACKET> = "#FFFFFF"; config<BRACKET>"useOverlayMenu"</BRACKET> = "false"; config<BRACKET>"width"</BRACKET> = 265; config<BRACKET>"height"</BRACKET> = 255; config<BRACKET>"playerId"</BRACKET> = 1243645856; createExperience(config, 8);
Apache
(APA) - Get APA Corporation Report
is an independent energy company that explores for, develops and produces natural gas, crude oil and natural gas liquids. The company has interests in Argentina, Australia, Canada, China, Egypt, the U.K. and the U.S.
Apache has been rated a buy since January 2003. Fueled by record energy prices and an 8.0% jump in production, the company's earnings for the fourth quarter more than doubled year over year. Net income rose to $1.07 billion, or $3.19 a share, vs. $520.8 million, or $1.56 share, a year ago. Apache's total revenue surged 53% to $3.01 billion from $1.97 billion, driven by record production and strong commodity prices.
Looking forward to 2008, the company anticipates an earnings contribution from rising natural gas prices in Australia on growing demand in the domestic mining industry and in the liquefied natural gas export market. Apache's future performance depends, however, on its ability to achieve positive results from previous acquisitions. The company also faces challenges from increasing debt levels and comparatively low shareholder returns.
XTO Energy
( XTO) acquires, develops, exploits and explores oil and gas properties. The company also produces, processes, markets and transports oil and natural gas. XTO's proved reserves are located primarily in Alaska, Arkansas, Colorado, Kansas, New Mexico, Oklahoma, Texas and Wyoming. These fields are generally long-lived, with well-established production histories.
We have rated XTO Energy a buy since November 2001. We see its strengths in areas such as revenue growth, stock performance and an increase in net income. For the fourth quarter of 2007, the company reported an increase in net income of 8.2%, boosted by increased oil and natural gas production as well as higher energy prices. Net income increased to $464 million, or 95 cents a share, from $429 million, or 92 cents a share, a year ago. Revenue rose 33% to $1.59 billion, vs. $1.2 billion in the fourth quarter of 2006. Finally, XTO Energy witnessed record production, led by broad-based growth across all basins.
The company recently agreed to acquire $1 billion worth of oil and gas properties, which could help it reach significantly higher production and reserve targets. Looking ahead, the company raised its 2008 production growth target to 20%, up from its previous target of 18%. Bear in mind, however, that there are risks to our buy rating, in that oil and gas prices are highly volatile and cyclical in nature.
CSX Corp.
(CSX) - Get CSX Corporation Report
owns one of the largest rail networks in the U.S. Its subsidiary, CSX Transportation, provides rail transportation services over a 21,000-mile route network in 23 states, the District of Columbia, and the Canadian provinces of Ontario and Quebec. CSX serves more North American ports than any other U.S. railroad, and CSX World Terminals, another subsidiary, also reaches key ports in Europe, Asia, and South America. The company also provides multimodal transportation of domestic highway trailers and containers, and operates a premium parcel business, as well as international steamship containers through CSX Intermodal.
CSX has been rated a buy since September 2004. The company reported a 7.6% year-over-year increase in revenue for the fourth quarter of 2007, driven by strong pricing. Net income grew 5.2% to $365 million. The gross profit margin expanded 281 basis points to 31.86%, while operating profit margin grew 329 basis points to 23.32%. Earnings per share climbed 15% to 86 cents, led by strong improvements in safety, service and productivity.
Management reaffirmed its long-term financial targets on the basis of the company's consistent performance, the benefits of key investments in its network and a strong outlook for rail transportation. CSX anticipates double-digit growth in operating income and EPS going forward. However, the company also expects more price hikes in the coming year because of prevailing weakness in the housing market and the automotive sector. The company's high debt level, lower liquidity position and lower return on equity could also affect its future stock performance.
EOG Resources
(EOG) - Get EOG Resources Inc. Report
explores for, develops, produces and markets natural gas and crude oil primarily in major producing basins in the U.S., Canada, offshore Trinidad, the North Sea and, from time to time, select other international areas. A substantial portion of EOG's U.S. and Canada natural gas reserves are in long-lived fields with well-established production histories. For fiscal year 2007, production increased 11% over 2006, driven by the Fort Worth and Rocky Mountain operating areas.
EOG Resources has been rated buy since December 2005. For the fourth quarter of 2007, the company reported net income available to common shareholders of $358 million, or $1.44 per share, vs. $237.2 million, or 96 cents per share, in the year-ago quarter. In addition, the company increased the quarterly cash dividend on its common stock to 12 cents a share, payable beginning April 30, 2008 to holders of record as of April 16, 2008.
Demand for oil and gas is continuously increasing in the U.S., even as oil prices that climb above their historical averages. Together with rising prices, this increasing demand has encouraged production companies like EOG to increase their efforts to produce oil. Looking forward, the company plans to continue expanding its North American drilling program, and it expects significant production gains from the Fort Worth Barnett Shale and the North Dakota Bakken. Primarily because of expanded drilling operations in the latter, the company has increased its total crude oil and condensate production target growth.
Bear in mind that there are risks to our buy rating; oil and gas prices are highly volatile and cyclical in nature. The company is also subject to unforeseen occurrences such as blowouts, fires, and loss of well control, which can destroy production facilities.
Murphy Oil
(MUR) - Get Murphy Oil Corporation Report
explores for and produces crude oil, natural gas and natural gas liquids worldwide, with refining and marketing businesses in North Africa and the U.K. In the U.S., Murphy produces oil and natural gas from six fields operated by the company and three operated by others. The stock has been rated buy since January 2006.
Murphy Oil's strengths include its revenue growth, solid stock performance and a largely solid financial position. For the fourth quarter, the company reported year-over-year revenue growth of 68%, and net income more than doubled. The company attributed the increase to higher product prices and increased production volumes, which overcame weakness in its refining results. While Murphy Oil's 46% one-year stock price increase makes it expensive compared with historical valuation levels, we feel that the company's strengths justify the move.
It is important to remember that any unexpected sharp downturn in oil and gas prices could negatively affect earnings. In addition, oil prices, which are highly volatile and cyclical in nature, are trading at a record level and could be vulnerable to weaker economic conditions. High prices may also create demand for low-cost alternatives and could thus hurt overall demand for oil and gas products.
Our quantitative rating is based on a variety of historical fundamental and pricing data and represents our opinion of a stock's risk-adjusted performance relative to other stocks.
However, the rating does not incorporate all of the factors that can alter a stock's performance. For example, it doesn't always factor in recent corporate or industry events that could affect the stock price, nor does it include recent technology developments and competitive dynamics that may affect the company.
For those reasons, we believe a rating alone cannot tell the whole story and should be part of an investor's overall research.
This article was written by a staff member of TheStreet.com Ratings.