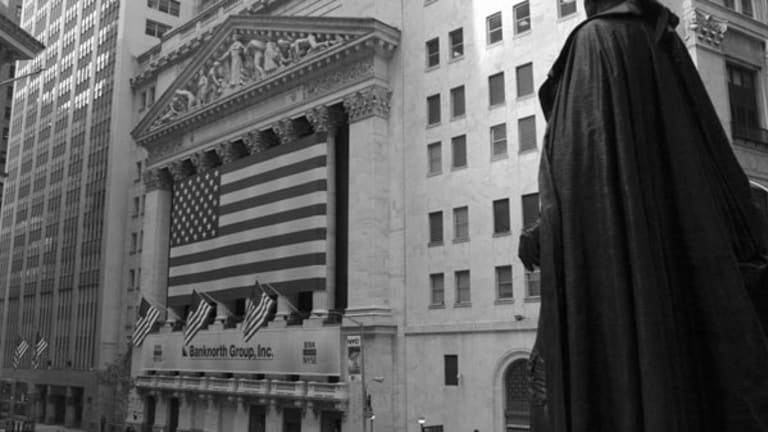 Top Five Large-Cap Stocks
PSE&G, Constellation Energy, Praxair, FPL Group and Hewlett-Packard are on top.
Each business day, TheStreet.com Ratings compiles a list of the top five stocks in five categories -- fast-growth, all-around value, large-cap, mid-cap and small-cap -- and publishes these lists in the
Ratings section of our Web site.
This list is based on data from the close of the previous trading session. Today, large-cap stocks are in the spotlight. These are stocks of companies with market capitalizations of over $10 billion that rank near the top of all stocks rated by our proprietary quantitative model, which looks at more than 62 factors. In addition, the stocks must be followed by at least one financial analyst who posts estimates on the Institutional Brokers' Estimate System. The stocks are ordered by their potential to appreciate.
Note that no provision is made for off-balance-sheet assets such as unrealized appreciation/depreciation of investments, market value of real estate or contingent liabilities that might affect book value. This could be material for some companies with large underfunded pension plans.
Top Five Large-Cap Stocks
var config = new Array(); config<BRACKET>"videoId"</BRACKET> = 1388808122; config<BRACKET>"playerTag"</BRACKET> = "TSCM Embedded Video Player"; config<BRACKET>"autoStart"</BRACKET> = false; config<BRACKET>"preloadBackColor"</BRACKET> = "#FFFFFF"; config<BRACKET>"useOverlayMenu"</BRACKET> = "false"; config<BRACKET>"width"</BRACKET> = 265; config<BRACKET>"height"</BRACKET> = 255; config<BRACKET>"playerId"</BRACKET> = 1243645856; createExperience(config, 8);
Public Service Enterprise Group
(PEG) - Get Public Service Enterprise Group Inc Report
sells electricity and natural gas primarily in the northeastern and mid-Atlantic U.S. It has been rated a buy since November 2006. Third-quarter profit climbed 35% from a year ago to $507 million, or $1.97 a share.
Public Service Enterprise Group generates 68% of its operating income from its power segment, which grew 63% year over year in the third quarter. The growth was powered by higher prices realized, an increase in power generation and lower generation cost. The company has also seen an increase in generating capacity from its nuclear power plants.
Looking forward, PSEG has already locked in sales of the majority of its expected power input for the remainder of fiscal 2007 at higher prices. This, combined with high utilization of low-cost nuclear power plants and divestiture of the loss-making Lawrenceburg power plant, could help fuel growth.
The buy is not risk-free. Public Service Enterprise Group is exposed to risks arising from reliability of power plants and transmission and distribution equipments, along with safety hazards in its nuclear plants. Also, the company could be affected by regulatory changes.
Constellation Energy
( CEG) supplies energy products and service to wholesale customers through three segments: merchant energy, regulated electric and regulated gas. It has been rated a buy since January 2006. The company's third-quarter revenue rose by 8.6% compared with the same period last year, outpacing the industry average of 6.4%.
Constellation's stock price jumped 35.93% in the 12 months prior to Jan. 17, exceeding the performance of the broader market during that same timeframe. While almost any stock can fall during a broad market decline, its share price should continue to move higher despite the fact that it has already enjoyed a very nice gain in the past year.
Its third-quarter earnings fell 18.9%, to $1.37 per share, from $1.69 a share in the same period last year. The company has reported somewhat volatile earnings recently, but TheStreet.com Ratings feels it is poised for EPS growth in the coming year.
Constellation Energy's strengths outweigh its subpar net income growth.
Praxair
(PX)
produces, sells and distributes industrial gases. It has been rated a buy since November 2005. The buy rating is supported by the company's strong revenue growth, expanding profit margins, increased net income and notable return on equity.
Third-quarter profit climbed 23% to $305 million, or 94 cents a share, while revenue increased 13% to $2.37 billion. The company's Asian and South American segments grew the most, supported by new business and project start-ups, while North America saw continued stable growth. Higher sales, improved pricing, cost efficiency and productivity programs helped the gross profit margin grow by 121 basis points to 41.23%.
Risks to the company's performance include an increase in the leverage level to 0.82 from 0.71, led by a 26.1% surge in total debt and the unfavorable effect of currency fluctuations.
FPL Group
(FPL) - Get First Trust New Opportunities MLP & Energy Fund Report
produces electricity using natural gas, wind, nuclear, oil, hydro and other resources. It has been rated a buy since December 2005. The company's strong capacity addition plans, combined with improved margin, may lead to an impressive financial performance in the future.
FPL Group has been expanding its energy infrastructure to support growing demand. It is also diversifying its fuel mix from natural gas toward wind and nuclear power in response to concerns about greenhouse emissions and escalating commodity prices. The company projects its earnings for fiscal 2007 to be near $3.45 per share, compared with $3.23 a share in fiscal 2006. Management has also raised its earnings projection for fiscal 2008 to be in the range of $3.83 to $3.93 per share.
The company is exposed to risks rising from the reliability of its power plants as well as transmission and distribution equipment. Health and safety hazards connected with nuclear plants are also a potential risk. FPL Group also could be adversely affected by regulatory changes, higher fuel prices and weather fluctuations.
Hewlett-Packard
, a technology products and services company, has been rated a buy since December 2005. The rating is based on the company's strong top- and bottom-line growth as well as its expanding margins. These positives are further supported by notable returns, reasonable leverage levels and growth due to strategic acquisitions.
Fourth-quarter net income climbed 28% from a year ago to $2.16 billion, or 81 cents a share. Revenue increased 15% to $28.29 billion, primarily bolstered by strong sales across all of the company's business segments.
The company has agreed to acquire the Atos Origin Middle East group, or AOME. As one of the Middle East's leading systems integrators, AOME is expected to broaden the company's consulting and integration capacity in the region. Also, Hewlett-Packard purchased digital inkjet printer company MacDermid ColorSpan.
Risks remain. Despite rising earnings and revenue, the company faces challenges from rising debt levels and stiff competition. Furthermore, exposure to emerging markets is forcing the company to lower its prices in defense of market share. As a result, Hewlett-Packard's margins could deteriorate in the future.
Our quantitative rating is based on a variety of historical fundamental and pricing data and represents our opinion of a stock's risk-adjusted performance relative to other stocks.
However, the rating does not incorporate all of the factors that can alter a stock's performance. For example, it doesn't always factor in recent corporate or industry events that could impact the stock price, nor does it include recent technology developments and competitive dynamics that may affect the company.
For those reasons, we believe a rating alone cannot tell the whole story, and should be part of an investor's overall research.
This article was written by a staff member of TheStreet.com Ratings.