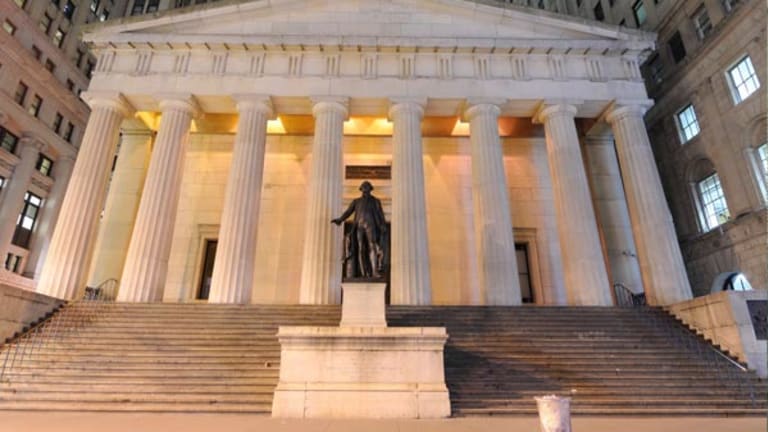 Top Five Large-Cap Stocks
Exelon, Air Products and Chemicals, Praxair, Textron and Noble are on top.
Each business day, TheStreet.com Ratings compiles a list of the top five stocks in five categories -- fast-growth, all-around value, large-cap, mid-cap and small-cap -- and publishes these lists in the Ratings section of our Web site.
This list is based on data from the close of the previous trading session. Today, large-cap stocks are in the spotlight. These are stocks of companies with market capitalizations of over $10 billion that rank near the top of all stocks rated by our proprietary quantitative model, which looks at more than 62 factors.
The stocks must also be followed by at least one financial analyst who posts estimates on the Institutional Brokers' Estimate System. They are ordered by their potential to appreciate.
Note that no provision is made for off-balance-sheet assets such as unrealized appreciation/depreciation of investments, market value of real estate or contingent liabilities that might affect book value. This could be material for some companies with large underfunded pension plans.
Exelon
(EXC) - Get Free Report
transmits and distributes electricity in northern Illinois, as well as electricity and natural gas in southeastern Pennsylvania. It has been rated a buy since January 2007. The company's revenue grew by 14.3% to $5.03 billion in the third quarter compared with the same period last year, aided by an increase in wholesale and retail electric sales from its generation division.
The company swung to a net profit of $780 million, or $1.15 per share, from a loss of $44 million, or seven cents a share, over the same period. Income growth came from higher margins on energy sales, higher nuclear output and favorable weather. Stockholders' equity edged up 7.3% to $10.51 billion, improving the company's debt-to-equity ratio.
However, any adverse change in commodity prices, an increase in capital expenditure, and unfavorable weather conditions could adversely impact the company's growth in the future. In addition, Exelon's margins are declining and debt balances are high, which could affect its operations in the coming quarters.
Air Products and Chemicals
(APD) - Get Free Report
, a chemical and gas producer, has been rated a buy since December 2005 on the basis of its strong revenue growth, expanding margins and increased net income, coupled with a notable return on equity. Higher pricing and volumes across various business segments have supported the revenue growth.
Fiscal-year fourth-quarter profit increased 128% over a year ago, led by higher net sales, to $292.80 million or $1.31 a share. Sales climbed by 10.3% to $2.60 billion during the same time frame, due to higher pricing and volumes in the merchant gases segment and higher volumes in its tonnage gases and electronics & performance materials segment.
The company plans to expand margins and to continue to reduce costs across all of its businesses, with the goal of achieving an improvement of 100 basis points in margins in fiscal 2008.
Risks to the company's performance include high competition from several large global competitors. Also, unfavorable effects of currency fluctuations may adversely affect the top line of the company.
Praxair
(PX)
produces, sells and distributes industrial gases. It has been rated a buy since November 2005. The buy rating is supported by the company's strong revenue growth, expanding profit margins, increased net income and notable return on equity.
Third-quarter profit climbed 23% to $305 million, or 94 cents a share, while revenue increased 13% to $2.37 billion. The company's Asian and South American segments grew the most, supported by new business and project start-ups, while North America saw continued stable growth. Higher sales, improved pricing, cost efficiency and productivity programs helped the gross profit margin grow by 121 basis points to 41.23%.
Risks to the company's performance include an increase in the leverage level to 0.82 from 0.71, led by a 26.1% surge in total debt and the unfavorable effect of currency fluctuations.
Conglomerate
Textron
(TXT) - Get Free Report
, whose businesses include making Cessna airplanes and Bell helicopters, has been rated buy since January 2006 on the basis of its impressive growth in revenue, net income and return on equity. The rating is also supported by the company's sound cash position, strong guidance and encouraging business development initiatives.
Third-quarter profit climbed 51% over a year ago to $255 million, or 95 cents a share. The company raised its full-year 2007 revenue guidance to $13 billion, which would represent an increase of 13.3% over fiscal year 2006. Management also forecasts EPS from continuing operations to be in a range of $3.40 to $3.50, up 22 cents a share from prior expectations. Textron has agreed to acquire aeronautics and defense company
United Industrial
undefined
for about $1.10 billion.
The company has also agreed to jointly bid on an Army contract to build light armored vehicles with aircraft maker
Boeing
(BA) - Get Free Report
. On the risk side, Textron is highly leveraged, and it faces contractual risks with the U.S. government.
Noble
(NE) - Get Free Report
, an offshore oil driller, has been rated buy since November 2005 on the basis of its record quarterly performance that benefited from favorable market conditions, heightening drilling activities worldwide and its return on equity, which has consistently improved over the last three years.
Third-quarter revenue climbed 40.8% on the year to $791.28 million, while net income increased 53.6% to $318.28 million, further supported by operating margin expansion. There has been heightened drilling and exploration activity recently, following the growing demand for oil and gas because of improving standards of life as well as an increase in automobile usage.
As originally published, this story contained an error. Please see
Corrections and Clarifications.