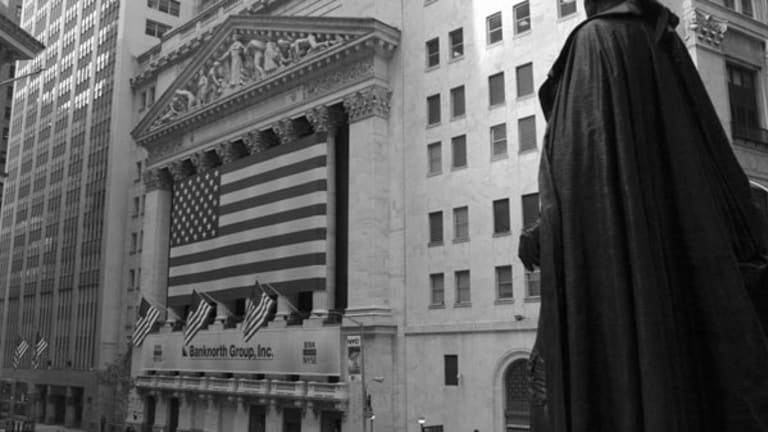 Top Five Fast-Growth Stocks
Flowserve, Ametek, XTO Energy, Axsys Technologies and FTI Consulting make the list.
Each business day, TheStreet.com Ratings compiles a list of the top five stocks in five categories -- fast-growth, all-around value, large-cap, mid-cap and small-cap -- and publishes these lists in the Ratings section of our Web site.
This list is based on data from the close of the previous trading session. Today, fast-growth stocks are in the spotlight. These are stocks of companies that are projected to increase revenue and profit by at least 12% in the coming year and rank near the top of all stocks rated by our proprietary quantitative model, which looks at over 60 factors.
In addition, the stocks must be followed by at least one financial analyst who posts estimates on the Institutional Brokers' Estimate System. Please note that definitions of revenue vary by industry, and this screen does not make adjustments for acquisitions, which can materially affect posted results. Likewise, earnings-per-share growth may be affected by accounting charges, share repurchases and other one-time items.
Note that no provision is made for off-balance-sheet assets such as unrealized appreciation/depreciation of investments, market value of real estate or contingent liabilities that might affect book value. This could be material for some companies with large underfunded pension plans.
Flowserve
(FLS) - Get Free Report
engages in the development, manufacture and sale of precision-engineered flow equipments through three divisions: Flowserve Pump, Flow Control and Flow Solutions. The company operates worldwide, with 43% of its revenue coming from North America.
We have rated Flowserve a buy since January 2007. This is based on a convergence of positive investment measures, such as robust revenue growth, good cash flow from operations and expanding profit margins. Flowserve's revenue rose 19.3% year over year in the third quarter of 2007. The company also reported earnings per share of $1.10, compared to 49 cents in the third quarter of 2006. Furthermore, net operating cash flow has significantly increased by 1,548% to $106.77 million when compared to the same quarter last year, and the company has a gross profit margin of 35.9%, which we consider strong.
The recent surge in commodity costs is a challenge to the machinery industry. This could affect Flowserve's results in the future.
Ametek
(AME) - Get Free Report
manufactures electronic instruments and electromechanical devices. The company has operations throughout the U.S. and in more than 30 other countries. The company's Electronic Instruments segment manufactures advanced monitoring, testing, calibrating and display instruments for the process, aerospace, power and industrial markets worldwide.
The Electromechanical segment produces highly engineered electromechanical connectors for hermetic (moisture-proof) applications, specialty metals for niche markets and brushless air-moving motors, blowers and heat exchangers. The products are used in floor care and other specialty applications.
Ametek has been rated a buy since November 2002. The company's strengths include its consistent revenue, earnings per share and net income growth, as well as a solid stock performance. In addition, Ametek's minimal exposure to the housing and automobile markets could insulate it from the sluggish U.S. economy. For the first quarter of 2008, the company reported a 30.4% increase year over year in earnings, led by operational improvements and strong revenue growth of 21%.
Continuing its pattern of EPS growth over the past two years, the company again reported improved EPS from 48 cents in the first quarter of 2007 to 62 cents in the most recent quarter. Net income grew to $66.36 million from $50.90 a year ago. Furthermore, operating cash flow increased 39.0% to $77.0 million. Additionally, the company recently paid a quarterly dividend of 6 cents a share on March 31.
Going forward, Ametek estimates revenue for the full year 2008 will increase in the high teens on a percentage basis, while earnings are estimated to be in the range of $2.47 to $2.52 per share. Management also expects earnings for the second quarter to be approximately 61 cents to 63 cents a share, an increase of 13% to 17% over last year. However, these results could be negatively affected should the company fail to successfully integrate its recent acquisitions. Other risks include the price and availability of raw materials and changes in the competitive environment.
XTO Energy
( XTO) acquires, develops and explores oil and gas properties. The company also produces, processes, markets and transports oil and natural gas. XTO's proved reserves are located primarily in Alaska, Arkansas, Colorado, Kansas, New Mexico, Oklahoma, Texas and Wyoming. These fields are generally long-lived, with well-established production histories.
We have rated XTO Energy a buy since November 2001. We view the company's revenue growth, stock performance and increase in net income as strengths. For the first quarter of fiscal 2008, the company reported that its net income rose 21.4% to $465 million from $383 million a year ago, while its revenue rose 43.2% year over year. This growth appears to have trickled down to the company's bottom line, as earnings per share improved from 82 cents a year ago to 92 cents. Finally, net operating cash flow increased 12.45% to $957 million.
Management feels that the first-quarter results reflect a strong start to fiscal 2008, which they hope will be another record year for the company. While the stock's sharp appreciation over the last year has made it a premium compared to some of its peers, we feel the price levels are justified by the strengths of the company. Bear in mind, however, that the company operates in an industry that is highly volatile, and the cyclical nature of oil and gas prices could impact XTO's future results.
Axsys Technologies
( AXYS) designs and manufactures precision optical solutions (such as thermal imaging cameras, stabilized camera systems, motion control systems and scanning systems) for use by the U.S. government and high-performance commercial markets in aerospace, defense and other applications. Axsys also distributes precision ball bearings used in a variety of industrial and commercial applications.
Our buy rating for Axsys has not changed since November 2003. For the first quarter of fiscal 2008, total revenue increased 58.8% year over year, driven by strong organic growth across the company's segments. The acquisition of the Gyrostabilized Gimbal Business also helped increase revenue. Strong sales and accretion from the acquisition helped increase earnings by 71.5% to $5.11 million, or 45 cents a share, from $2.98 million, or 27 cents a share a year ago.
Also of note, the company's backlog increased to a record $158 million, representing a 13% increase over last year. This growth was mainly attributed to a large number of infrared orders received for the Common Remotely Operated Weapon System (CROWS) and Thermal Weapons Sight (TWS) programs.
Looking ahead to the second quarter of fiscal 2008, management raised its sales forecast to the range of $224 million to $228 million from its previous guidance of $208 million to $212 million. Earnings per share are forecast to be in the range of $1.88 to $1.92. However, any significant reductions or delays in purchases of the company's products by the U.S. government could have adverse effects on Axsys' financial performance, as the company derives a significant portion of its revenue from this source.
FTI Consulting
(FCN) - Get Free Report
provides consulting services to organizations confronting legal, financial, and reputational issues. The company has capabilities in specialized industries, including telecommunications, health care, pharmaceuticals and utilities. The company has offices in 25 U.S. cities, as well as London, England, and Melbourne, Australia.
FTI Consulting has been rated a buy since May 2004. Our recommendation is based on the company's strong revenue and net income growth, higher returns and positive outlook. Fourth-quarter 2007 revenue jumped 29.4% year over year to $280.52 million, driven by gains from higher demands for its services. Net income was $30.79 million, compared to $17.36 million in the fourth quarter of 2006. Net earnings for the quarter grew 77.4%, benefitting from strong organic revenue growth.
Looking forward, the company has forecast earnings per share and revenue for fiscal 2008 to grow in the range of $2.40 to $2.50 and $1.28 billion to $1.32 billion, respectively. However, merger-related challenges, declining margins and the company's failure to retain or hire additional qualified professionals in the wake of former employees joining the company's competition could negatively affect the company's future results.
Our quantitative rating is based on a variety of historical fundamental and pricing data and represents our opinion of a stock's risk-adjusted performance relative to other stocks.
However, the rating does not incorporate all of the factors that can alter a stock's performance. For example, it doesn't always factor in recent corporate or industry events that could affect the stock price, nor does it include recent technology developments and competitive dynamics that may affect the company.
For those reasons, we believe that a rating alone cannot tell the whole story and that it should be part of an investor's overall research.
This article was written by a staff member of TheStreet.com Ratings.