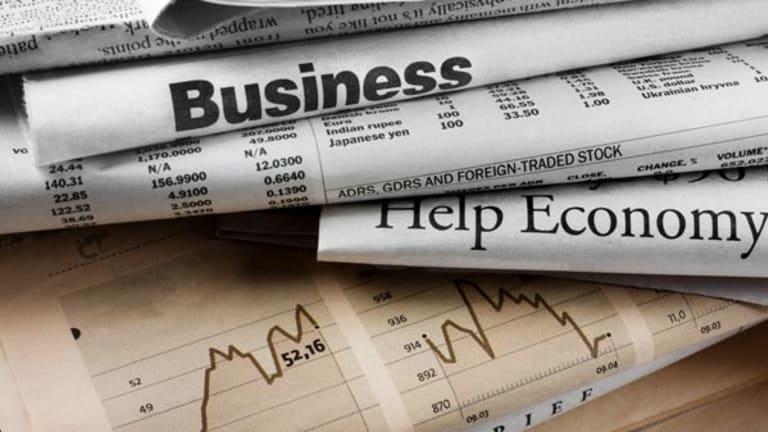 Top Five Fast-Growth Stocks
BlackRock, CAM Commerce, Amedisys, Atwood Oceanics and Darling International are all on top.
Each business day, TheStreet.com Ratings compiles a list of the top five stocks in five categories -- fast-growth, all-around value, large-cap, mid-cap and small-cap -- and publishes these lists in the Ratings section of our Web site.
This list is based on data from the close of the previous trading session. Today, fast-growth stocks are in the spotlight. These are stocks of companies that are projected to increase revenue and profit by at least 12% in the coming year and rank near the top all stocks rated by our proprietary quantitative model, which looks at over 60 factors.
In addition, the stocks must be followed by at least one financial analyst who posts estimates on the Institutional Brokers' Estimate System. Please note that definitions of revenue vary by industry, and this screen does not make adjustments for acquisitions, which can materially affect posted results. Likewise, earnings-per-share growth may be affected by accounting charges, share repurchases and other one-time items.
Note that no provision is made for off-balance-sheet assets such as unrealized appreciation/depreciation of investments, market value of real estate or contingent liabilities that might affect book value. This could be material for some companies with large underfunded pension plans.
BlackRock
(BLK) - Get Free Report
, a publicly owned investment manager, has been rated buy since December 2005. Its products include a variety of fixed income, cash management, equity and alternative investment separate accounts and mutual funds.
The company is reaping substantial benefits from its September 2006 merger with Merrill Lynch Investment Managers (MLIM) and the October 2007 acquisition of the fund of funds business of Quellos Group, LLC, which have allowed it to become one of the world's largest asset management firms. The beneficial impact of these business combinations is reflected in the firm's cross-selling successes, which supported its top-line growth throughout fiscal 2007.
The company reported robust results for the fiscal year 2007 on Jan. 17. Assets under management rose 21% from the end of 2006, standing at $1.36 billion as of the end of the year. Along with the acquisition of the Quellos business, this helped drive revenue growth of 42% for the quarter and 131% for the year. The firm continues to focus on product diversification and has adopted stricter risk-management procedures to mitigate damage stemming from current turmoil in the credit markets. Management feels that this focus will enable it to grow despite current challenging market conditions.
Our rating is subject to the risk of any unexpected downturn in the securities markets or the economy in general, any deterioration in relative investment performance and any adverse regulatory developments. Furthermore, slowing trends in the U.S. economy and fluctuations in interest rates could adversely affect the company's performance.
CAM Commerce Solutions
( CADA) provides a variety of software, hardware and other technical systems for retailers. Our buy rating, in place since February 2006, is based on positive investment measures such as strong revenue growth, a solid financial position, encouraging stock performance and growth in net income.
Powered by earnings growth of 70% during the first quarter of 2008, this stock has surged 64% over the past year. For the first quarter, revenue rose 37% year over year. CAM Commerce has no debt to speak of, giving it a debt-to-equity ratio of zero, which we consider a relatively favorable sign. Net income increased 75% from the year-ago quarter.
Finally, the company has demonstrated an impressive pattern of positive earnings-per-share (EPS) growth over the past two years. Looking forward, we feel that this trend should continue.
Amedisys
(AMED) - Get Free Report
provides home health and hospice services in the southern and southeastern U.S. The company provides a wide variety of health care services, including skilled monitoring by registered nurses, occupational and physical therapy, assessments, and patient education.
Based primarily on a robust top-line performance and expansions to both margins and the bottom line, we have rated Amedisys a buy since January 2005. Amedisys also has a strong liquidity level and low leverage. For the third quarter of 2007, the company's cash and cash equivalents grew sevenfold to $72.5 million, while its debt-to-equity ratio improved significantly to 0.06 from 0.21 a year ago.
Amedisys has a strong outlook thanks to recent acquisitions. During the third quarter, the company acquired IntegriCare to strengthen its Home Health and Hospice Care service segments. Bear in mind, however, that the company's revenue and earnings could be affected by any adverse changes in Medicare rates and reimbursement methodologies or any challenges related to integration of recent acquisitions.
Atwood Oceanics
(ATW)
is a Houston-based international drilling contractor. The company also provides related support, management, and consulting services.
We have rated this company a buy since September 2004, based on its revenue growth, solid financial position, EPS improvement, and solid stock performance. Revenue rose 49% for the fourth quarter of 2007 to $121.6 million, up from $81.8 million in the same period a year ago. Atwood's debt-to-equity ratio is very low at 0.03, implying very successful management of debt levels. In 2007, the company increased its fully-year bottom line to $4.37 a share from $2.75 a share in 2006. The company has demonstrated a pattern of positive earnings per share growth over the past two years. Finally, the stock has surged 72% over the past year, powered by strong earnings growth of 128.37%.
Regarding the stock's future course, although almost any stock can fall in a broad market decline, Atwood should continue to move higher despite its substantial gain in the past year. Risks to the rating include any pricing fluctuations in the oil and gas industry, the company's ability to secure adequate financing and governmental regulation and environmental matters.
Darling International
(DAR) - Get Free Report
provides rendering, recycling, and recovery solutions to the food industry, processing animal byproducts and used cooking oil into meat and bone meal, tallow and yellow grease. The company also provides grease-trap cleaning services to food service establishments. Darling operates 24 facilities throughout the U.S., as well as a fleet of nearly 640 trucks and tractor-trailers to collect raw materials. The company markets its finished products worldwide to producers of oleo-chemicals, soaps, pet foods and livestock feed.
We have rated Darling a buy since January 2007. Boosted by higher finished-goods costs and increased raw material volumes, Darling's revenue grew 49% year over year for the third quarter of 2007 to $171.83 million. Gross profit margin and operating margin expanded to 24% and 12%, respectively. Consequently, net income for the third quarter increased more than sixfold to $12.1 million, or 15 cents a share, from $1.8 million, or 2 cents a share, a year ago. Darling recently transferred its common stock from the American Stock Exchange to the New York Stock Exchange.
Additional regulations on the use of feed by the Food and Drug Administration could adversely affect the company. In addition, the company may fail to achieve the benefits expected from its acquisition of National By-Products.
Our quantitative rating is based on a variety of historical fundamental and pricing data and represents our opinion of a stock's risk-adjusted performance relative to other stocks.
However, the rating does not incorporate all of the factors that can alter a stock's performance. For example, it doesn't always factor in recent corporate or industry events that could affect the stock price, nor does it include recent technology developments and competitive dynamics that may affect the company.
For those reasons, we believe that a rating alone cannot tell the whole story and that it should be part of an investor's overall research.
This article was written by a staff member of TheStreet.com Ratings.