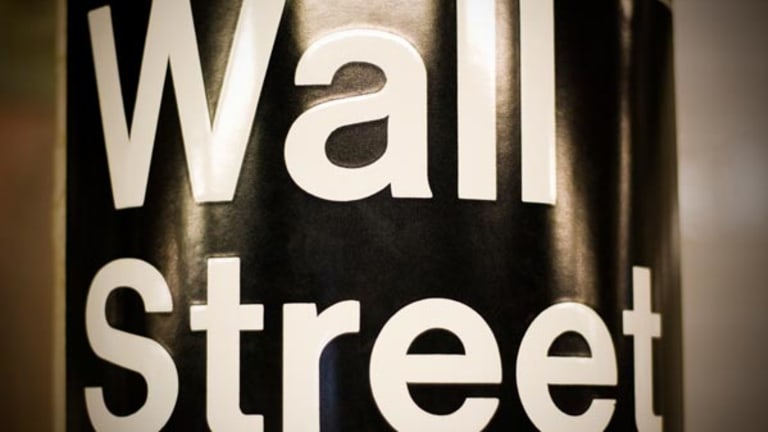 Publish date:
Top Five All-Around Value Stocks
L-3 Communications, Petrobras top the list.
L-3 Communications, Petrobras top the list.
Each weekday, TheStreet.com Ratings compiles a list of the top five stocks in five categories -- fast-growth, all-around value, large-cap, mid-cap and small-cap -- and publishes these lists in the
Ratings section of our Web site.
This list, updated daily, is based on data from the close of the previous trading session. Today, all-around-value stocks are in the spotlight. These are stocks of companies that meet a number of criteria, including annual revenue of more than $500 million, lower-than-average valuations such as a price-to-sales ratio of less than 2, and leverage that is less than 49% of total capital.
In addition, they must rank near the top of all stocks rated by our proprietary quantitative model, which looks at more than 60 factors. The stocks must also be followed by at least one financial analyst who posts estimates on the Institutional Brokers' Estimate System. They are ordered by their potential to appreciate.
Note that no provision is made for off-balance-sheet assets such as unrealized appreciation/depreciation of investments, market value of real estate or contingent liabilities that might affect book value. This could be material for some companies with large, underfunded pension plans.
L-3 Communications Holdings
(LLL) - Get L3 Technologies Inc Report
, a military-equipment company, has been rated a buy since August 2005. It recently reported that its second-quarter earnings nearly tripled over the same period last year. Higher defense spending worldwide, together with the company's recent acquisitions and a healthy backlog order book, encouraged management to raise guidance for fiscal 2007.
L-3 Communications is expected to benefit from increased defense spending, as it is ranked among the top 10 biggest federal contractors. Also, higher security measures adopted by airports throughout the world will create new demand for L-3's baggage-screening systems and surveillance programs.
However, the company's revenue could be impacted by the loss of key contracts in any of its business segments. Also, L-3's dependence on government spending and its strategy of growth through acquisitions could negatively affect results.
Brazilian oil company
Petrobras-Petroleo Brasileiro
(PBR) - Get Petroleo Brasileiro SA Sponsored ADR Report
has had a buy rating since September 2005. The company's revenue growth has outpaced the industry average and its stock price has increased by 79.42% in the 12 months prior to Sept. 27. It is also attractively valued and saw net income increase and earnings grow in the second quarter compared with the same period last year. These strengths outweigh the company's somewhat disappointing return on equity.
Hess
(HES) - Get Hess Corporation (HES) Report
is involved in every aspect of crude oil and natural gas from exploration to distribution, and it has earned a buy rating since August 2005. The company has shown steady top-line growth, with revenue climbing 8.3% to $7.27 billion year over year in the most recent quarter, primarily due to increased production volumes and crude oil prices. U.S natural gas consumption is expected to grow 2.9%, while demand for crude oil is expected to grow at an average rate of 1.5% annually, largely due to the rising number of automobiles.
The U.S imports more than 60% of its energy requirements from other countries, which could result in an increase in the transportation of crude oil and natural gas. This trend should benefit Hess as it is in the business of exploration, production and transportation of natural gas and crude oil. Any unexpected sharp downturn in oil and gas prices may hurt earnings, however. Exploration disruptions also could harm results.
Murphy Oil
(MUR) - Get Murphy Oil Corporation Report
, an energy company, has been rated buy since August 2005 and it continues to structure new strategies to expand its business and drive its growth. Prices of oil and gas are currently trading at a 12-month high, and rising oil and gas prices, along with higher refining margins, should help the company maintain profitable growth. Second-quarter revenue increased 21.5% over a year ago to $4.61 billion.
The company is also benefiting from its expansion plans. Recently, its subsidiary, Murphy Oil Co. Ltd, acquired a 97% working interests in Bear Ridge Resources Ltd. in the Tupper area, an undeveloped Montney natural gas play in British Columbia, for $146.20 million. In addition, its subsidiary, Murphy Oil USA Inc, entered into an agreement with
Wal-Mart
(WMT) - Get Walmart Inc. Report
to purchase parcels of property, which it currently operates through leases for its retail gasoline stations. These gasoline stations cover 21 states, primarily in the Southeast and upper Midwest.
Both crude oil and natural gas prices are highly volatile and cyclical in nature, and Murphy may be negatively affected by any sharp decline in prices. In addition, the company's performance is subject to various political developments across the world, as about 43% of its proved reserves are located in countries other than the U.S., Canada and the U.K.
Rated a buy since September 2005,
Telefonos de Mexico
( TFONY) provides fixed-line telephony services in Mexico, the U.S. and numerous countries in Latin America. Its strengths include a largely solid financial position with reasonable debt levels, expanding profit margins, revenue growth and a pattern of EPS growth over the past two years that is likely to continue.
In the 12 months prior to Sept. 27, Telefonos' stock price increased by 32.59%, and while almost any stock can fall in a broad market decline, it should continue to move higher. These strengths outweigh the company's weak operating cash flow.