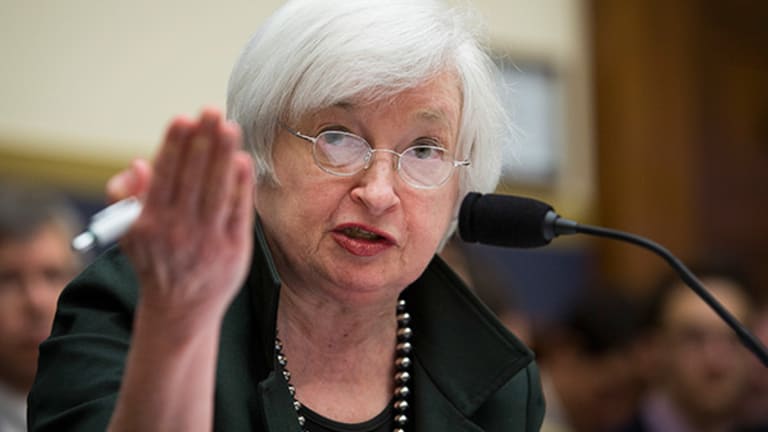 Top Brass at Goldman Sachs and JPMorgan Disagree on Fed Rate Hike
Jamie Dimon of JPMorgan and Lloyd Blankfein of Goldman Sachs have differing views on the Fed's first rate hike. One says it's 'a lot of chatter about nothing.'
NEW YORK (TheStreet) -- Two of Wall Street's biggest names are voicing different views about the Federal Reserve's still-pending decision on raising interest rates for the first time in nine years.
JPMorgan Chase (JPM) - Get JPMorgan Chase & Co. Report CEO Jamie Dimon said Friday that concern about the initial increase -- likely to be about 25 basis points from rates that have been kept near zero since the financial crisis -- is overblown. Describing it as a "a lot of chatter about nothing," he said the first hike is a "psychological thing, not an economic thing."
Dimon's counterpart at New York investment bank Goldman Sachs (GS) - Get Goldman Sachs Group, Inc. Report , however, sounded a more dovish tone during an event with the Wall Street Journal on Wednesday.
"I wouldn't do it unless I was compelled," CEO Lloyd Blankfein said in the lead-up to Thursday's meeting of the Federal Open Market Committee, which sets interest rates in the U.S. Recent global economic data isn't strong enough to support a rate hike, he said.
While unemployment is at 5.1%, its lowest level since April 2008, wage growth is still slow and inflation is far from reaching the Fed's 2% target. And it wasn't just domestic data that weighed on the Fed's decision not to change interest rates at this week's meeting, a session at which many Wall Street traders had once believed the central bank would take action.
Recent market swings and global concerns influenced the central bank's decision, Fed Chair Janet Yellen acknowledged afterward. China's economic slowdown and volatility in its markets led to wild gyrations in global trading during August, including major drops in benchmark indexes such as the S&P 500 and Dow Jones Industrial Average.
"The Fed should not be responding to the ups and downs of the markets, and it is certainly not our policy to do so," Yellen said. "But when there are significant financial developments, it's incumbent on us to ask ourselves what is causing them ... And so they have concerned us in part because they take us to the global outlook and how that will affect us."
Yellen said it's still possible that the Federal Reserve will raise rates in October. Goldman Sachs, however, has consistently said the central bank is likely to wait until December. 
"The bottom line from the meeting was a more definitive shift to a December baseline for liftoff -- where we have assumed Chair Yellen was already -- but few signals of a lengthier delay at this point," Zach Pandi, an economist with Goldman Sachs, wrote on Friday.
Analysts have indicated an October increase is unlikely since the Federal Open Market Committee hasn't scheduled a press conference or an update to its economic outlook. While Yellen said arranging a conference is possible, Pandi doesn't see that happening.
"This all seems too sudden and dramatic for a committee that, we think, would like the first rate hike to be as unexciting as possible," Pandi wrote.
That echoed one of Yellen's statements after the meeting: Federal monetary policy will remain accommodative, she said, and "the impact of the initial increase shouldn't be overstated."