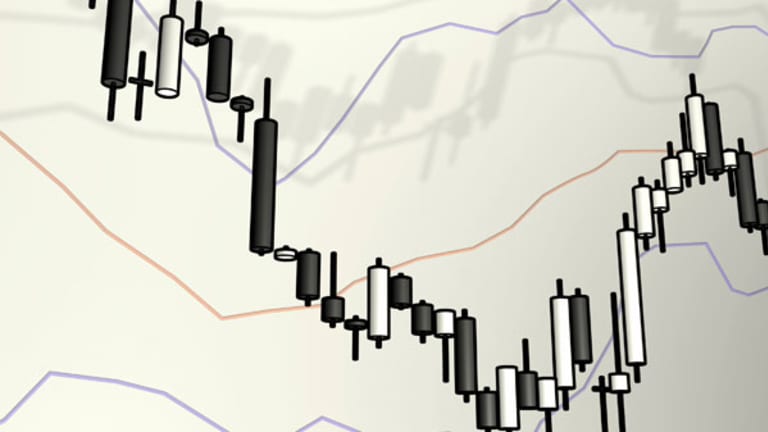 Top Bank Stocks for 2011
A pickup in M&A activity and an improved technical picture could signal better days ahead for bank stocks.
WINDERMERE, Fla. (Stockpickr) -- I have to come clean: I really dislike the banking and financial sector. It's not personal -- it's just that my market discipline is that of a trend follower, and the banking complex has been a horrible place to be in 2010.
That might be about to change, though, and being a dedicated trend follower I have to recognize this possibility and set aside my emotions and bias. This is why it's so crucial as a trend follower not to develop an opinion that keeps you out of a moneymaking opportunity. If a sector that I can't stand looks like it wants to go higher, then I should act on the behavior of the stocks and not off of any preconceived notions.
There are a couple of things to understand about what's going on in the financial sector right now. First of all, the group is completely hated and despised. There are rumors that
WikiLeaks could be set to release some damaging information
on
Bank of America
(BAC) - Get Bank of America Corp Report
and possibly other companies. These rumors are creating a wall of worry for the banking stocks.
Related:
2011 Stock Predictions and Outlook
We also now have
Meredith Whitney saying that 50 to 100 municipalities are at risk for defaults
. Of course, it's impossible for that to happen without impacting the financial sector.
I have no idea if either of these potential events will come to fruition. What I do know is that a number of the stocks in these key sectors are ridiculously beaten-down and are starting to trend higher. As a trend-follower, the "trend higher" part is all that I really care about. But there's also something else that has started to happen in the banking sector that could be the start of very bullish trend: the pickup in
Last week, Wisconsin-based
Marshall & IIsley
( MI) agreed to be acquired by the
Bank of Montreal
(BMO) - Get Bank of Montreal Report
, and on Wednesday,
Hancock Holding
(HBHC)
agreed to buy
Whitney Holding
( WTNY) in a stock-for-stock transaction worth $1.49 billion.
This pickup in
tells me that the smart money is finding value in this beaten-down sector. That combined with the fact that many of the bank stocks are starting to look better technically tells me it's time to start looking for buys in the group. More important, it tells me that this sector could be huge winner in 2011.
Here's a look at a couple of
that could produce big returns in 2011.
If you asked me to set aside my bias and pick my favorite play on the banking sector, then it would have to be
Citigroup
(C) - Get Citigroup Inc. Report
, a global diversified financial services holding company. The reason I like Citigroup is that unlike many of its competitors, including Bank of America,
Morgan Stanley
(MS) - Get Morgan Stanley (MS) Report
and
JPMorgan Chase
(JPM) - Get JPMorgan Chase & Co. (JPM) Report
, the stock has actually done well this year. Shares of Citigroup have traded up more than 40% in 2010. I think those gains are just beginning now that the U.S. government has finally unloaded the last of its investment in the global banking giant.
The government's stake in Citigroup was a major overhang and negative headline creator on the stock. It's my opinion that the stake was the one of the main reasons that held shares of Citigroup under $5. With this issue finally behind it, Citigroup can go back to focusing on leveraging its brand across the globe with a well-diversified range of financial products.
Another major catalyst for this stock will sound like a very simple thing, but it will be a big deal. That's for shares of Citigroup to trade over $5 a share and stay there. The reason this would be huge for the stock is because many
have charters that say they can't buy a stock under $5 a share. Once Citigroup passes that key psychological price point and shows it can stay above it, then we could see lots of new money rotate into the stock.
It also doesn't hurt that shares of Citigroup are pretty cheap, trading at just 0.85 times tangible book value and at a forward prices-to-earnings of around 10. It's worth noting that hedge fund billionaire
holds a rather large position of in Citigroup in his Appaloosa Management fund -- the stock makes up 6% of his total portfolio. Tepper is famous for his
CNBC
interview back in September where he said he was bullish on just about everything due to quantitative easing (QE2). Now there are even rumors we might get QE3, so just imagine what that would do to the bank stocks. All I can say is that I wouldn't want to be short them if that does occur.
Other holders of Citigroup include
-- the stock makes up 7.2% of his total portfolio as of the latest reporting period -- and
--the stock comprises 8.4% of his portfolio. Recently, Robert Holmes featured Citigroup as one of the
top stock picks under $5 for 2011
, InvestorPlace said it was one of
six stocks that could double next year
. And on Dec. 20's "Mad Money," Jim Cramer said that there was
.
Another way to play the potential revitalization of the banking sector is to piggyback the regional banks on hopes of more M&A activity. The most diversified and easiest way to play this is with the
SPDR KBW Regional Banking ETF
(KRE) - Get SPDR S&P Regional Banking ETF Report
. If money flows start to shift into the regional players, then the KRE will definitely benefit.
If you're looking for some
that might pack a bit more of a punch, then I would suggest taking a hard look at
Regions Financial
(RF) - Get Regions Financial Corporation Report
,
Cardinal Financial
(CFNL)
,
Anchor BanCorp Wisconsin
(ABCW)
and
KeyCorp
(KEY) - Get KeyCorp (KEY) Report
. The main reason I have picked these four regional players is that they've racked up solid gains in 2010, with RF up 30%, CFNL up 39%, ABCW up 87% and KEY up 59%. This tells me that the smart money could already be positioned in these names for much bigger gains in 2011. As a trend follower, I don't want to be in the weakest names in the sector because my discipline tells me they're weak for a reason. I want to be in names like these four that are already starting to display relative strength.
My last idea for playing the financial space is with
Fortress Investment Group
undefined
, a global investment manager with approximately $41.7 billion in assets under management. The firm manages hedge funds and publicly traded alternative investment vehicles. It also invests in private equity, public equity, fixed income and alternative markets in the U.S. and all over the world.
I know what you're thinking: Fortress isn't a bank, and you're right -- it isn't. But Fortress is a financial powerhouse that will benefit off of everything I have already mentioned. If we get a lot of M&A activity, Fortress will benefit. If we get more quantitative easing, Fortress will benefit.
Another major development that will help Fortress tremendously in 2011 is the plain fact that the U.S. stock market went up in 2010. Up stock markets mean that new money flows will almost certainly come into private equity funds and hedge funds. To prove my point even more, Fortress CEO Daniel Mudd recently told a group of investors that the firm had already raised $4.6 billion in new capital in 2010. Mudd has also made some comments recently that he sees record sales in assets hitting the market in 2011. If that does happen, it will be right up Fortress' alley since the firm can use its brain trust of money managers to hunt for the best deals.
Another reason I like Fortress --as well as competitors
KKR
(KKR) - Get KKR & Co. Inc. Class A Report
and
Blackstone Group
(BX) - Get Blackstone Group Inc. Class A Report
-- is because there are already rumblings that the second-largest U.S.-based private equity firm,
The Carlyle Group
, is going to come public soon. If Carlyle does come public, or if the market is hit with a bunch of takeovers in private equity and hedge funds, then you can expect all of these stocks to soar as investors look to ride that bullish trend. What's great about private equity firms and hedge funds is that when the economy does turn the corner, these savvy players can use human and capital leverage to reap in big profits that not many other companies can rival. They're truly great ways to play asset sales and improving economies.
To see more financial stock ideas, including
Goldman Sachs Group
(GS),
U.S. Bancorp
(USB) and
Bank of New York Mellon
(BK), check out the
Top Financial & Bank Stocks for 2011
portfolio on Stockpickr.
-- Written by Roberto Pedone in Winderemere, Fla.
RELATED LINKS:
>>3 Ag Stocks Poised for Breakouts
>>S&P 500 Stocks With Big Insider Selling
Follow Stockpickr on
and become a fan on
Facebook.
At the time of publication, author had no positions in stocks mentioned.
Roberto Pedone, based out of Windermere, Fla., is an independent trader who focuses on stocks, options, futures, commodities and currencies. He is also an outside contributor to Beconequity.com and maintains the website Maddmoney.net, which he sold to Blue Wave Advisors in 2008. Roberto studied International Business at The Milwaukee School of Engineering, and he spent a year overseas studying business in Lubeck, Germany.