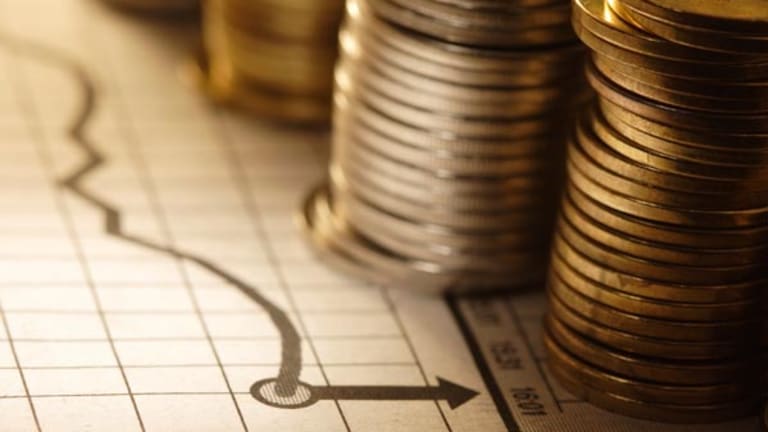 TSC Ratings TheStreet.com Ratings provides exclusive stock, ETF and mutual fund recommendations using proprietary tools. Our "safety-first" approach aims to reduce risk while achieving performance on a total return basis.
Each business day, we compile a list of the top five stocks in one of five categories -- fast-growth, all-around value, large-cap, mid-cap and small-cap.
Today, small-cap stocks are in the spotlight. These companies have market capitalizations between $50 million and $500 million and receive buy ratings from our proprietary quantitative model, which considers more than 60 factors. They are ordered by their potential to appreciate.
Village Super Market
(VLGEA) - Get Village Super Market, Inc. Class A Report
operates a chain of ShopRite supermarkets in the United States. We upgraded the stock to buy on December 5, 2006.
Fiscal third-quarter revenue increased 7% to $293 million as EPS climbed 27% to 47 cents. Same-store sales, an important gauge of year-over-year improvement, jumped more than 7%. The company has a modest $36 million debt load and more than $47 million in cash. Management expects a modest improvement in revenue and earnings in the fourth quarter.
Shares of Village Super Market have enjoyed a 7% climb in 2009 and are up 17% from their March low. The stock trades at a price to earnings ratio of 17, which is roughly in line with the market, and offers a lackluster 2.8% dividend yield.
Diamond Foods
(DMND)
processes and markets culinary, snack, in-shell and ingredient nuts that are sold through two main product lines: Diamond of California and Emerald Nuts. We
in April.
For the third quarter of fiscal 2009, revenue ascended 11% year-over-year to $111 million as EPS improved to 16 cents, establishing an eight quarter streak of year-over-year growth. Net operating cash flow increased 127% to $8.75 million and return on equity improved slightly. Diamond anticipates full-year non-GAAP EPS between $1.31 and $1.36 and net sales between $550 million and $565 million. Guidance was raised on the basis of third quarter results.
Shares of Diamond have climbed 35% so far in 2009, outperforming the
Dow
and
S&P 500
. The stock offers a modest dividend yield of .66%.
Tompkins Financial
(TMP) - Get Tompkins Financial Corporation Report
is the parent of three community banks: Tompkins Trust Company, The Bank of Castile and Mahopac National Bank, which offer commercial banking services to individuals and businesses throughout New York state. We have
since October 2007.
First quarter revenue increased 3% year-over-year as EPS improved 3% to 79 cents. Gross margin increased and is currently high at 73.60%. Although the company demonstrates weak operating cash flow and its stock trades at a premium valuation, it has upside potential. Shares of Tompkins have declined 16% in 2009 and currently offer a dividend yield of 2.77%.
Atrion
(ATRI) - Get Atrion Corporation Report
designs, develops, manufactures, sells and distributes products and components for the healthcare industry. We have
since April of 2003.
First quarter revenue increased 1.8% year-over-year, undershooting the industry average of 5.9% growth. But EPS improved 13% to $2.06, which exceeded the industry and S&P 500 averages. Atrion has no debt and an ample liquidity position as reflected by a quick ratio of 4.51.
Management was pleased with first quarter results and stated that the company expects modest EPS growth for the full year. Shares of Atrion have ascended 21% in 2009, outperforming the Dow and S&P 500.
American Physicians Service Group
(AMPH) - Get Amphastar Pharmaceuticals Inc Report
is an insurance and financial services firm that provides medical malpractice insurance and brokerage and investment services to institutions and high-net-worth individuals. We have
rated American Physicians Service Group buy
since May of 2003.
First-quarter revenue declined 2% as EPS improved a remarkable 46% to 67 cents. Gross margin increased and remains strong at 44%. Management was pleased to see momentum from fiscal 2008 performance. The company has a sound financial position as reflected by a low debt-to-equity ratio of .05.
Shares of American Physicians Group have fallen 7% in 2009, but are up 2% from their March low. At its current share price, the stock offers a modest 1.5% dividend yield, but is trading at a price-to-earnings ratio of 7, making it an attractive value investment.
TSC Ratings was recently given an award for "Best Stock Selection" amongst independent research providers by BNY ConvergEx Group. To see how your portfolio can utilize our research, click here.A rating can be viewed for any stock through our screener stock rating screener. Each rating is derived from a variety of fundamental and pricing figures and represents our opinion of risk-adjusted performance relative to a 5,000+ stock coverage universe. However, the rating does not incorporate all factors that can alter a stock's performance, such as corporate or industry events, technology innovations and shifts in competitive dynamics.