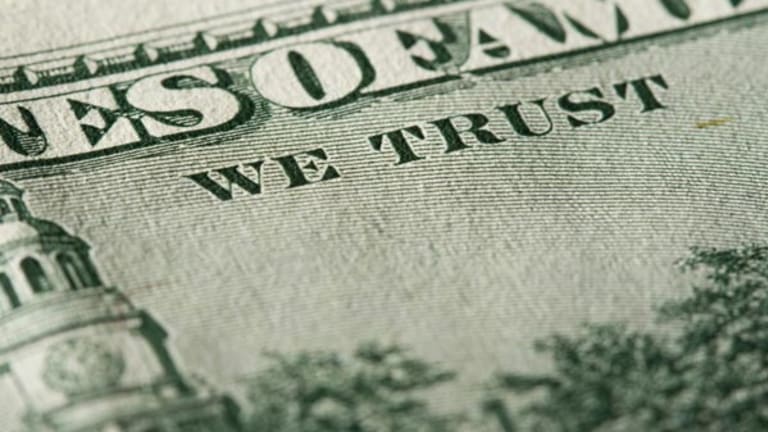 Top 5 Small-Cap Stocks
Axsys Technologies, CAM Commerce Solutions, Exactech, Key Technology, Gorman-Rupp are winners.
Each business day, TheStreet.com Ratings compiles a list of the top five stocks in one of five categories -- fast-growth, all-around value, large-cap, mid-cap and small-cap -- and publishes these lists in the Ratings section of our Web site.
This list is based on data from the close of the previous trading session.
Today, small-cap stocks are in the spotlight. These are stocks of companies that have market capitalizations of between $50 million and $500 million that rank near the top of all stocks rated by our proprietary quantitative model, which looks at more than 60 factors.
The stocks must also be followed by at least one financial analyst who posts estimates on the Institutional Brokers' Estimate System. They are ordered by their potential to appreciate.
Note that no provision is made for off-balance-sheet assets such as unrealized appreciation/depreciation of investments, market value of real estate or contingent liabilities that might affect book value. This could be material for some companies with large underfunded pension plans.
Axsys Technologies
( AXYS) designs and manufactures precision optical solutions (such as thermal imaging cameras, stabilized camera systems, motion control systems and scanning systems) for use by the U.S. government and high performance commercial markets in aerospace, defense, and other applications. Axsys also distributes precision ball bearings used in a variety of industrial and commercial applications.
In the fourth quarter of 2007, the company recorded strong financial performance, with strong demand for both Axsys' traditional business and the recently acquired gyro-stabilized gimbal business helping generate revenues of $47.9 million, compared to $33.8 million in the fourth quarter of 2006. Sales increased 42.0% year over year to a record $47.9 million. The company reports that its backlog increased to a record $140.0 million, which is a 21.0% increase compared to the fourth quarter of 2006. This increase was due to strong demand for infrared cameras and lenses, gimbal systems and military-grade motion control systems.
Looking ahead for full-year 2008, management now expects to generate sales in the range of $208 million to $212 million, up from the previously forecast $193 million to $197 million range. Management also expects diluted earnings per share to be in the range of $1.70 to $1.75, up from the previous guidance of $1.57 to $1.60. However, any significant reduction or delay in purchase of the company's products by the U.S. government could have an adverse effect on Axsys' financial performance, as the company derives a significant portion of its revenue from this source.
CAM Commerce Solutions Inc.
( CADA) provides a variety of software, hardware and other technical systems for retailers. Our buy rating, in place since February 2006, is based on positive investment measures such as the company's strong revenue growth, solid financial position and stock performance and its growth in net income.
Powered by its strong earnings growth of 69.56% during the first quarter of 2008, this stock has surged by 63.8% over the past year. Revenues rose by 37.3% year over year in the first quarter. CAM Commerce Solutions has no debt to speak of, giving it a debt-to-equity ratio of zero, which we consider to be a relatively favorable sign. Net income increased by 75% when compared to the same quarter one year prior.
Finally, the company has demonstrated an impressive pattern of positive earnings per share (EPS) growth over the past two years. For example, EPS grew 69.56% in the first quarter of 2008. Looking forward, we feel that this trend should continue.
Exactech
(EXAC)
develops, makes, markets, distributes and sells orthopedic implant devices, related surgical instrumentation, and biologic materials to hospitals and physicians in the U.S. and 27 other countries. The company produces products such as knee systems and other joint replacement implant products. Exactech's revenues are derived primarily from sales of its knee and hip joint replacement systems; however, revenues from the worldwide distribution of biologic materials have increased as a percentage of the company's total revenues.
Exactech has been rated a buy since March 2007, primarily due to the company's strong financial performance, higher guidance and a currently favorable industry trend. In the third quarter of 2007, net sales increased 23.4% year over year to $29.99 million, largely due to the success of new products and continued growth from existing products.
Exactech performed well in both domestic and international markets on the revenue front; the company reported a 24% increase in revenue from the domestic market and a 21.1% increase in revenue from international markets. Management raised its fiscal year 2007 guidance and now expects revenue for 2007 between $120.5 million and $122.5 million, with earnings in the range of 78 cents to 79 cents per share.
We expect Exactech to benefit from its continued innovation and expansion. The company remains focused on improving its existing line of business, and it is also awaiting approval on several new products in both the U.S. and overseas markets. However, the company is highly exposed to foreign-exchange risks with its increasing share of global business, and stiff government regulation could negatively impact product approvals and therefore operating results.
Key Technology
(KTEC)
designs, manufactures, sells and services process automation systems that integrate electro-optical inspection and sorting, specialized conveying and product preparation equipment. Automated inspection systems are used in a various applications to detect and eliminate defects, most often during the processing of raw and semi-finished products.
Key Technology has been rated a buy since February 2007. The company's strengths can be seen in multiple areas, such as its robust revenue growth, largely solid financial position, and growth in net income. For the fourth quarter of 2007, the company's revenues rose by 31.3% year over year. The net income increased 495.4% when compared to the fourth quarter of 2006, rising to $2.38 million from a deficit of $0.58 million. Key Technology currently has a debt-to-equity ratio of zero.
The recent surge in commodity costs is a challenge to the machinery industry. This could affect Key Technology's results in the future.
Gorman-Rupp
(GRC) - Get Gorman-Rupp Company Report
designs, manufactures and sells pumps and related equipment for use in various liquid-handling applications, such as wells, wastewater, agricultural systems, fire protection and military uses. The company's pumps have a variety of uses, from pumping refined petroleum products for fueling aircraft and water for fire fighting to ice cube dispensing equipment and office copy machines.
Our buy rating on Gorman-Rupp has not changed since November 2005. The company's strengths can be seen in multiple areas, such as its revenue and net income growth, largely solid financial position, and solid stock performance. Revenues for the fourth quarter of 2007 rose 18.0% year over year. The fourth quarter net income of $5.75 million represents a 137.5% increase from the $2.42 million reported one year ago. During the same period, earnings per share grew from 14 cents to 35 cents. This growth in earnings seems to have played a role in the increased stock price. Finally, with no debt to speak of, Gorman-Rupp has a debt-to-equity ratio of zero.
While the stock's rise in price over the past year makes it relatively expensive compared to its peer group, we feel that Gorman-Rupp's strengths justify these higher price levels. Bear in mind, however, that the machinery industry as a whole faces challenges from rising commodity costs. Customers have generally seemed to absorb the commodity increases as surcharges that have helped cover the difference, but there is no guarantee that this will continue.
Our quantitative rating is based on a variety of historical fundamental and pricing data and represents our opinion of a stock's risk-adjusted performance relative to other stocks.
However, the rating does not incorporate all of the factors that can alter a stock's performance. For example, it doesn't always factor in recent corporate or industry events that could affect the stock price, nor does it include recent technology developments and competitive dynamics that may affect the company.
For those reasons, we believe that a rating alone cannot tell the whole story and that it should be part of an investor's overall research.
This article was written by a staff member of TheStreet.com.