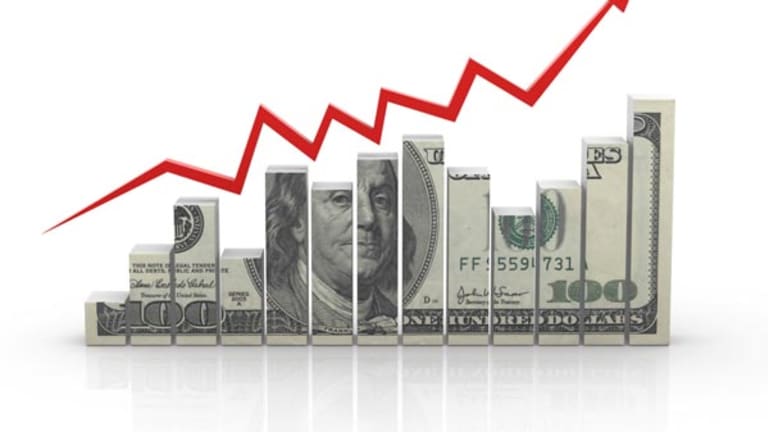 Top 5 Mid-Caps for Oct. 30
Laclede, Gentiva and Ralcorp make the list.
Each business day, TheStreet.com Ratings compiles a list of the top five stocks in one of five categories -- fast-growth, all-around value, large-cap, mid-cap or small-cap -- based on data from the close of the previous trading session. Today we focus on mid-caps.
These are stocks of companies that have market capitalizations of between $500 million and $10 billion that rank near the top of all stocks rated by our proprietary quantitative model, which looks at more than 60 factors. The stocks must also be followed by at least one financial analyst who posts estimates on the Institutional Brokers' Estimate System. They are ordered by their potential to appreciate.
Note that no provision is made for off-balance-sheet assets such as unrealized appreciation/depreciation of investments, market value of real estate or contingent liabilities that might affect book value. This could be material for some companies with large underfunded pension plans.
Laclede Group
(LG)
is a public utility holding company that provides natural gas services in eastern Missouri. The company's primary subsidiary, Laclede Gas Company, is the largest gas distribution utility in Missouri, serving approximately 632,000 residential, commercial, and industrial customers. We have rated Laclede a buy since September 2004 due to its solid stock price performance, revenue growth, good cash flow from operations, largely solid financial position and notable return on equity.
For the third period of fiscal 2008, the company reported revenue growth of 24.4% year over year. While net income remained flat at $9.27 million, earnings per share rose from 22 cents in the third quarter of fiscal 2008 to 41 cents in the most recent quarter. Although the company has reported somewhat volatile earnings recently, we feel that it is poised for continued EPS growth in the coming year. Net operating cash flow increased significantly by 64.28% when compared with the same quarter last year, and strong earnings growth of 86.36% helped the stock surge 46.96% over the past year. In addition, Laclede has a low debt-to-equity ratio of 0.76, which implies that the company has been relatively successful in managing its debt levels. However, its quick ratio of 0.77 is somewhat weak and could potentially cause problems in the future.
Although almost any stock can fall in a broad market decline, we feel that Laclede should continue to move higher despite having already enjoyed a very nice gain this year. Subpar growth in net income is outweighed by the strengths detailed above, and the market expects an improvement in its earnings for this year.
Gentiva Health Services
(GTIV)
and its subsidiaries provide home health and related services throughout the U.S. Our buy rating for Gentiva has not changed since November 2005. The company is scheduled to discuss its financial results for the third quarter of fiscal 2008 in a conference call at 10 a.m. on Thursday, Oct. 30; our current rating is based, therefore, on Gentiva's results for the second quarter of fiscal 2008.
For the second quarter, Gentiva's revenues rose 12.7% year over year, and this growth appears to have trickled down to the company's bottom line, helping to boost EPS by 32.3%. EPS improved from 31 cents in the prior year's quarter to 41 cents. Net income also increased in the second quarter, rising 34.3% from $8.95 million to $12.02 million. In addition, the company's strong earnings growth appears to have led the stock price to climb higher than it was a year ago, and we see more upside potential for this stock unless broad bear market conditions prevail.
Looking ahead, Gentiva announced that it would raise its full-year 2008 outlook based on its strong results in the first half of the fiscal year. As of July 31, net revenues for fiscal 2008 were expected to be in the range of $1.32 billion to $1.35 billion, compared with previous guidance of $1.28 billion to $1.32 billion, while diluted earnings per share guidance was raised to a range of $1.36 and $1.43 from an earlier range of $1.32 to $1.40.
Ralcorp Holdings
( RAH) is a Missouri-based company that manufactures, distributes, and markets store-brand (private label) food products in the grocery, mass merchandise, drug, and foodservice channels. Ralcorp has been rated a buy since February 2004. This rating is based on the company's strong revenue growth and higher earnings, along with its improved returns and solid debt management during the third quarter of fiscal 2008.
The company reported that its net sales in 12.9% year-over-year in the third quarter of fiscal 2008 due to volume gains across all segments and higher pricing in response to rising input costs. As a result of the sales gain, Ralcorp's earnings quadrupled to $45.80 million from $11.60 million in the third quarter of fiscal 2007. Strong fundamentals are another positive for this company, with cash balances surging from $55.90 million to $85.30 million, net operating cash flow increasing 20.7%, and a total debt decreasing 13.4%. Return on equity and return on assets improved 1,497 and 542 basis points, respectively. In addition, Ralcorp recently completed a merger with Kraft Food's Post cereals business for $2.60 billion.
The company's gross profit margin and operating margin deteriorated 145 and 83 basis points, respectively, as a result of rising raw material costs and transportation expenses. The company also appears to have a weak liquidity position, given its quick ratio of 0.69. Bear in mind that any failure to integrate recent acquisitions could hinder Ralcorp's future performance.
Church & Dwight
(CHD)
develops, manufactures and markets household, personal care and specialty products under well-recognized brand names such as Arm & Hammer, Brillo, Kaboom, OxiClean and Trojan. We have rated Church & Dwight a buy since November 2001. This rating is supported by the company's impressive revenue growth, healthy liquidity position, increased net income, and key strategic initiatives. The company's strengths also include its higher returns, improved leverage levels and favorable business outlook.
For the second quarter of fiscal 2008, Church & Dwight reported revenue growth of 8.7% year over year, led by organic growth and favorable currency exchange. Net income rose from $40.53 million in the second quarter of fiscal 2007 to $45.77 million in the most recent period, while EPS improved from 59 cents to 66 cents over the same period. The company's equity increased 23.3% to $1.20 million, while its debt dropped 15.4% to $7.4 billion. Returns on assets and equity improved 102 and 21 basis points, respectively.
Church & Dwight recently acquired Coty Incorporated's over-the-counter business Del Pharmaceuticals. In addition, the company plans to set up its laundry plant and distribution center in Pennsylvania. Looking forward to full-year fiscal 2008, the company raised its EPS guidance to a range of $2.83 and $2.85 and forecast organic revenue growth beyond 3.0% to 4.0%. Bear in mind, however, that failure to achieve revenue from new products and increased prices may pose a threat to Church & Dwight's future financial performance. In addition, a decrease in demand for the company's products due to the slowdown in the U.S. economy could negatively impact revenue growth.
EZCorp
( EXPW) and its subsidiaries lend or provide credit services to individuals who do not have cash resources or access to credit to meet their short-term cash needs. EZCorp has been rated a buy since January 2004. This rating is supported by the company's robust revenue growth, largely solid financial position, notable return on equity, expanding profit margins and good cash flow from operations.
For the third quarter of fiscal 2008, the company announced revenue growth of 24.2% year over year. The company experienced its 24th consecutive quarter of year-over-year earnings growth, with net income increasing 60.1% and EPS improving significantly from $0.16 in the third quarter of fiscal 2007 to $0.25 in the most recent quarter. A slight improvement in return on equity from 17.63% to 18.52% can be seen as a modest strength for EZCorp, while a debt-to-equity ratio of zero is also considered a favorable sign. In addition, a quick ratio of 4.55 clearly demonstrates EZCorp's ability to cover its short-term cash needs.
Management pointed out that EZCorp was impacted both favorably and unfavorably by economic stimulus checks distributed earlier this year, seeing a lower-than-expected demand for seasonal loans but experiencing higher levels of retails sales and loan redemptions during May and June. Looking ahead, the company anticipates EPS for full-year fiscal 2008 of approximately $1.19, compared with 88 cents per share reported for full-year fiscal 2007. Although we feel that the company is currently trading at a premium based on our review of its current price compared to such things as earnings and book value, we feel that the strengths detailed above outweigh any weaknesses at this time.
Our quantitative rating is based on a variety of historical fundamental and pricing data and represents our opinion of a stock's risk-adjusted performance relative to other stocks. However, the rating does not incorporate all of the factors that can alter a stock's performance. For example, it doesn't always factor in recent corporate or industry events that could affect the stock price, nor does it include recent technology developments and competitive dynamics that may affect the company. For those reasons, we believe a rating alone cannot tell the whole story and should be part of an investor's overall research.
This article was written by a staff member of TheStreet.com Ratings.