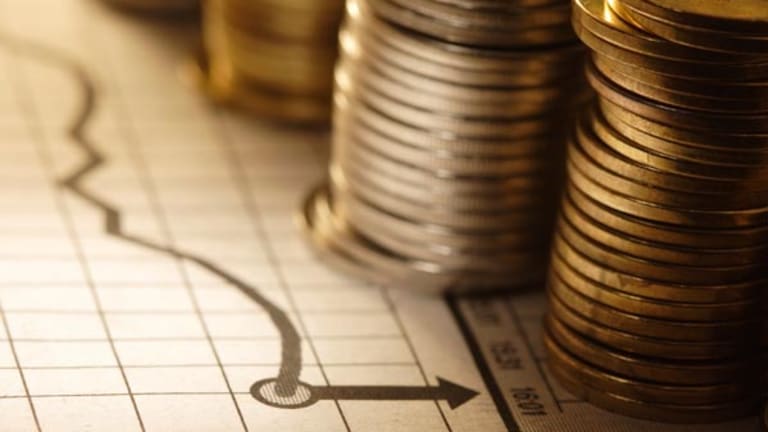 Top 5 Mid-Caps for Nov. 13
DeVry, EZCorp and ManTech make the list.
Each business day, TheStreet.com Ratings compiles a list of the top five stocks in one of five categories -- fast-growth, all-around value, large-cap, mid-cap and small-cap -- based on data from the close of the previous trading session. Today we focus on mid-caps.
These are stocks of companies that have market capitalizations of between $500 million and $10 billion that rank near the top of all stocks rated by our proprietary quantitative model, which looks at more than 60 factors. The stocks must also be followed by at least one financial analyst who posts estimates on the Institutional Brokers' Estimate System. They are ordered by their potential to appreciate.
Note that no provision is made for off-balance-sheet assets such as unrealized appreciation/depreciation of investments, market value of real estate or contingent liabilities that might affect book value. This could be material for some companies with large underfunded pension plans.
Church & Dwight
(CHD) - Get Church & Dwight Company Inc. Report
develops, manufactures, and markets household, personal care and specialty products under well-recognized brand names such as Arm & Hammer, Brillo, Kaboom, OxiClean and Trojan. We have rated it a buy since November 2001.
For the third quarter of fiscal 2008, Church & Dwight reported that its earnings declined 5.3% year over year in the third quarter of fiscal 2008, hurt by higher operating expenses. Although net income fell to $48.99 million from $51.72 million in the prior year's quarter, earnings were reported at 73 cents per share excluding restructuring charges related to a plant closing, beating the consensus estimate of 69 cents per share. Net sales grew 8.7% compared with the third quarter of fiscal 2008. Revenue growth was reported across various businesses, including 9.7% growth from the Consumer Domestic segment and 4.3% growth from the Consumer International segment. According to the company, price increases, new products and increased distribution on key brands helped drive organic revenue growth in the quarter.
Looking forward to full-year fiscal 2008, the company reconfirmed its EPS guidance to a range of $2.83 and $2.85, which would represent a 15% to 16% increase over fiscal year 2007. The company also reconfirmed its forecast of organic revenue growth beyond 3% to 4%. Management announced that it was pleased with the organic revenue growth, increasing gross margin, tight management of overhead costs, and increased marketing spending during the third quarter. Bear in mind, however, that failure to achieve revenue from new products and increased prices may pose a threat to Church & Dwight's future financial performance. In addition, a decrease in demand for the company's products due to the slowdown in the U.S. economy could negatively impact revenue growth.
Ralcorp Holdings
( RAH) is a Missouri-based company that manufactures, distributes, and markets store-brand (private label) food products in the grocery, mass merchandise, drug and foodservice channels. We have rated it a buy since February 2004.
The company reported on Nov. 12 that its fiscal 2008 diluted EPS increased approximately 5% over its fiscal 2007 result, excluding the impact of restructuring charges and the profit contribution and incremental interest expense from the recent acquisition of Post Foods. That acquisition added approximately 18 cents to the reported EPS for the fourth quarter and approximately 16 cents for the full year. According to Ralcorp, its fourth quarter EPS increased 39% year over year, while its net sales increased 44%, primarily due to the above-mentioned acquisition.
The company stated that it faced serious challenges that could have negatively affected its financial results in fiscal 2008. These included cost increases in raw material, packaging, and freight. However, Ralcorp was able to increase its volumes in most businesses despite these price increases, contributing to the 5% increase in fiscal 2008 EPS. The company is confident that it will be able to grow its core businesses in fiscal 2009, despite the likelihood of facing similar challenges in the year ahead. Bear in mind, however, that any familiar to adequately transition Post Foods into Ralcorp operations could affect the company's future results, as there are significant costs related to the transition.
DeVry
(DV) - Get DoubleVerify Holdings Inc. Report
is an international higher education company that operates DeVry University, Ross University, Chamberlin College of Nursing and Becker Professional Review. We have rated it a buy since January 2007. DeVry's strengths can be seen in a variety of areas, such as its impressive record of EPS growth, good cash flow from operations, robust revenue growth and largely solid financial position.
The company reported revenue growth of 21.3% year over year in the first quarter of fiscal 2009. This growth outpaced the industry average of 12.7%, and it also appears to have helped boost EPS, which improved 29.7% when compared to the same quarter last year. Net operating cash flow increased 21.0% to $96.82 million in the first quarter. DeVry has a very low debt-to-equity ratio of 0.21, which implies that the company has been very successful at managing its debt levels. During September 2008, DeVry completed the acquisition of U.S. Education, the parent company of Apollo College and Western Career College, which operates 17 campus locations in the western U.S.
Management stated that DeVry's strong first quarter results were driven by a strategic plan to increase enrollment through improved marketing and recruiting. The acquisition of U.S. Education also helps this strategic plan by allowing DeVry to further diversify its educational offerings. The company is confident that it should be able to continue maximizing shareholder value and achieving long-term growth goals despite a tough economy due to its diversified portfolio. It is important to remember that a quick ratio of 0.69 indicates a potential problem in covering short-term cash needs. In addition, the company shows low profit margins. All the same, we feel that the strengths detailed above are enough to outweigh any potential weaknesses at this time.
EZCorp
(EZPW) - Get EZCORP Inc. Report
and its subsidiaries lend or provide credit services to individuals who do not have cash resources or access to credit to meet their short-term cash needs. We have rated it a buy since January 2004.
For the fourth quarter of fiscal 2008, the company announced total revenue growth of 19% year over year. The company experienced its 25th consecutive quarter of year-over-year earnings growth, with net income increasing 44% and EPS improving significantly from 26 cents in the fourth quarter of fiscal 2007 to 37 cents in the most recent quarter. The unfavorable impact of lost store days due to Hurricane Ike and the favorable impact of foreign tax credit utilization were excluded from the EPS results, with results instead being primarily driven by the company's pawn operations in the U.S. and Mexico, according to management.
Looking ahead, the company has completed due diligence on two acquisition opportunities and will move ahead with the acquisitions of Pawn Plus and Value Financial Services. The Pawn Plus transaction, which will add 11 stores to EZCorp's portfolio, is expected to be complete in late November, while the Value Financial Services acquisition should be completed in the latter half of December. In addition, the company has plans to open 30 to 35 EZMoney locations in the U.S. and 30 to 35 Empeno Facil locations in Mexico, while monitoring regulations in Canada to look for opportunities to enter the market in provinces that adopt acceptable payday loan regulations.
ManTech International
(MANT) - Get ManTech International Corporation Report
provides technologies and solutions for mission-critical national security programs for the intelligence community, the space community and various departments and agencies of the U.S. federal government. We have rated it a buy since March 2005, based on strengths such as the company's robust revenue growth, largely solid financial position, and record of EPS growth.
For the third quarter of fiscal 2008, revenue rose by 26.8% year over year. This increase was primarily the result of a business strategy focused on high-end defense and intelligence markets supporting U.S. national security. Revenue growth appears to have helped boost earnings per share, which improved 31.4% when compared with the same quarter a year ago. The EPS increase from 51 cents to 67 cents represents the continuation of a pattern of positive EPS growth demonstrated by ManTech over the past two years, a trend which we feel should continue. Net income also increased in the third quarter, rising from $17.48 million in the third quarter of fiscal 2007 to $23.86 million in the most recent quarter. ManTech's very low debt-to-equity ratio of 0.007 and quick ratio of 1.42 illustrate the company's successful management of debt levels and ability to avoid short-term cash problems.
Management announced it was pleased with the third quarter results, as strong performance and excellent cash flow helped provide necessary flexibility in a challenging economic environment. Based on strong business momentum in its national security and defense business, the company set EPS guidance at $0.67 to $0.70 for the fourth quarter and $2.53 to $2.56 for full-year fiscal 2008. These ranges represent 10% to 15% growth over the fourth quarter of fiscal 2007 and 30% to 31% growth over full-year fiscal 2007. The company currently shows low profit margins, but we feel that the strengths detailed above outweigh any potential weakness.
Our quantitative rating is based on a variety of historical fundamental and pricing data and represents our opinion of a stock's risk-adjusted performance relative to other stocks. However, the rating does not incorporate all of the factors that can alter a stock's performance. For example, it doesn't always factor in recent corporate or industry events that could affect the stock price, nor does it include recent technology developments and competitive dynamics that may affect the company. For those reasons, we believe a rating alone cannot tell the whole story and should be part of an investor's overall research.
This article was written by a staff member of TheStreet.com Ratings.